NYPD calls Harvey Weinstein rape allegation credible, says it's gathering evidence for arrest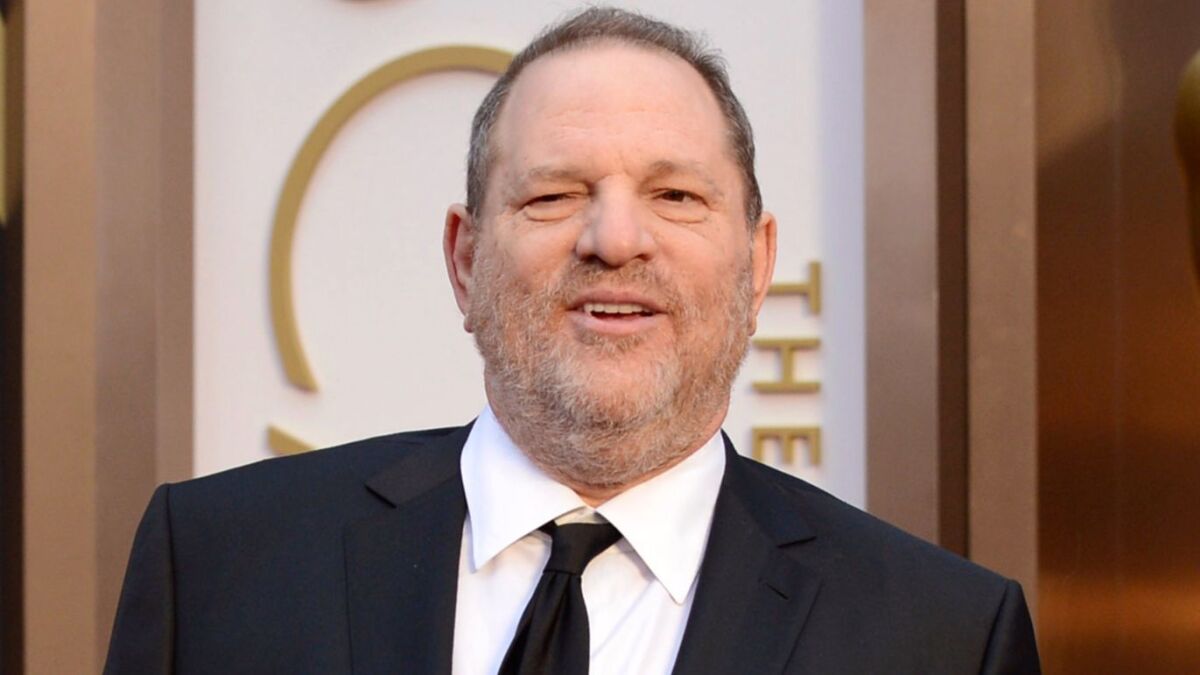 The New York Police Department stepped up the pressure on movie mogul Harvey Weinstein on Friday, saying it had received a "credible" rape allegation from an actress, had corroborated parts of her story and was gathering evidence for an arrest warrant.
Paz de la Huerta has said she told New York police that in 2010, Weinstein raped her twice. The "Boardwalk Empire" actress gave a detailed account to Vanity Fair, published Thursday.
NYPD's chief of detectives, Robert Boyce, told reporters Friday that investigators have found her account believable and that, in the nine days since she gave her report to them, they have corroborated portions of her statement and that subpoenas have been issued.
Friday's public statements by Boyce — flanked by New York Mayor Bill de Blasio and Police Commissioner James P. O'Neill — are the most high-profile move by law enforcement against the beleaguered film producer, who for the last month has faced a plethora of allegations from several dozen women accusing him of sexual harassment, sexual assault and rape spanning four decades.
At least 13 have filed sexual assault reports with police in Los Angeles, Beverly Hills, New York and London.
"She put forth a credible and detailed narrative," Boyce said. "We found corroboration.... We have an actual case here." If Weinstein were in New York now and the alleged rapes were recent, Boyce said, "we would go right away and make the arrest. No doubt. But we are talking about a 7-year-old case and we have to move forward gathering evidence first."
The report was credible, he said, because the woman could "articulate each and every movement of the crime. Where she was. Where they met. Where this happened and what he did."
New York prosecutors ultimately will decide whether to charge Weinstein. Boyce said his detectives are working in collaboration with them.
Weinstein representative Sallie Hofmeister has repeatedly said that Weinstein "unequivocally denies allegations of non-consensual sex."
De la Huerta told Vanity Fair that Weinstein raped her inside her home in November 2010. "It wasn't consensual," she said. "It happened very quickly.... When he was done he said he'd be calling me. I kind of just laid on the bed in shock."
De la Huerta alleged that Weinstein assaulted her again in late December 2010. He showed up in her building lobby after she came home from a photo shoot, she told Vanity Fair. De la Huerta said she had been drinking and was frightened by Weinstein, who she said had been repeatedly calling her even though she'd asked him to leave her alone.
"He hushed me and said, 'Let's talk about this in your apartment,' " De la Huerta said. "I was in no state. I was so terrified of him."
"I did say no, and when he was on top of me I said, 'I don't want to do this,' " she said. "It was disgusting. He's like a pig.... He raped me."
De la Huerta told Vanity Fair that at the time, she told her therapist, SueAnne Piliero.
"I recall you telling me that Harvey Weinstein was seeking sexual contact with you on more than one occasion with the promise of additional roles," Piliero said in a letter that De la Huerta shared with Vanity Fair and with the New York district attorney's office.
"I recall you reporting to me a sexual encounter with Harvey Weinstein involving intercourse in your apartment in 2010 that resulted in you feeling victimized," the letter said. "I recall you telling me that it felt coercive to you and that you didn't want to have sex with him, but felt that you had to as he was a man of power and rank and you couldn't say no to his sexual advances."
The NYPD's move Friday may increase the pressure on Weinstein, but it cuts both ways, said Laurie Levenson, a professor at Loyola Law School.
"The message here is, they have a credible case but it's a long time ago and it's going to take time to put it together. They're basically saying, 'Get off our back; we're going to have a case here,' " said Levenson, former assistant U.S. attorney. "But this kind of public statement will put pressure on the NYPD to deliver."
Since a New York Times article Oct. 5 first revealed allegations of sexual misconduct against Weinstein, accusations and condemnations have engulfed him. Weinstein Co., the studio he co-founded, fired him last month.
Actresses Asia Argento, Rose McGowan, Lucia Evans and Lysette Anthony have all publicly stated that Weinstein raped them or forced them to perform a sex act.
In Los Angeles, police are investigating an Italian model-actress' allegation that Weinstein forced her to have sex with him in her hotel room in 2013. It is the first case related to Weinstein to be reported to police in Southern California.
On Thursday, the Los Angeles Police Department said it was investigating allegations made by a second woman. A department spokesman did not provide details about the claims but said the incident occurred in 2013. The LAPD described the alleged behavior as lewd conduct.
Beverly Hills police have opened at least two investigations into Weinstein. They did not provide details of the investigations but urged anyone who believes themselves to be a victim to come forward.
To read the article in Spanish, click here
ALSO
Sex assault accusations against ex-APA agent renew concerns about alleged abuse of minors in Hollywood
New complaints arise against Kevin Spacey as London police investigate alleged 2008 incident
Corey Feldman names one alleged abuser, then defends a man with a similar name
Warner Bros. cuts ties with Brett Ratner after sexual misconduct allegations
---
UPDATES:
3:55 p.m.: This article was updated with comments from Laurie Levenson and additional comments from Robert Boyce.
3:10 p.m.: This article was updated throughout with Times staff reporting.
This article was originally published at 1:20 p.m.
Inside the business of entertainment
The Wide Shot brings you news, analysis and insights on everything from streaming wars to production — and what it all means for the future.
You may occasionally receive promotional content from the Los Angeles Times.