Comcast founder Ralph Roberts dead at 95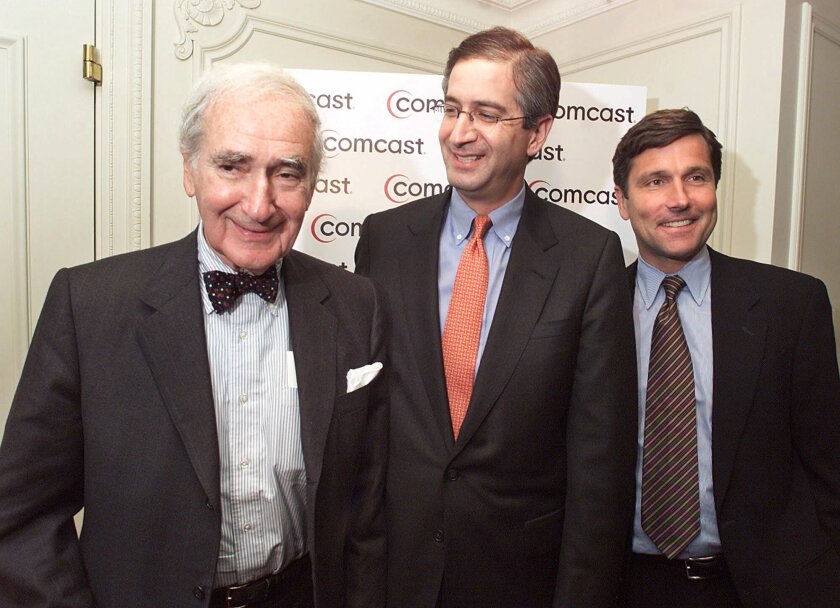 When beltless polyester pants became the rage in the early 1960s, Ralph J. Roberts knew it was time to move on.
He sold his company that specialized in men's belts and suspenders and plunked the proceeds into a "community antenna television system" — a small network of antennas in Tupelo, Miss., that, for $5 a month, liberated frustrated viewers from fuzzy pictures by providing clear TV signals.
Over the next few decades, Roberts turned that humble network into Comcast Corp., the nation's largest cable TV company, and built it into far more than a supplier of TV channels by reaching into new frontiers of communications, including high-speed Internet service.
His company also owns NBCUniversal, the entertainment company that touches tens of millions of people each day through its television networks, Universal Studios theme parks and a movie studio that churns out such big hits as "Jurassic World."
"Ralph Roberts, and just a small handful of others, are really responsible for building the modern cable television business that we know today," said longtime analyst Craig Moffett. "He built a huge and powerful company. But Ralph really didn't fit the mold of a media mogul."
Roberts died Thursday of natural causes in Philadelphia, the company said. He was 95.
In the 1980s and 1990s, Roberts helped lead the charge that consolidated the cable industry, which saw thousands of mom-and-pop companies across the country rolled up into just a few large providers, driving up prices for consumers. So powerful is Comcast that the federal government this year began gearing up to fight the company's proposed $45-billion takeover of Time Warner Cable, which provides Internet and cable television service in Los Angeles. Rather than battle the government, Comcast abandoned its bid.
The move was a rare defeat for a company that has spent decades aggressively scooping up other companies and investing billions of dollars in fiber-optic lines, which have become the dominant form of delivering television and high-speed Internet service.
Comcast, which is valued at $156 billion, is known for its hard-hitting, hard-knuckle negotiations with other companies and, at times, lackluster customer service.
But that's not how the affable, bow-tie-wearing Roberts will be remembered, industry executives said.
"Ralph will be remembered for his character. He was a class act," longtime cable executive Leo Hindery told The Times on Friday.
"It's a long way from Tupelo to Philadelphia, and then making it to the top of the industry heap," Hindery said. "Others would not have been able to pull it off — and they didn't. But Ralph set the tone for his company, and for the entire industry, that persists today."
Among his strengths was a generous nature and a genuine optimism for the future of the business.
Steve Burke, chief executive of NBCUniversal who has worked at Comcast for 17 years, said Roberts was an astute businessman who encouraged his executives to make the best deal for the company. And even in his 80s, after turning over the company's reins to his son Brian, Roberts would attend strategy meetings.
"You might think the oldest guy in the room would be the most conservative, but he wasn't," Burke said. "He would say, 'This sounds like a wonderful idea.' He always believed in investing in the business."
Roberts began grooming his son early, taking the school-age boy to meetings with investment bankers when they were doing deals. But after Brian Roberts graduated from the Wharton School, he didn't start out at corporate headquarters. Instead, Ralph Roberts sent his son out in the field to install cable lines in people's homes.
"Brian could have started in a corner office, but he didn't," Hindery said. "Ralph told him that you will share my values, and your mother's values, or you won't work here. A lot of fathers try to pass their legacy and family business to their sons but few have done it better than Ralph."
Consequently, Comcast has not displayed some of the family tensions and succession battles that have flared up at other media companies such as the Sumner Redstone-controlled Viacom or Rupert Murdoch's 21st Century Fox.
"Ralph Roberts was a one-of-a-kind; consummate gentleman, businessman, father, husband," John Malone, another godfather of the modern-day cable business, said in a statement. "Most of all, I will miss the smile, the bow tie, and the gentle sense of humor."
Roberts was born March 13, 1920, in New York City to Robert and Sara Wahl Roberts. His father owned a string of drugstores and even had a chauffeur.
From the time he was small, Ralph Roberts was making deals. "The first business thing I remember is digging up my mother's marigolds and selling them to the neighbors," he told the Philadelphia Inquirer in 1996. "Ever since I was a kid, I wanted to be in some kind of business."
He learned early on that fortunes can be fleeting. The Depression came, followed by family tragedy. His father died in 1933, and the family lost its fortune. His mother moved with her two younger children, including Ralph, to Pennsylvania to be closer to her family.
After graduating from high school, Roberts enrolled in the Wharton School of business at the University of Pennsylvania. He worked at a variety of jobs, and relished the ones that allowed him to make deals. For example, he started a business providing bus schedules with advertisements and hired other students to slip them under dormitory doors. He would buy eggs from farms in nearby New Jersey and sell them to fraternity houses at the university.
Roberts graduated in 1941 and joined the Navy, serving mostly at the Philadelphia Navy Yard. In 1942, he married Suzanne Fleisher.
After four years in the Navy, he tried various businesses, including developing a new golf putter. When Bob Hope came to Philadelphia, Roberts managed to get the legendary comedian to pose with the putter for a picture, according to the Philadelphia Inquirer.
Roberts then marketed it as the "Bob Hope Putter."
He went on in 1950 to work for entrepreneur William Benton, who owned the Muzak Corp., which, like the cable business Roberts would later enter, worked on a subscription basis. But he wanted to run his own business and bought the Pioneer Belt & Suspender Co., which distributed men's accessories to about 15,000 stores. He sold Pioneer in 1961 when he realized that fewer people would need belts — or suspenders — and made a little more than $1 million.
A chance meeting with a broker in Philadelphia led Roberts to his next investment: the Tupelo antenna company. He was intrigued that people would pay $5 a month for a subscription to three TV channels they could get over the air for free.
Roberts named the company Comcast, a mash-up of communications and broadcast.
"Comcast is a company that will live forever, and that's because of Ralph," Burke, the NBCUniversal chief, said. "He was a tough, astute businessman who wanted his company to be successful. But he also was a lovely and gentle man who was very humble."
Roberts' final visit to Comcast's Philadelphia headquarters came last week.
"It would take Ralph 20 minutes to get to his office from the time he entered the building," Burke said. "He would stop and talk to the security guard, and then he would talk to someone outside the elevator, and then he would run into someone else and stop to talk to them. That was just the way he was."
Besides his wife of more than 70 years, Suzanne, Roberts is survived by four children and eight grandchildren.
Times staff writer David Colker contributed to this article.
---
Must-read stories from the L.A. Times
Get the day's top news with our Today's Headlines newsletter, sent every weekday morning.
You may occasionally receive promotional content from the Los Angeles Times.