Amazon's HQ2 is headed to New York and Virginia with thousands of jobs. Here's why some in L.A. are relieved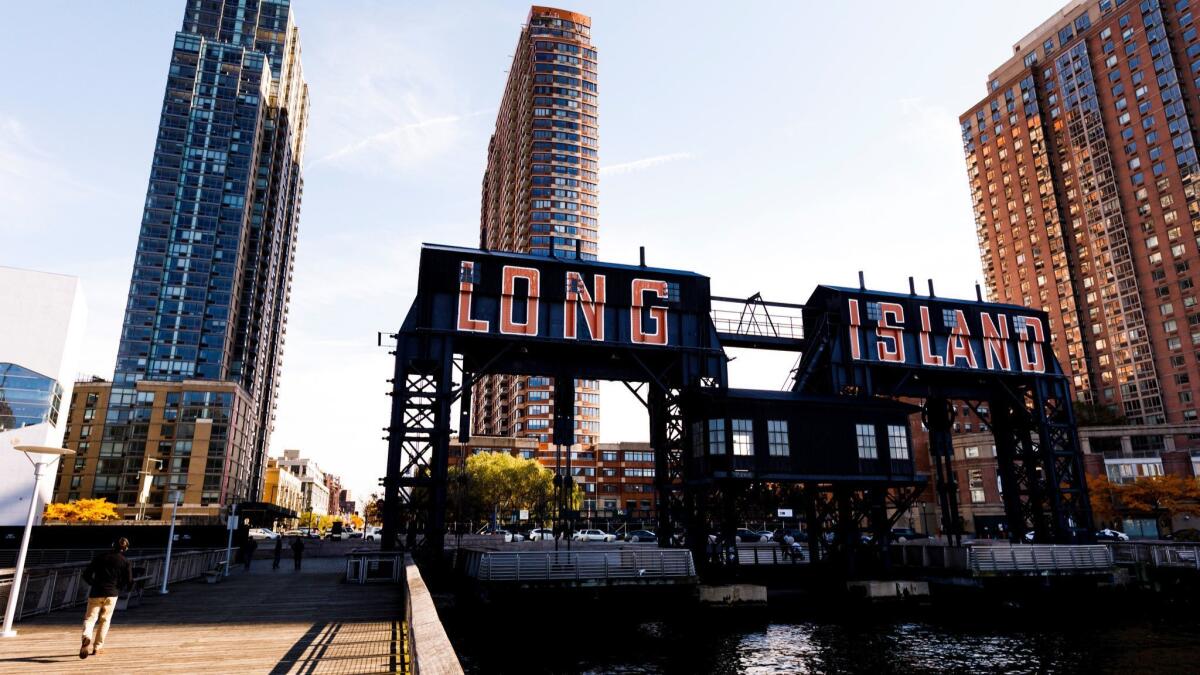 When Amazon launched its HQ2 contest last fall, dangling a prize of 50,000 high-paid jobs and a $5-billion investment, some 238 North American cities and regions embarked on a mad scramble, serving up gobs of proprietary data, along with hefty tax breaks, to host the tech titan's satellite headquarters.
Among the gaggle of California supplicants from San Diego to Irvine to San Francisco, Los Angeles made the cut of 20 finalists, the lone survivor west of the Rockies.
But now, with Amazon's decision to expand across the continent from its Seattle home, splitting its new corporate footprint between New York City and northern Virginia — plus some jobs in Nashville — the City of Angels is not so much indulging in a pity party as offering up a collective shrug. Some Amazon skeptics are even relieved.
"Thank God," said Christopher Thornberg, founding partner of Los Angeles' Beacon Economics, a go-to consultancy for California officials, and director of UC Riverside's Center for Economic Forecasting.
"We have record low unemployment, skyrocketing housing costs, horrendous traffic and somehow we wanted to drop 50,000 overpaid techies into the middle of this?" he added. "What the hell. I don't get the logic."
Economic development is "best done by helping existing businesses grow, and by building more housing and infrastructure," Thornberg said. "Not by spending millions of dollars in subsidies and countless man-hours chasing a monster like Amazon. Why do it? So politicians can have bragging rights."
Even the project's local boosters don't seem to view Amazon's decision as a fatal snub.
"I wouldn't say we were disappointed, because the process was positive," said Bill Allen, CEO of the Los Angeles Economic Development Corp., the public-private entity that drafted the county's 350-page bid and squired Amazon representatives around more than half a dozen campus sites on multiple visits. Amazon "already has thousands of employees here," Allen said. "I'm confident it will invest more."
In fact, the headquarters contest was arguably a small part of a vast dispersal strategy as the $178-billion company grows at breakneck speed across the globe, gobbles up other companies, launches new endeavors and engages in a fierce competition for tech talent with Google, Facebook, Microsoft and others.
Just 45,000 Amazon employees, in a worldwide workforce of about 613,000, are based in Seattle. California is a close second with 39,000 Amazon staffers — not counting the thousands who work for Whole Foods and other subsidiaries. The company says it has invested more than $19 billion in the Golden State since 2011.
Three of the company's 18 North American tech hubs are in California — in the Bay Area, Los Angeles and San Diego with nearly 10,000 workers at Amazon Devices, Amazon Web Services, Amazon Studios, Prime Video, Amazon Game Studios, the Alexa voice-activated service and IMDb, the movie and television database. Irvine offices also staff Alexa, cloud computing and game operations.
In February, Amazon added more than 400 California employees with its purchase of Ring, a Santa Monica maker of high-tech, video-enabled doorbells.
But the tech behemoth's well-paid engineers and software developers in California are far outnumbered by low-wage retail and warehouse employees at its 85 Whole Foods stores, 23 giant shipping centers and nine fast-delivery Prime Now hubs.
As it sorts and ships imported goods flowing through the ports of Los Angeles and Long Beach, Amazon has become the Inland Empire's largest employer, building 13 huge facilities over the last six years, with 18,000 full-time workers.
Los Angeles County Supervisor Mark Ridley-Thomas, who commissioned the LAEDC bid, wished New York and Virginia well, but added: "There are enough jobs in innovative growth industries to go around. Los Angeles is doing quite nicely — thank you very much — and we're poised to do better."
No information was released as to promised tax breaks in Los Angeles' bid, although Amazon made clear in its request for proposals that incentives would be a major factor. LAEDC signed a nondisclosure pact with the company. And because the bid was handled by a public-private corporation, it is not subject to Public Records Act requests, according to Allen.
Daniel Flaming, president of the Economic Roundtable, a Los Angeles nonprofit research group, said that an HQ2 workforce could have created "problematic secondary effects of housing displacement as these high-paid workers settled in Mar Vista, Santa Monica and Venice — places that had been affordable."
But he added, "It is good for the region to have a stronger income base and more consumer buying power — and that outweighs the displacement effects."
The housing and traffic impact would not have been as much as feared, Allen suggested, because Amazon's headquarters, while it would have brought new jobs, would not necessarily have attracted a large influx of people. Many of the jobs could have gone to current residents, he said.
Nonetheless, 16 California groups were among the 125 community organizations that signed an open letter to Amazon CEO Jeff Bezos last year, somewhat hostile in tone, demanding that the company allow labor organizing and contribute financially to affordable housing. Amazon has traditionally fought off attempts to unionize.
"It goes without saying that you can't have great public services without paying taxes," the letter added. "We know you've had a little problem grasping that, sometimes. Here's the deal…You must pay all of your property taxes [and] sales taxes."
Cynthia Strathmann, executive director of Strategic Actions for a Just Economy, a Los Angeles nonprofit and one of the letter's signers, said she is "very happy" HQ2 is going elsewhere.
"Amazon is not known as a good employer," she said. "We need employers where workers have some control over their working conditions."
In Seattle, she added, "We've seen the upward pressure Amazon put on housing costs. We've seen it with other tech companies in the Bay Area. City officials are dazzled by the prospect of business expansion without looking at the costs."
Economist Amihai Glazer, director of UC Irvine's Program in Corporate Welfare, sees political opposition to Amazon growing since the HQ2 announcement.
"Firms are facing pressure when they grow too large," he said. "They're blamed for political ills. Seattle's City Council tried to tax Amazon to pay for homelessness. In Anaheim, a successful ballot initiative to raise wages was aimed at Disney."
This month, San Francisco voters approved a ballot measure raising taxes on companies with more than $50 million in annual revenue to pay for housing and services related to homelessness. In Mountain View, an initiative hiked business license fees on large companies to pay for transit infrastructure. Google will now owe as much as $3 million a year.
Glazer was skeptical of HQ2 benefits.
"Amazon played cities against each other," he said. "But incentives often lead to winner's remorse. Last year, for instance, Boston offered $145 million to General Electric [for its new headquarters] but the promised employment has not materialized."
In its Tuesday announcement, Amazon said New York had agreed to at least $1.5 billion in tax credits and grants; Virginia will award $573 million in cash grants and $195 million in infrastructure improvements; and Tennessee will provide $102 million in cash grants and tax credits.
HQ2 jobs "would not have made much difference in a big place like L.A. with a population of 13 million," Glazer suggested. "Would we have become a second Silicon Valley? That is what people dream of. But I don't have the sense that Amazon has spawned many start-ups, although we know they have spun off from Microsoft and others."
At LAEDC, Allen disputes the idea that Amazon's new jobs would not have made a difference.
"Economies are cyclical," he said. "It is true we have low unemployment now, but look back eight years ago to the economic crisis. By the time Amazon built out over three to 10 years, we could be in recession and thrilled to have those jobs."
Twitter: @margotroosevelt
---
UPDATES:
1 p.m.: This article has been updated with additional information about tax credits and grants paid by the winning cities.
This article was originally published at 7:10 a.m.