American Airlines offers helicopter rides and private lounges for super VIPs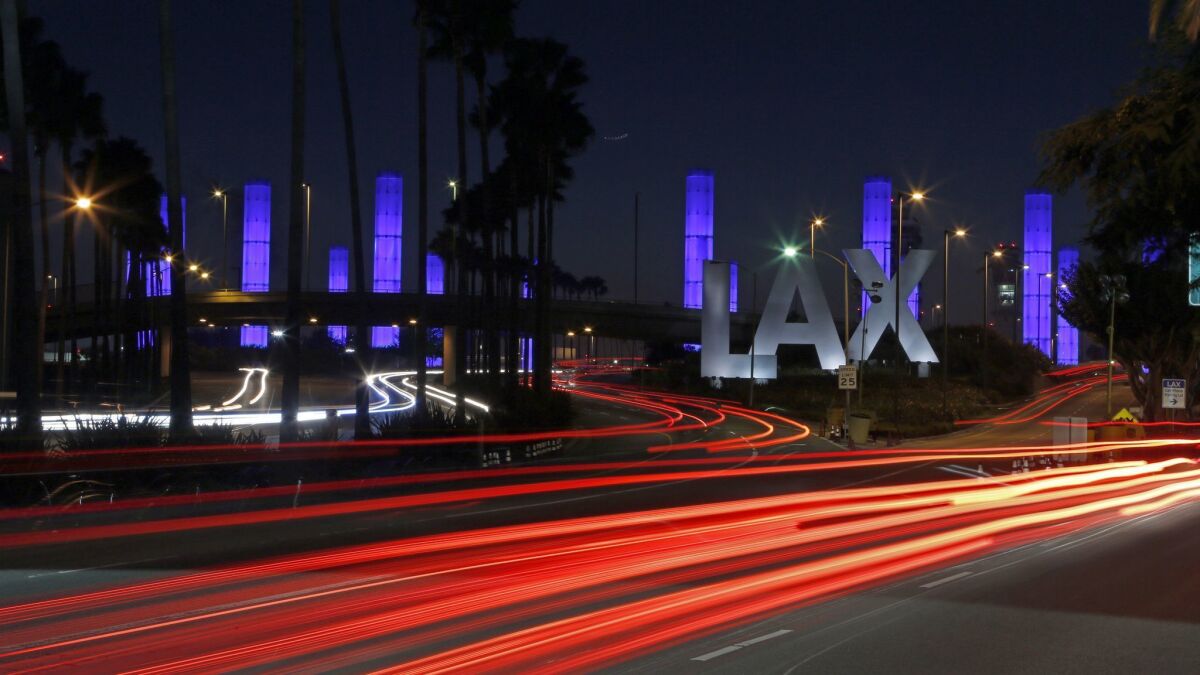 American Airlines has just banished two of the most annoying aspects of flying out of Los Angeles International Airport: traffic gridlock and the long security screening line. But it won't be cheap.
In the latest effort by the airline industry to cater to well-heeled travelers, the world's largest air carrier launched a super VIP package Tuesday that includes a helicopter ride to LAX and security clearance at a cushy private lounge, with a Cadillac sedan ready to zip you to your plane. American is offering a similar deal in New York.
All that pampering can add more than $1,700 to the price of an airline ticket.
The package, known as Five Star Service, is part of an arms race among the nation's biggest carriers to win over business travelers and wealthy leisure jet-setters who generate the lion's share of airline revenues.
"Whatever they can do to get a celebrity or premium business traveler to spend thousands of dollars on a flight, it's worth doing," said Seth Kaplan, editor of Airline Weekly, an industry publication.
The upscale offerings are becoming more and more elaborate as demand for air travel has surged and consumer confidence has climbed. But such swanky features might not last if the country hits another economic slump, Kaplan said.
"These are the kinds of things you do when times are good," he said.
In May, United Airlines announced a deal that lets passengers get access to Private Suite, the private terminal on the outskirts of LAX where VIPs can check in for a flight, relax in luxury, clear security and get whisked to the plane in a new BMW sedan without having to go into an airport terminal and rub elbows with the common folk.
Over the last few years, United Airlines, Delta and American have all started offering premier travelers chauffeured Mercedes-Benz, Porsche and Cadillac cars to make connections at LAX.
Delta Air Lines, which operates a private curbside entrance for VIP travelers and celebrities at LAX, launched a $1.9-billion renovation in 2017 to its LAX terminals. In 2021, the airline plans to unveil a swanky new Sky Club lounge to serve its premium passengers and top loyalty reward members.
Earlier this month, United said it planned to add more than 1,600 United Polaris business class pods — featuring lie-flat seats and Saks Fifth Avenue bedding — and United First seats to nearly 250 international and domestic aircraft.
Under American's Five Star add-on package, fliers can grab a seat on a chartered helicopter that takes off from Van Nuys Airport, Santa Monica Airport or the rooftop of a parking garage near the Los Angeles Convention Center.
Once the helicopter lands at LAX, the passengers will be driven in a Cadillac either to the off-site Private Suite facility for security screening or to the airline's upscale Flagship First Check-in at Terminal 4, where VIPs can handle all those mundane check-in and screening chores before hanging out in the airline's premium lounge.
The helicopter flight must be booked through a charter service called Blade.
The helicopter ride to LAX could add up to $1,350 to the price of a flight on American Airlines. In addition, American Airlines charges $350 for the Cadillac ride from the chopper to the carrier's luxury facilities at Terminal 4.
There is a separate charge of $1,200 per couple to have the Cadillac drive the fliers to Private Suite to get access to its private screening.
"The No. 1 pain point of traveling from New York City and Los Angeles to the airports is traffic," Blade Chief Executive Rob Wiesenthal said in a statement. "Our Blade airport transfer product turns an hour-and-a-half drive into a helicopter flight that's five to seven minutes."
To read more about the travel and tourism industries, follow @hugomartin on Twitter.