Blue Shield spends $1.25 billion on Care1st deal, records show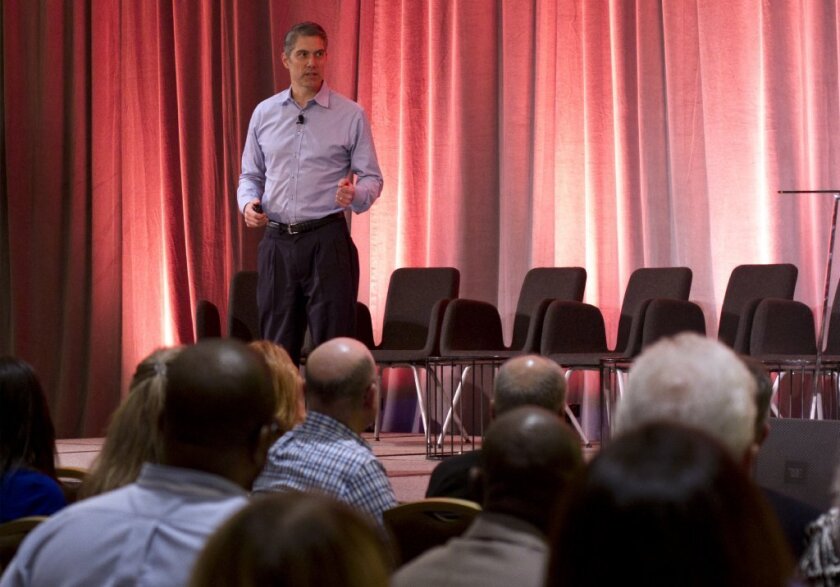 Nonprofit insurer Blue Shield of California is spending $1.25 billion on its acquisition of Monterey Park health plan Care1st, records show.
Blue Shield had refused to disclose the purchase price when it announced the deal in December and then sought confidentiality from state regulators in late January.
The California Department of Managed Health Care turned over Blue Shield's filings late Monday in response to a public-records request from The Times.
The San Francisco insurer will draw on its financial reserves of nearly $4.2 billion to fund the deal for Care1st, which primarily serves Medicaid managed-care patients.
A company spokesman said the actual purchase price is slightly lower at $1.2 billion since $50 million is set aside to cover operating expenses in a holding company created as part of the deal.
Blue Shield's corporate spending, use of reserves and lack of disclosure are all getting fresh scrutiny in light of news last week that the insurer lost its tax-exempt status.
The Times reported that the California Franchise Tax Board revoked the company's exemption for state income taxes in August after an audit.
Blue Shield is protesting the tax board's decision and said it intends to remain a nonprofit, which is a separate matter from tax-exempt status.
The acquisition, if approved by regulators, would leave Blue Shield with nearly $3 billion in reserves.
Some critics want public hearings on the Care1st deal. They're also calling for a public debate about whether the company's stockpile of cash could be put to better use for Californians statewide.
State regulators haven't commented on the request for a hearing. Blue Shield expects the transaction to close later this year.
In its filings to the state, Blue Shield compares its reserves with two other for-profit rivals, Anthem Inc. and Health Net Inc.
The Department of Managed Health Care requires the health plans it oversees to maintain a minimum amount of reserves to cover claims. For Blue Shield, that minimum threshold was about $290 million as of Sept. 30, according to company documents.
Prior to the deal, Blue Shield's reserves were at nearly 1,500% of the state minimum. After the acquisition, the company said it would still have 1,012% of the necessary surplus.
Blue Shield told regulators that its reserves would still be "well above many of its competitors including Anthem Blue Cross (476%) and Health Net (535%)" based on Sept. 30, 2014, financial statements.
For comparison, the Blue Cross and Blue Shield Assn. requires its member plans to hold at least 375% of the minimum capital reserves to cover future expenses.
Insurers strive to be comfortably above any government threshold to avoid any concerns and to maintain the confidence of credit-rating firms.
Nonprofit health plans tend to amass more cash because they can't issue stock like their for-profit rivals and at times they have less access to the debt markets.
Twitter: @chadterhune
---
Your guide to our new economic reality.
Get our free business newsletter for insights and tips for getting by.
You may occasionally receive promotional content from the Los Angeles Times.