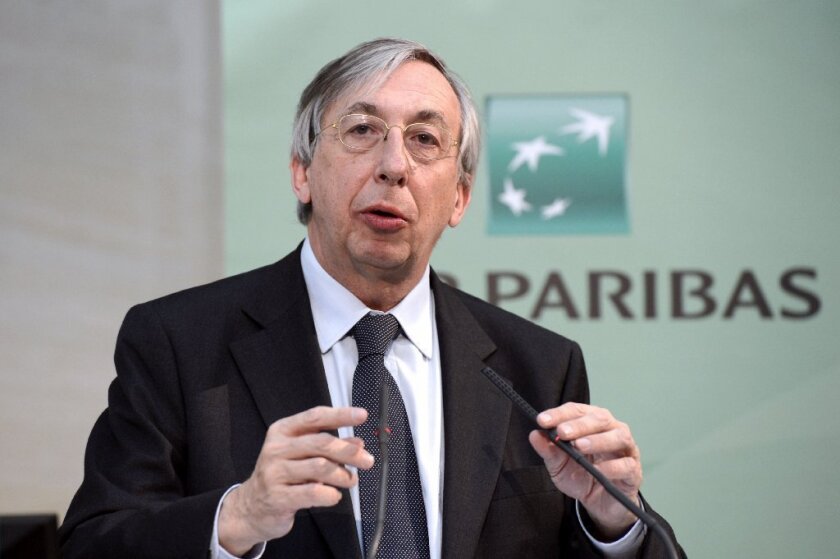 Pleading guilty to two felonies, French banking giant BNP Paribas will pay more than $8.8 billion to federal and New York state authorities to settle accusations that it funneled billions of dollars from blacklisted countries -- Sudan, Iraq and Cuba -- through its U.S. operations.
The agreement, announced late Monday in Washington, is the largest ever in a sanctions violation case, and the largest in a criminal case involving a bank, federal authorities said in a late afternoon news conference in Washington.
To accomplish the "complex and pervasive scheme," BNP structured payments in needlessly complicated ways and concealed the identities of blacklisted individuals and corporations, U.S. Atty. Gen. Eric Holder said.
"This outcome should send a strong message to any institution -- anywhere in the world -- that does business in the United States: illegal conduct will not be tolerated," Holder said. "And wherever it is uncovered, it will be punished to the fullest extent of the law."
BNP Paribas had no immediate comment on the settlement, said Cesaltine Gregorio, a U.S. spokeswoman for the bank.
The settlement follows a series of high-profile settlements by U.S. banks linked to the financial crisis. Those deals also required the payment of billions of dollars but contained no guilty pleas by banks or bankers, a fact bemoaned by critics who said banks should not be "too big to jail."
Recent scandals involving European banks have centered on wrongdoing not directly related to the crisis -- the rigging of key interest-rate benchmarks, evasions of restrictions on doing business with nations and individuals blacklisted by the United States, and helping wealthy Americans evade paying taxes.
In announcing the settlement, officials said BNP processed illicit transactions beginning in 2004 and as late as 2012, long after investigations into the defiance of sanctions began.
"Remarkably, BNPP continued to engage in this criminal conduct even after being told by its own lawyers that what it was doing was illegal," Asst. U.S. Atty. Leslie Caldwell said.
The settlement includes a temporary ban on BNP processing transactions in dollars through its New York operations, a key function for large international banks, and the departure of about a dozen involved employees, both demands made by New York state regulators.
The bank's chief operating officer, Georges Chodron de Courcel, already had announced his departure.
BNP, which with $2.5 trillion in assets is larger than any U.S. bank, is the parent company of San Francisco's Bank of the West, the third-largest bank based in California. Bank of the West is not expected to be affected by the deal since it was not implicated in wrongdoing, regulators said.
The bank disguised the fact that it was processing transactions done in dollars through the U.S. banking system. Had the deals been processed in other countries and using other currencies, there would have been no U.S. violations.
The fines are expected to cover both civil and criminal wrongdoing, with the latter to include transactions involving Sudan's huge oil holdings.
---