Forget stars' homes. These tours visit pot growers and bong makers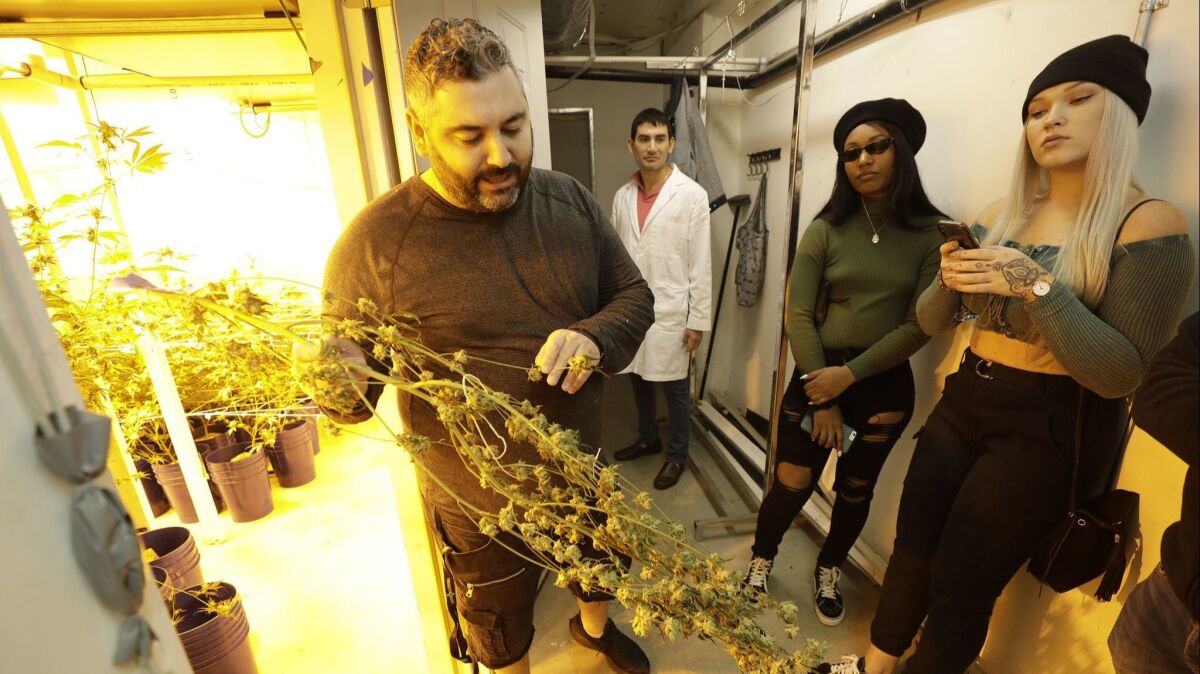 In Napa and Sonoma, tour bus operators ferry oenophiles between tasting rooms and vineyards. In Hollywood and environs, they shepherd the stars-truck past the homes of the rich and famous.
Now they're giving customers a mind-expanding look at one of Los Angeles' burgeoning industries: pot.
Since recreational use of marijuana became legal a year ago, a pot tourism business has emerged, taking visitors behind the scenes of California's estimated $7-billion cannabis industry.
"Every other day it seems another tour company is popping up," said Lauren Jones, who owns Weedology, a cannabis tour company based in Los Angeles. "It's like a gold rush."
Each pot tour company has its own points of interest, generally including a grow facility, a bong maker or accessory retailers and a marijuana dispensary, where visitors can get joint-rolling lessons. Expect product discounts but not freebies. And some tours allow smoking on board, for those so inclined.
Tours are priced between $40 and $200 a person, depending on the length of the trip, the stops and other features.
Starting this month, L.A.-based Green Tours is adding an itinerary that includes a pot-smoking session with weed-loving '70s movie legend Tommy Chong. That tour is priced at $149 a person, owner Gene Grozovskiy said.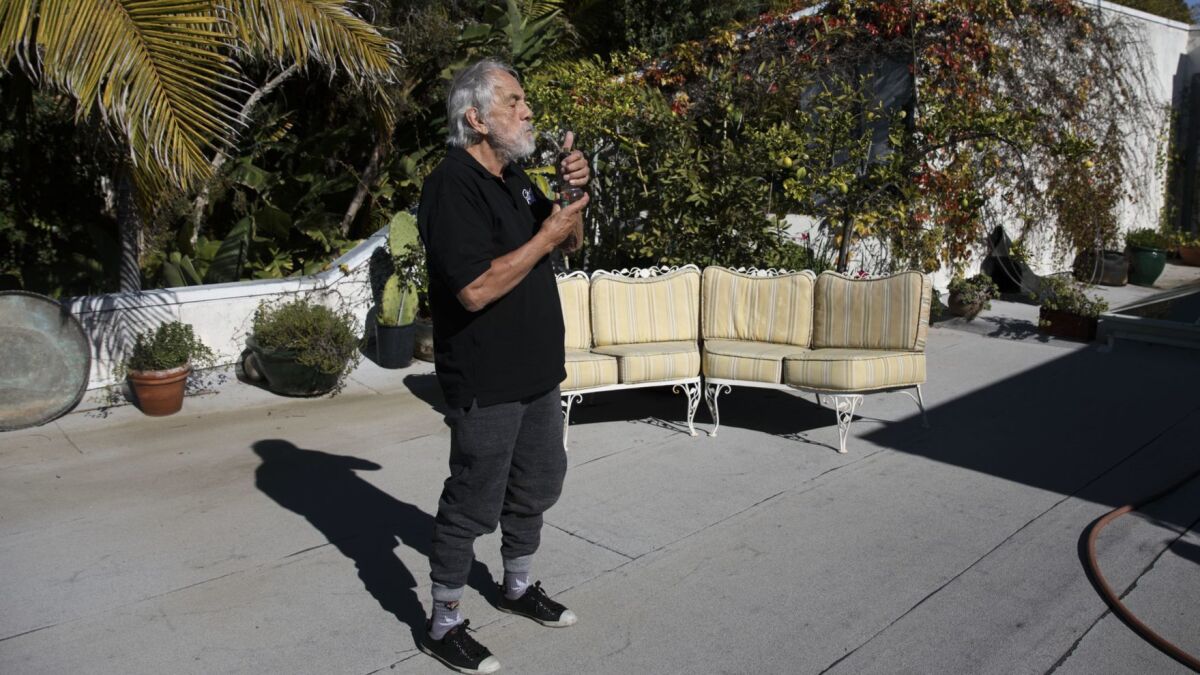 Grozovskiy's father thought his son was nuts when he announced plans to quit his full-time job as a patient placement coordinator at a large Los Angeles hospital to start a marijuana tour company.
"At first pops was like, 'You want to do what kind of tours?''' Grozovskiy, 35, recalled. "He thought I was just being silly."
Other tour company owners also come with respectable credentials and want to hop on what they see as a profitable future in recreational cannabis.
Jones, who works as a resources specialist at Los Angeles Unified School District, launched Weedology tours in February as a part-time gig that she hopes can eventually grow to a full-time job.
Ed Legarda is a tech-industry consultant who started Green Line Trips in January. It primarily offers tours on the weekends but he hopes it will expand to daily operation.
Cannabis tourism also has caught on in other places where weed is legal, such as Colorado and Nevada. It's part of myriad ancillary businesses that make up the marijuana industry, including compliance consultants, cannabis testing labs, ultraviolet lighting installers, security firms and transportation services.
The National Cannabis Industry Assn., a trade group based in Colorado, has nearly 2,000 business members, with about 60% to 70% of those companies providing services that don't involve selling marijuana, spokesman Morgan Fox said.
"We have seen an explosion of businesses related to cannabis," he said.
Nationwide, the sale of cannabis directly or indirectly employed an estimated 170,000 full-time workers in 2017, according to a study by Arcview Group, an Oakland-based firm for investors in the marijuana industry. That number is expected to grow to more than 467,000 full-time workers in 2022, the firm estimates.
A tour with Green Tours on a Saturday afternoon in December started at a parking lot next to the Universal City metro station. The guests, mostly journalists wanting to know more about the tour, loaded into a black Mercedes-Benz van.
The tour was led by a young, gregarious guide, Ryan Lance, who stood in the front of the van, explaining the schedule and recounting the legal history of cannabis in the U.S. Reggae music videos blasted from an overhead television screen.
Guests were not allowed to smoke cannabis in the van to avoid putting the driver under the influence. Other tour companies, such as Green Line Trips, allow smoking in the van because the cab in those vehicles is separated from the passenger area.
The first stop for Green Tours was a grow facility and dispensary on Vineland Boulevard in North Hollywood called MMD, run by Michael Ashbel, a former real estate agent, and his brother Steve, the former co-owner of an adult day care facility.
The Ashbel brothers led guests to a large upstairs room where small pot plants, no more than 2 feet tall, grew from hydroponic containers, nourished 24 hours a day by halogen and UV lights.
Next, the group was escorted to another expansive room where marijuana plants grew 4 to 5 feet high. The lighting, the temperature and even the breezes from electric fans were monitored around the clock.
In this room, the grow managers trick the plants into thinking that their life cycle is ending by reducing the lighting to only 12 hours a day. This prompts the plants to begin to flower, producing buds with sticky resin glands, or trichomes, that contain the psychoactive ingredients that create the euphoric high for people who smoke or ingest it.
Once the plants are heavy with buds, the branches are cut and hung upside down in another room so they can dry and cure before a team of men and women use tiny pruning shears to harvest the buds.
Most of the plants produced by MMD are a variation of the popular strain of cannabis called OG Skywalker or OG Kush, which is known for its high tetrahydrocannabinol (THC) content, Ashbel said.
After visiting the dispensary, where guests are offered discounts on cannabis products and accessories, the van headed along Tampa Avenue in Reseda to American Made Glass, a small manufacturer of glass pipes and bongs.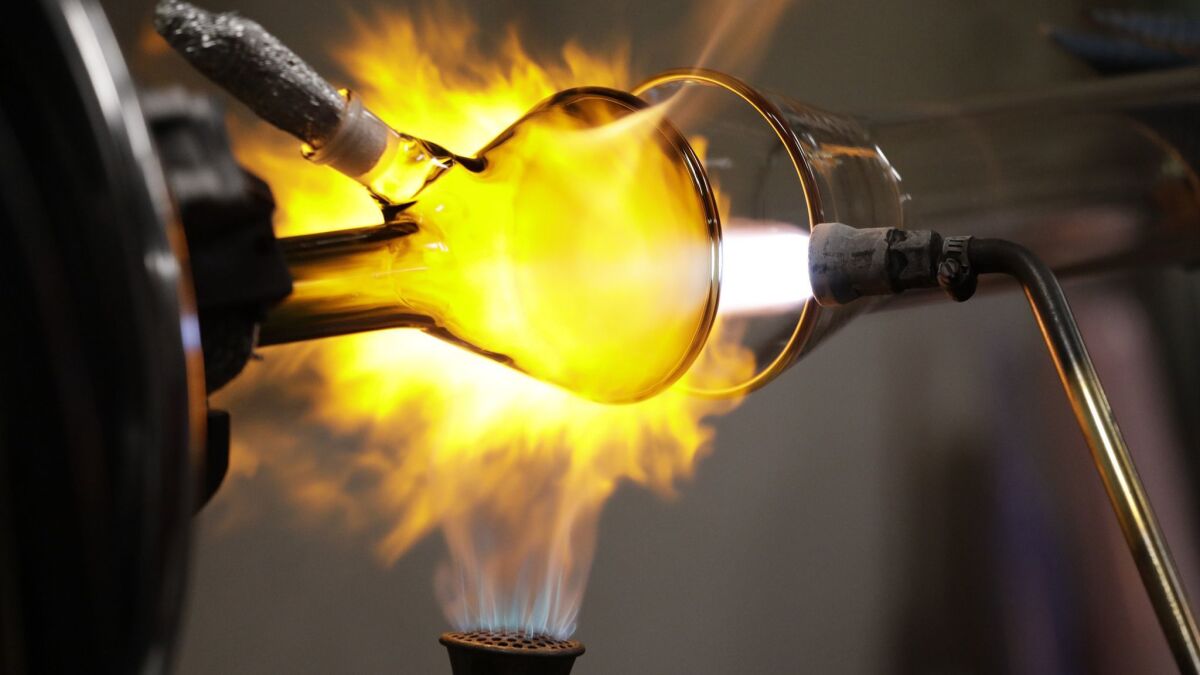 In the small, cluttered shop owned by Pazit Tsoar, the tour guests watched glass blower Ivan Dominguez make a three-chamber water bong using a large lathe that spun long glass tubes while he wielded a blowtorch to heat and shape the glass.
Across the street from the glass company, the guests visited the company's retail outlet, which was crowded with shelves lined with bongs and pipes in the shapes of horses, pigs, parrots, pandas, rocket ships and monsters, among other designs.
After a tour of the store, the guests were invited to a picnic table in a backyard area behind the outlet for lessons in joint rolling, with mounds of oregano substituted for real marijuana. The day ended with a joint-rolling contest, with the winner awarded airtight glass jars with the Green Tours logo emblazoned on the outside, perfect for storing marijuana.
One of the biggest surprises for cannabis tour operators is that the customers haven't been limited to young, pot-loving locals.
Instead, a majority of people booking tours are out-of-town Baby Boomers who are bored with the typical sightseeing excursions. Entrepreneurs interested in jumping into the cannabis business are also frequent cannabis tour guests.
"Our demographics are totally different than we expected," said Grozovskiy, noting that he recently gave a tour to a group of UCLA doctors who wanted to learn more about cannabis.
Carol Mulligan, a retired pharmacy employee from Merritt Island, Fla., and her husband, Bob, a retired investment advisor, took a cannabis tour with Green Tours about five months ago during a Los Angeles stop on a road trip in their recreational vehicle.
"I took it because I was curious," Carol Mulligan said. "It was something new to do."
The couple didn't buy any cannabis products, even though tour guests get a discount. But Mulligan said she was tempted to buy a water pipe — an unusual souvenir to share with the folks back home.
"I wanted to because they were so unique," she said.
Like many pot-related businesses, cannabis tour operators have faced unique challenges.
Cannabis tour companies have had to draw customers without the help of established travel booking websites, such as Expedia, which are reluctant to accept ads for any cannabis-related business — even if they don't actually sell marijuana.
"Because of the challenging landscape with varied and inconsistent laws related to cannabis throughout the United States, Expedia currently does not list cannabis-related tours or activities," an Expedia representative said in a statement.
As a result, tour operators say they are relying on distributing pamphlets, word-of-mouth advertising or European-based travel sites that have more liberal policies toward pot-related businesses.
Getyourguide.com, an online travel site based in Berlin, advertises Green Tours, but the site's managers say they will add other cannabis tours only after they are evaluated and proven to be legitimate tours.
"We don't have any issue putting up these cannabis tours as long as they are not directly advertising the sale of cannabis," said Andy Hunter, destination manager for Getyourguide.com in California and Nevada.
Another advertising alternative for cannabis tours has been Groupon, the online marketplace for discounted goods and services.
Legarda of Green Line Trips said his business was struggling until he began to advertise on Groupon.
"It went on Groupon," he said, "and sales took off."
To read more about the travel and tourism industries, follow @hugomartin on Twitter.
---
Sign up for the California Politics newsletter to get exclusive analysis from our reporters.
You may occasionally receive promotional content from the Los Angeles Times.