Are Trump's attacks setting up the Fed to take the fall for a slowdown ahead of reelection bid?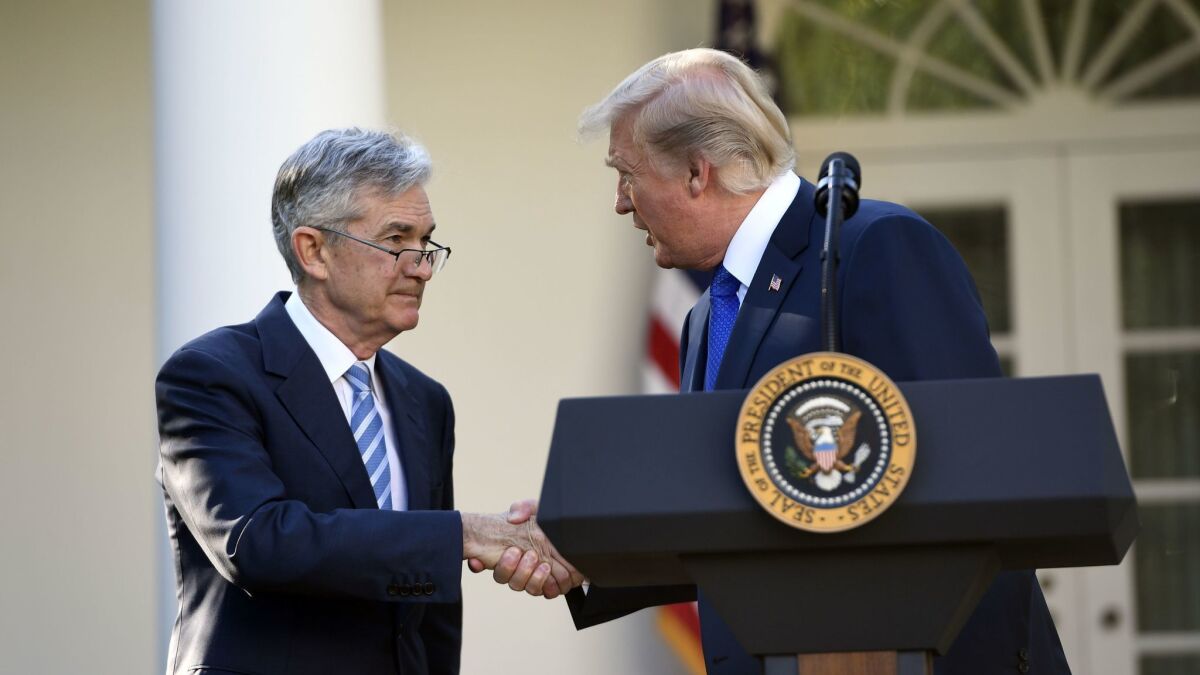 Reporting from Washington —
President Trump's relentless public criticism of Federal Reserve officials for their recent interest rate hikes — he ripped them again this week — could set up the central bank for blame if the economy is weaker in 2020 when he is running for reelection, analysts said.
"I think the president is using the Fed as a scapegoat if things go wrong," said Mark Zandi, chief economist at Moody's Analytics. "If the economy slows, he's definitely going to blame the Fed for it."
The chief fall guy could be Trump's handpicked Fed chairman, Jerome H. Powell. He took over the job in February and has increasingly drawn the president's ire by pushing ahead with the independent central bank's long-telegraphed plans to slowly raise a key short-term interest rate.
"Trump is a master at finding foils to blame when things go wrong, and he has a scapegoat waiting in the wings if Powell's policies displease the markets," said Gregory Valliere, chief global strategist at Horizon Investments, an investment management firm.
Economic forecasters are predicting U.S. economic growth will slow starting in 2019 as the stimulus from this year's tax cuts and increased government spending begins to fade.
The Congressional Budget Office forecasts U.S. economic growth slipping from 3.1% this year to 2.4% in 2019 and 1.7% in 2020. The Fed has a similar forecast.
The latest quarterly outlook from the National Assn. for Business Economics found 56% of its respondents anticipate that a recession — defined as at least two consecutive quarters of negative growth — will begin in 2020. And JPMorgan Chase analysts calculated last week that there was a more than 60% chance of a recession striking within the next two years.
Former Fed Chairman Ben S. Bernanke summed it up colorfully in June when he said the fiscal stimulus was going "to hit the economy in a big way this year and next year, and then in 2020, Wile E. Coyote is going to go off the cliff."
Trump's political future could tumble with it.
His approval rating, though ticking up recently, remains well below 50% despite polls showing voters are very satisfied with an economy humming along strongly.
But growth might have reached its high point for the Trump administration in the second quarter of this year. The economy grew at a 4.2% annual pace, the fastest since 2014. Economists expect the Commerce Department to report Friday that the annual growth rate slipped to about 3.3% in the third quarter.
Trump has been complaining that the Fed is inching up its key short-term interest rate, a textbook monetary policy response when the economy is growing faster and inflation is gathering steam.
The Fed uses the rate — a benchmark for credit cards, car loans, home equity lines of credit and small-business loans — to try to maintain maximum employment and stable prices.
Fed officials increased the target range for the rate by 0.25 percentage points in September, to between 2% and 2.25%. It was the third time the Fed nudged up the rate this year, with another 0.25-percentage-point increase expected in December and three more in 2019.
Still, the rate remains historically low. But it's well above the unprecedented, near-zero level the Fed kept it at for seven years starting in late 2008 to fight the Great Recession and its aftermath.
Trump longs for those super-low rates, which spur growth by making borrowing less expensive. He complained Tuesday that he wasn't getting the same monetary policy treatment as President Obama.
"I'm very unhappy with the Fed, because Obama had zero interest rates and I have almost normalized — and maybe normalized, depending on who you're talking to — interest rates," Trump told the Wall Street Journal.
The interview continued a string of rare public criticism of the Fed that began in the summer, the first time a sitting president had publicly bashed the central bank since 1992.
Trump declared in July he was "not thrilled" by recent Fed rate increases. The next day, he said the hikes were "taking away" the U.S. competitive edge.
Later in the summer, he suggested that the Fed wasn't doing "what's good for the country." Then, amid steep stock market declines this month, Trump said the Fed is "going loco." and he's "not happy about it."
Last week, he branded the Fed "my biggest threat." And on Tuesday, Trump focused his fire squarely on Powell.
"He was supposed to be a low-interest-rate guy," Trump told the Wall Street Journal. "It's turned out that he's not."
It's not uncommon for presidents to blame, criticize or pressure the Fed behind the scenes. Former Fed Chairman Alan Greenspan said all four presidents during his watch did so, including Ronald Reagan and Bill Clinton.
What's unusual about Trump's recent comments is they have been public and that he's pillorying the Fed at a time when the economy is still growing strongly.
"Normally when politicians attack the Fed, it's because they're getting blowback from the public about the economy and they're looking for someone to blame," said Robert J. Shapiro, chairman of consulting firm Sonecon and a former economic advisor to President Clinton.
Shapiro takes the view that Trump's Fed criticisms as more of a knee-jerk reaction to recently falling stock prices and the potential impact on real estate, from which the president built his personal wealth, than a deliberate strategy to blame the central bank for a future downturn.
"The White House doesn't believe it," Shapiro said of such a slowdown. "It is not projecting a recession."
Although the stock market has slumped in recent days, mostly because of concerns about higher interest rates and U.S.-China trade tensions, overall economic growth remains solid. And it's very likely that the current expansion, already in its ninth year, will break the record next summer as the longest period of economic growth in U.S. history.
The Fed, in its periodic report of economic activity, on Wednesday described the current growth in most parts of the country as "modest to moderate." But the report noted broad concerns about labor shortages, rising costs for materials and shipping, and lingering uncertainties over trade.
Joshua Feinman, chief economist and managing director of Deutsche Asset Management in New York, doesn't have recession as his baseline forecast in 2020, but says it will be tricky to avert one.
Zandi isn't optimistic.
"I think 2020 will be a tough year," he said. "Growth will slow sharply and recession risk will be high."
He noted the Fed kept interest rates at zero for most of Obama's two terms because the economy was struggling to recover from the Great Recession.
"We were at zero because we had a 10% unemployment rate," Zandi said. "There were unemployed and underemployed people everywhere."
As the recovery strengthened during Obama's second term and now into Trump's, the Fed's worry now is how to prevent the economy from overheating. But those rate hikes could add to the downward pressure on the economy.
"I think Trump actually told the truth when he said that Powell is the single greatest threat to his reelection," Valliere said. "I don't think the Fed will be affected by the criticism; they have very thick skin."
Powell has indicated he won't be swayed. The Fed pushed ahead with its most recent rate hike despite Trump's public complaints. And that didn't please the president.
"It almost looks like he's happy raising interest rates," Trump told the Wall Street Journal.
Twitter: @JimPuzzanghera
---
Sign up for the California Politics newsletter to get exclusive analysis from our reporters.
You may occasionally receive promotional content from the Los Angeles Times.