Provision to charge foreign airlines extra taxes was cut from Senate tax bill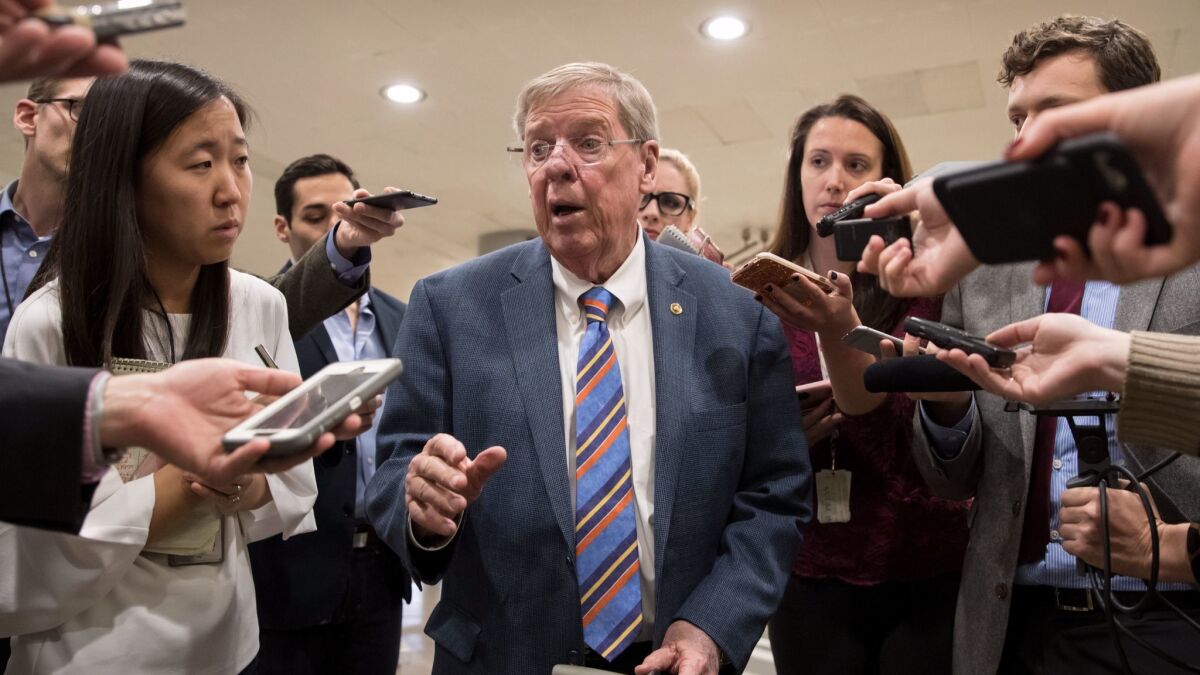 Several foreign airlines that are in heated competition with U.S.-based carriers will not be forced to pay higher taxes under the Senate tax bill that was approved over the weekend.
A provision entered into the tax bill by a Georgia senator to impose a corporate tax on several foreign airlines was removed at the request of the Office of the Parliamentarian because the amendment was determined to be extraneous to the overall bill.
The tax bill that was approved by the House of Representatives does not include a similar tax increase for foreign carriers.
Sen. Johnny Isakson (R-Ga.), whose state is home to Delta Air Lines, proposed the provision to require three carriers based in the Middle East — Etihad, Emirates and Qatar airlines — to pay corporate taxes for the revenue they generate in the U.S.
Several U.S. airlines, including Atlanta-based Delta, have accused the three carriers of competing unfairly in the U.S. because they are subsidized by their oil-rich government owners. They have urged lawmakers to take action against the Gulf-based carriers, which have rejected the accusations by their competitors.
Under international agreements, most foreign carriers pay no taxes on gross income they earn when they fly into the U.S. In exchange, U.S. carriers get the same treatment when they fly into most foreign airports. Airlines that fly abroad still pay landing fees and other charges for the right to land in foreign airports.
The provision introduced by Isakson would break that agreement by imposing a corporate tax rate on foreign carriers whose home country doesn't have a tax treaty with the U.S. and isn't served by an American carrier at least twice a week.
Isakson's provision did not name the carriers that would be forced to pay the new taxes but his staff said the proposed amendment was aimed at the three Gulf carriers that compete with Delta. An industry expert said the provision would affect airlines from 11 countries and territories, in addition to the three Gulf carriers.
A spokeswoman for Isakson, Amanda Maddox, said the senators hope the provision "raised the profile of this issue with the administration and, going forward, increases pressure to get all parties to the table."
Representatives for the three Gulf carriers could not be reached for comment but the U.S. Travel Assn., the trade group for the country's travel industry, said the Senate was wise to remove the provision.
"A half-baked measure that could've impacted both tax reform and travel was recklessly tossed on the Senate's lap, and wisely disposed of," said Jonathan Grella, a vice president for the group.
To read more about the travel and tourism industries, follow @hugomartin on Twitter.
---
Sign up for the California Politics newsletter to get exclusive analysis from our reporters.
You may occasionally receive promotional content from the Los Angeles Times.