Southern California home prices jump again. Lots of residents worry about affordability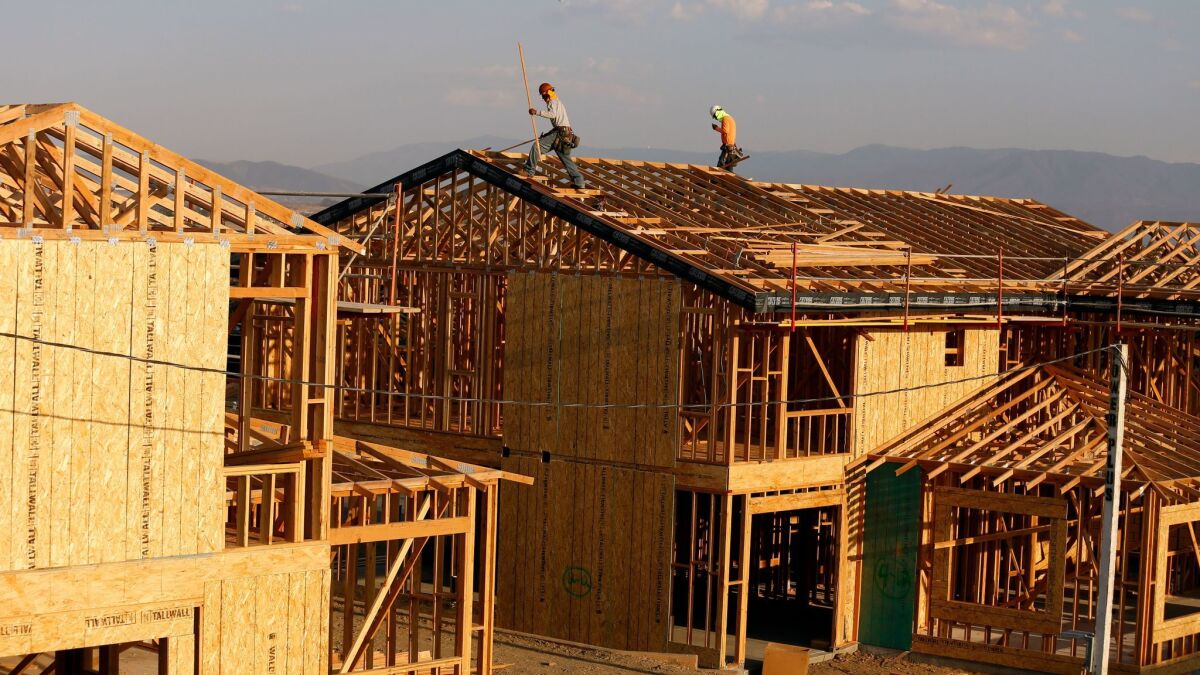 The Southern California real estate market continued to sizzle in August as home prices jumped 7.5% from a year earlier, reinforcing new poll results showing widespread concern about the state's housing affordability.
Across the six-county region, the median price increased to $500,000 from $465,000 a year earlier, though down slightly from $502,000 in July, according to a report Tuesday from data firm CoreLogic.
In Los Angeles County, the median price surged 9.4% to a record $580,000. The previous record of $575,000 was set in July.
It was the best August for home sales since 2006. Total sales in Southern California were up 3.2% year over year and surged 13.3% from a sluggish July, CoreLogic said.
The August home price for the six-county region was just below the all-time high of $505,000 reached in 2007 at the height of the housing bubble. The market began collapsing soon thereafter.
But it's been rebounding for the last six years, fueled by a slowly improving economy, historically low mortgage rates and a shortage of homes for sale.
"The market's just chugging along," said Tregg Rustad, estates director for Rodeo Realty in Beverly Hills. He and his partner sold 10 houses in August — half were at or above the list price and the rest were very close to it.
"Buyers are taking advantage of some of the lowest interest rates we've had in the last year. The economy is continuing to improve and the stock market and financial sector is up, so confidence is up," Rustad said. "And I think sellers are taking advantage of record prices and low inventory."
Home prices in the region can't keep rising 7% a year and will probably moderate to between 3% and 5% annually for the foreseeable future, said Richard Green, director of the USC Lusk Center for Real Estate.
"Unless there's some existential event like a nuclear missile hurled in our direction," he said, "I don't know why prices are going to fall any time soon."
Los Angeles County is short about 100,000 housing units right now and needs to be adding between 30,000 and 35,000 a year to keep up with growing demand, Green said. But only about 25,000 units are being built annually, meaning the county is falling further behind, he said.
This is different than the housing bubble, which was fueled by real estate speculation, Green said. Now it's a simple case of low supply and high demand in an area that is attracting more upper-income workers, he said.
Andrew LePage, a research analyst at CoreLogic, said inventory is particularly tight for homes in the lower price ranges and demand for those more affordable units remains strong.
"The result is somewhat higher price gains in many of the region's more affordable communities," LePage said.
The median price — the point where half the homes and condos sold for more and half for less — rose 12.5% in San Bernardino County to $315,000, the report said.
Median prices rose 7.7% in Riverside County to $365,000; 7.4% in San Diego County to $535,000; 6% in Ventura County to $567,000; and 5.5% in Orange County to $685,000.
The report came as a new statewide poll showed nearly half of the state's voters — 48% — described housing affordability in their area as "extremely serious."
The figure was 42% for respondents from Los Angeles County and 65% for those in the San Francisco Bay Area.
The survey of 1,200 registered voters this summer by the Institute of Governmental Studies at UC Berkeley also found that 56% of voters considered moving to find more affordable housing, with 25% saying that they would most likely choose to leave the state.
Nearly six in 10 Los Angeles County voters — 59% — said they considered moving out of the area because of rising housing costs, the poll found. In the Bay Area, the figure was 51%.
The poll showed 51% of registered voters support a measure on the 2018 state ballot to spend more money on affordable housing.
Last month, Gov. Jerry Brown and legislative leaders agreed to a $4-billion bond proposal to be put on next year's ballot that would fund low-income housing developments and subsidize mortgages for California veterans.
Twitter: @JimPuzzanghera
---
UPDATES:
11:45 a.m.: This article was updated with comments from Tregg Rustad of Rodeo Realty and Richard Green of USC.
This article originally was published at 9:50 a.m.
Sign up for the California Politics newsletter to get exclusive analysis from our reporters.
You may occasionally receive promotional content from the Los Angeles Times.