JetBlue raises checked bag fees for fliers who buy the cheapest tickets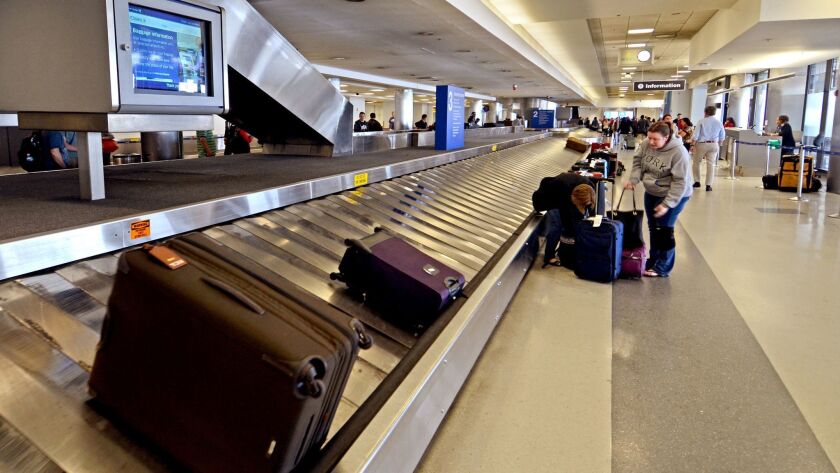 The cost of checking a bag on a flight is starting to take off.
JetBlue Airways has quietly increased the cost of checking the first and second checked bag for passengers who buy the carrier's cheapest airfares.
The New York carrier raised the fee, starting with flights booked on or after Monday, to $30 from $25 for the first checked bag and to $40 from $35 for the second checked bag, according to the announcement on the carrier's bag fee web page.
Passengers who go to JetBlue's home page might miss the tiny print near the bottom that links to the news of the fee increase.
The fee applies only to fliers who purchase the lowest-priced "Blue" airfares, which tend to be about $15 cheaper on average than the next highest fare option, "Blue Plus." Fliers who book a "Blue Plus" ticket are not charged for the first checked bag but must pay $40 for the second bag, up from $35.
Fliers who book the next highest price ticket, "Blue Flex" are not charged for the first or second checked bag.
In a statement, JetBlue said: "We routinely review and adjust our ancillary pricing to ensure a healthy business so we can continue offering the best customer experience of any U.S. airline."
JetBlue becomes the first major U.S. airline to charge $30 for the first checked bag. Most other big carriers charge $25 to $28 for the first checked bag.
The only other major domestic competitor to charge $30 or more for the first checked bag is ultra-low-cost Spirit Airlines, which charges a variable fee based on when passengers pay the charge and on the route being flown.
Three years ago JetBlue first began to charge a fee for the first checked bag, ranging from $20 to $25, depending on when travelers paid the fee.
. Most airlines have been facing increasing operating costs in the last year, especially increases in fuel prices and salaries.
Last year, the country's 23 largest airlines reported a combined profit of $15.5 billion, including $4.6 billion from baggage fees, according to the U.S. Bureau of Transportation Statistics. In 2016, they earned $13.5 billion in profits, including $4.2 billion in bag fees, the bureau said.
To read more about the travel and tourism industries, follow @hugomartin on Twitter.
---
UPDATES:
7:05 p.m.: This story was updated to include a comment from JetBlue.
This article was originally published at 4:55 p.m.
---
Must-read stories from the L.A. Times
Get the day's top news with our Today's Headlines newsletter, sent every weekday morning.
You may occasionally receive promotional content from the Los Angeles Times.