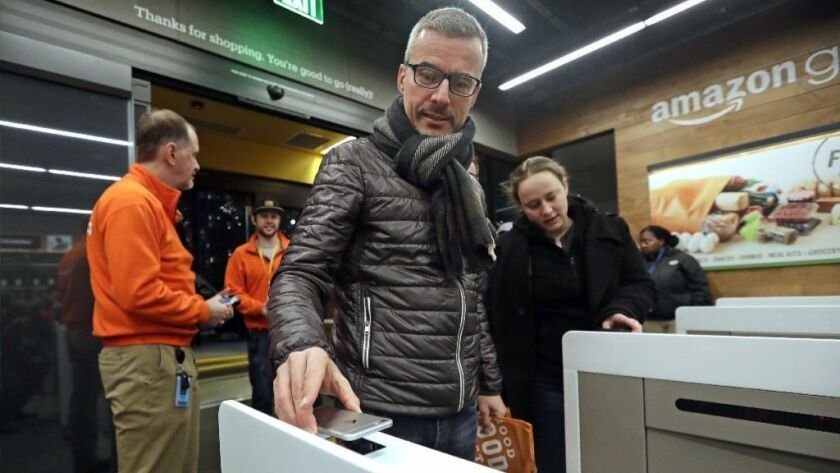 Welcome to California Inc., the weekly newsletter of the L.A. Times Business Section.
I'm Business columnist David Lazarus, and here's a rundown of upcoming stories this week and the highlights of last week.
Trading resumes Monday after some upbeat economic news Friday. Hiring rebounded in March as employers added a solid 196,000 jobs, up sharply from February's much smaller gain. The unemployment rate stayed at 3.8%, near the lowest level in almost 50 years.
Looking ahead
Hate speech: The House Judiciary Committee has called in execs from Google and Facebook for a hearing Tuesday in response to online hate speech and racially motivated violence, including the New Zealand mosque shooting in March. The committee's announcement calls social media platforms "worldwide conduits to spread vitriolic hate messages into every home and country."
Financial checkup: The House Financial Services Committee will hold a series of meetings starting Tuesday with a look at how well banks are investing in lower-income neighborhoods. On Wednesday, the chiefs of the nation's largest banks will testify about their institutions 10 years after the financial crisis, while Secretary of the Treasury Steven Mnuchin will give his annual report on the state of the international financial system.
The Mouse speaks: Walt Disney Co. on Thursday hosts an investor day at its Burbank headquarters to share details about its upcoming Disney+ services and its broader strategy to take on Netflix in streaming. How much will it cost? When will it launch? Maybe we'll finally find out.
New Movies: "Hellboy" returns to movie screens Friday. David Harbour stars as the Big Red One in this reboot. He'll have his work cut out for him after Ron Perlman's epic turn in the part. Also opening is "Big"-like "Little," in which Regina Hall swaps lives with her 13-year-old self and hilarity ensues.
Wingardium Leviosa: Universal Studios Hollywood will unveil a new light show Saturday on the walls of Hogwarts castle, relying on cutting-edge laser mapping technology. Universal says the show will feature "the darkest creatures and villains, including the powerful dark wizard Lord Voldemort." The attraction will run from April 13 to 28, then return from May 25 to 27.
The agenda
Monday's Business section explores the looming arrival of a cashless society — a change Amazon's new breed of no-cash convenience stores is hastening. Some lawmakers are worried. They say "the growing number of cashless stores and restaurants around the country will further marginalize low-income people at a time when inequality is already the highest in more than half a century."
Story lines
Here are some of the other stories that ran in the Times Business section in recent days that we're continuing to follow:
Sinking Lyft: Shares of Lyft Inc. dropped below their IPO price of $72 in a rough second day of trading for the San Francisco ride-hailing firm. Although stocks often falter on their second day, sinking below their issue price is a black eye. For Lyft, part of the trouble could stem from investor concerns that the company's path to profitability continues to be very murky.
Game on: After a series of stumbles, Snap Inc. announced a new suite of products for the company's disappearing-message app, Snapchat — including a major new social gaming platform integrated into Snap's existing structure for group chat. The marquee title in the lineup is "Bitmoji Party," which allows users to compete in wacky mini-games against their friends, with avatars that are digital versions of themselves.
737 slowdown: Boeing will temporarily cut production of 737 Max planes as the company continues work on a software upgrade to the flight control system implicated in two fatal crashes. By mid-month, the Chicago aerospace giant will reduce production of its 737 Max planes from 52 per month to 42 per month. The cutback is intended to focus more personnel on software certification and returning the grounded plane to flight.
Hollywood strife: The Writers Guild of America failed to reach an agreement with Hollywood talent agencies Saturday when the current franchise agreement negotiated in 1976 was set to expire. Writers are upset that talent agencies, flush with outside capital, are moving into production deals that could put the agencies' interests out of alignment with theirs.
Disappearing perks: Loyal customers of the former Starwood Hotels & Resorts are fuming over problems accessing their room upgrades and other earned perks since Marriott International acquired Starwood in 2016 and merged the reward programs. Marriott acknowledges the new program is plagued with problems and says it is investing in technology, personnel and training to fix the program.
What we're reading
Some recent stories from other publications that caught our eye:
The doctor is in: Employers, including Walmart, increasingly want a say in which doctors their workers see, according to the Wall Street Journal. "Singling out doctors is an ambitious effort by employers to wrest more control over health spending, which is projected to pick up with labor-market strength. Health plans have narrowed the choices available to insured workers."
Bad medicine: Blink Health wanted to change the way drugs were sold, says Bloomberg. Then things got messy. The startup has been "entangled in lawsuits and shadowed by deals that saw industry partners turn from friend to foe, competition from two defecting employees, a threat from Amazon itself and no end of bad blood along the way."
Close enough: With former Vice President Joe Biden's touchy-feely issues in mind, the New York Times explores how close is too close, especially in the workplace. "However the allegations against Mr. Biden play out politically or in the press, the boundaries of personal space will always remain somewhat fluid and, except in the most obvious cases, open to interpretation. If you aren't sure, ask first."
Tray tables up: The Atlantic takes wing with what it calls "the bizarre economics of airplanes," particularly when problems arise. "Strange things can happen when a business is based on millions of people flying around in $100 million metal boxes that can take a year to build."
Empty shelves: President Trump was wise to back off his threat to close the southern border, experts say. As Time magazine reports, it would have a devastating economic impact. "Shelves will start looking half-empty within a few days, and within a week, they really are half-empty," says the president of the Fresh Produce Assn. of the Americas.
Spare change
We all want to be really good at something. In Gentry Stein's case, it's walking the dog (and a whole lot more). Thanks to this awesome Wired video, you can see what it takes to be a yo-yo world champion.
For the latest money news, go to www.latimes.com/business. Mad props to Laurence Darmiento for helping put this thing together.
Until next time, I'll see you in the Business section.
---