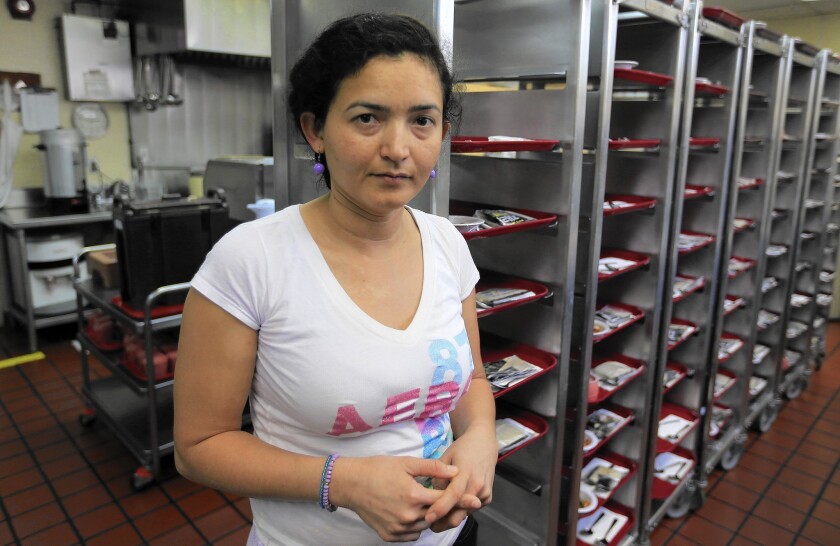 Marissa Avila, 36, often faces difficult decisions: Does she buy shoes for her three sons or pay her phone bill? Splurge on movie tickets or treat her kids to meat?
For nearly 12 years, Avila has washed dishes and helped cook at the Mid-Wilshire Convalescent Hospital, a nursing home. She started out earning $8.50 an hour and now makes $11.20.
At $15 an hour, which the city of Los Angeles is moving to require by 2020, the single mother sees better choices in her future.
NEWSLETTER: Sign up for a weekly briefing on California business news
"It's going to be a huge, huge difference," she said. "Even 25 cents or 50 cents could change a lot for my life and the lives of my kids."
First, she would hire a baby-sitter to watch her 8-year-old in the mornings so she doesn't need to wake him up at 5 a.m. and bring him to work until she can rush him to school during her 7:30 a.m. break.
Four years ago, Avila's husband divorced her and stopped supporting the children. Rent for her one-bedroom apartment rose 4% to $950 a month earlier this year. Sometimes, she has to delay her bill payments.
Initially, Avila was skeptical of the plan to phase in the citywide minimum wage increase. At her current pay grade, she probably won't feel an effect until the floor reaches $12 an hour on July 1, 2017.
But the promise of better compensation allows her to dream about saving a little for the future or affording a more prestigious college for her 15-year-old. "I'd feel proud to earn a little more," she said. "And I'd be happier."
READ MORE ON THE MINIMUM WAGE DEBATE:
A new dawn for the minimum wage
Hardware store owner says raising pay resulted in better workers
This dishwasher must choose between shoes for sons or paying phone bill
Child-care worker sees hours cut when Oakland's minimum wage was raised
---