Same Titanic but brand-new, built from scratch, billionaire says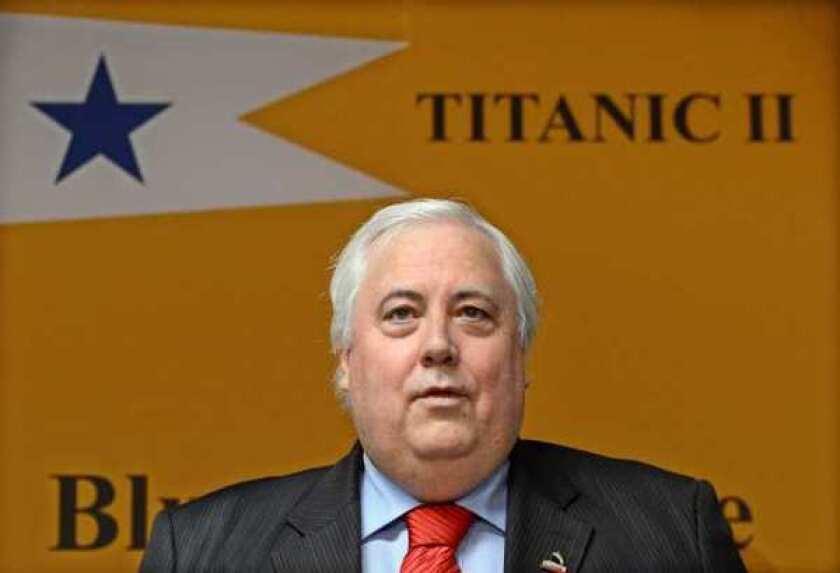 What's more exciting than James Cameron re-releasing "Titanic" in 3-D? When an even richer man – Australia's Clive Palmer – tries to bring the ill-fated ship to life. By building a modern replica of it.
The mining billionaire said Monday that he has commissioned CSC Jinling Shipyard, a Chinese state-owned business, to construct a new Titanic from scratch.
"Many people have attempted to do it before but have failed because they didn't have the buy-in of a shipyard and didn't have the money to pay for it," he said.
The vessel will be made in its tragic predecessor's image – "layouts … room décor and finish," Palmer said – but will be fitted with newer technology.
The process will start by the end of next year, with the ship set to sail by 2016. The original RMS Titanic sank a century ago, in April 1912.
The luxury ship's demise after striking an iceberg en route from Europe to New York left 1,500 people dead. Here's hoping Palmer's version evades a similar outcome as it charts a similar path from London to New York and back after being escorted by the Chinese navy over to Europe from Shanghai.
"We think it will be a great achievement," Palmer said. "It will also be a great tribute to the people who designed the original Titanic."
Last month, the magnate was named by the National Trust of Australia as one of the country's National Living Treasures alongside performers Olivia Newton-John and Kylie Minogue and others. He owns the mining company Mineralogy, which has long had major business dealings with Chinese companies.
Is Palmer's effort in line with other ambitious pet projects from fellow billionaires? Microsoft tycoon Bill Gates sank tens of billions of dollars into his Bill & Melinda Gates Foundation. Virgin mogul Richard Branson is trying to send commercial flights into space and has also sought to create an island refuge for lemurs.
A spokesman for Palmer told Australian media that the cost of his Titanic venture has yet to be determined.
RELATED:
Titanic violinist Wallace Hartley remembered
Why are we still so fascinated with the Titanic?
'Titanic 3D' will convert you too: Betsy Sharkey's film pick
San Diego: U.S. Grant offers Titanic-themed hotel package
Follow Tiffany Hsu on Twitter and Google+
---
Your guide to our new economic reality.
Get our free business newsletter for insights and tips for getting by.
You may occasionally receive promotional content from the Los Angeles Times.