After KFC chicken scare, Yum plans to 'stay the course in China'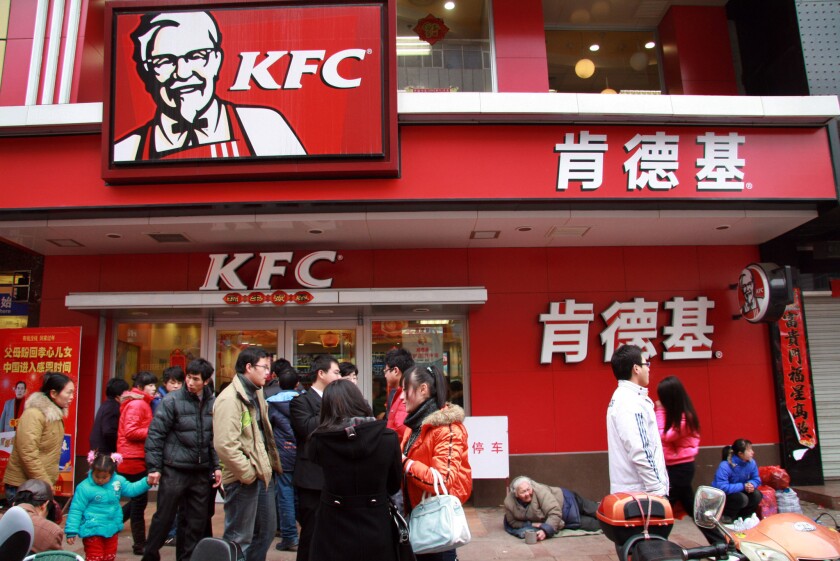 An uproar in China over the safety of chicken sold at KFC "has been longer lasting and more impactful than we ever imagined," according to the chief executive of parent company Yum Brands.
But even after a "sharp sales decline" brought on by reports last month of poultry pumped up with excessive antibiotics, Yum's David C. Novak said the company will forge ahead in Asia.
China was responsible for 42% of Yum's profit last year, Novak said in a conference call Tuesday with analysts. Residents are becoming wealthier and are increasingly eager to mimic American fast-food habits.
In such a massive market -- especially one that has recently begun lashing out against mislabeled, ill-prepared and counterfeit products -- a food safety slip-up from a major brand was bound to have severe consequences.
"We don't know how long it will take us to recover," Novak said. The company says "there is no question" that it will "fall well short" of its 2013 goal of 10% earnings per share growth, instead estimating a mid-single-digit decline.
KFC's same store sales started out healthy in September, then slumped in October and kept declining in November. The measure tanked in December, ending up down 8% over the quarter. In January, the company expects the gauge to plummet 41% for KFC.
For Yum, the trouble began after Chinese Central Television broadcast an investigative report last month linking antibiotic-laden chicken to suppliers for KFC China. The story sparked a probe by Shanghai regulators, which didn't result in a fine or further action.
Instead, authorities asked KFC to bolster its supply chain review tactics. Novak also told analysts that Yum will launch "an aggressive marketing campaign shortly after the Chinese New Year" this month.
In 2012, Yum opened up 889 new units in China. Novak said he hopes his company will eventually dominate the Asian superpower's fast-food sector the same way McDonald's reigns in the U.S.
"We will stay the course in China," he said. "We will continue to grow the business with leading brands in every significant category."
Over the year, Yum's global revenue rose 8% to $13.6 billion. Net income rose 21% to $1.6 billion, or $3.38 a share.
China brought in more than half of the year's sales, with $6.9 billion -- a 24% increase.
Yum's stock sank as much as 4% to $61.23 a share during early Tuesday trading, nearing the company's 52-week low of $61.05.
ALSO:
McDonald's, Pizza Hut go mini with Fish McBites, pizza sliders
Jell-O sends free Super Bowl consolation pudding to 49ers fans
Doritos to launch 'Taco Bell' chips inspired by Doritos Locos Tacos
---
Your guide to our new economic reality.
Get our free business newsletter for insights and tips for getting by.
You may occasionally receive promotional content from the Los Angeles Times.