Petition calls out restaurant execs on 'Obamacare' [Google+ Hangout]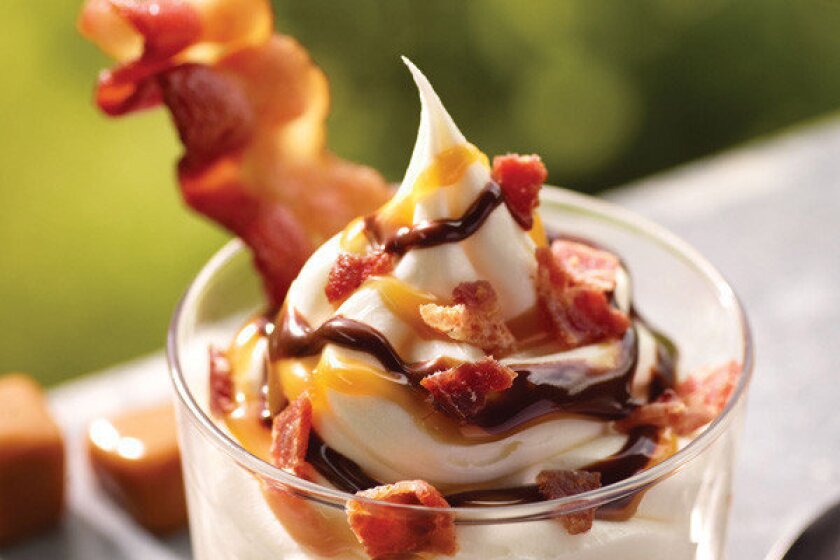 Yes, that's bacon on that ice cream. Burger King, the world's second-biggest burger chain, introduced the bacon sundae as part of its summer menu.
More on Burger King's effort to win over your taste buds:
Get that with a side of sweet potato fries
.
(Noel Barnhurst / Burger King / Associated Press)
The Heart Attack Grill has made headlines with its fatty foods -- meals that regularly weigh in at nearly 10,000 calories. It's a lifestyle that carries risk -- even the owner says so. The grills' record-setting Quadruple Bypass burger weighs in over three pounds and has nearly 200 calories per ounce. That works out to more than 9,500 calories.
More:
Customer at Heart Attack Grill suffers heart attack
Owner calls customers risk-takers
(Samson Loo / Flickr)
Pizza Hut's new product comes in Meat Trio, Italian Steak and Buffalo Chicken and looks like a cross between a sub, a roll and a Costco-style chicken bake.
Read more on Pizza Hut's
grab for Subway's market share
.
(Pizza Hut)
From Jack in the Box comes the bacon milkshake. But the concoction, which is heavy on the calories, uses flavored syrup, not real meat, to simulate the porky taste.
Like milkshakes? Check out
what competitors are doing
.
(Kjetil Ree / Flickr)
It seems the barbecue-sauce-smeared boneless pork patty molded into the shape of ribs just can't stay away -- remember the 2005 "McRib Farewell Tour"? McDonald's says the McRib is 500 calories (for a 7.3-ounce serving).
More:
Got rib?
(Ruocaled / Flickr)
For its 40th anniversary, Japanese burger chain Lotteria sold two burger towers - one a minaret made of cheeseburger and the other a high-rise fried shrimp burger.
(Lotteria)
Burger King Japan is making a name for itself with fanciful creations. First came the Kuro Burger, a sandwich with black buns darkened by stirring bamboo charcoal into the dough. The chain also sells the seasonal Pumpkin Burger, which pops slices of kabocha in with the standard burger trappings.
(Burger King Japan)
Pizza Hut Singapore launched a Double Sensation Pizza in late 2012. One crust is stuffed with cheesy chicken sausage, the other is crammed with three kinds of cheese. Toppings include chicken, turkey and ham on top of pepper alfredo and salsa.
(Pizza Hut)
The same day that Olive Garden parent Darden Restaurants Inc. said it will not bump down existing full-time workers to part-time status to skirt healthcare costs, a petition calling on the company's chief executive to clarify his position is gaining steam.
Dan Haney, an unemployed pharmaceutical customer service representative from Philadelphia, started the SignOn.org petition urging Darden CEO Clarence Otis to be even more specific about how the company will react when the Affordable Care Act goes into effect in 2014.
The petition also targets Zane Tankel, chief executive of a major Applebee's franchisee, and Papa John's Chief Executive John Schnatter. Both have indicated that healthcare reform, often called "Obamacare" for its main cheerleader, will put a severe squeeze on their margins.
"Keep this in mind: If your employees don't have health care in order to get well when they do get sick, those same employees come to work sick and can pass their illnesses onto us as they prepare or serve our food," according to the petition.
Obamacare will require large companies to offer health insurance access to all full-time workers or face a hefty fine. Consumer columnist David Lazarus and food industry reporter Tiffany Hsu discuss Darden's Thursday decision and other, spacier topics in today's Google Hangout.
ALSO:
Darden's Olive Garden, Red Lobster sales disappoint
Darden Restaurants to buy Yard House chain for $585 million
Marilyn Hagerty's Olive Garden review now something else entirely
---
Your guide to our new economic reality.
Get our free business newsletter for insights and tips for getting by.
You may occasionally receive promotional content from the Los Angeles Times.