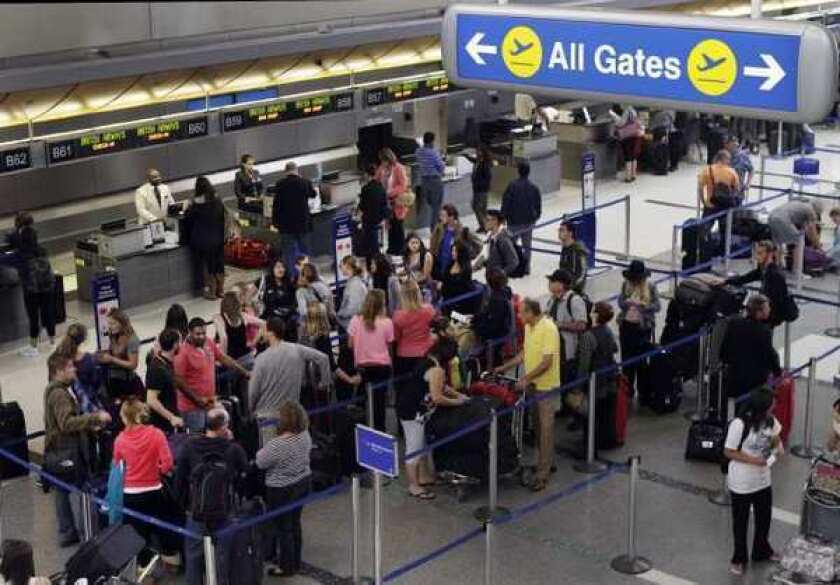 Priceline.com Inc. and Orbitz Worldwide Inc. are being pummeled by investors, dragging down other online travel agencies such as Expedia Inc. as they fall.
Both companies' sales forecasts for the third quarter, which were muted due to expected shakiness in Europe, disappointed analysts.
Orbitz tumbled as much as 27% to $3.40 a share Wednesday. Priceline dropped as low as 16.7%, or to $566 a share. In a ripple effect, Expedia sank up to 7.2%, or to $54.62 a share.
Priceline said it expected sales in the third quarter to grow from 9% to 15% compared to the same period in 2011 to between $1.58 billion and $1.67 billion. Analysts had anticipated about $1.8 billion in revenue.
Priceline said it was operating under the "assumption that economic conditions in Europe will further deteriorate." Much of the company's business comes from the beleaguered continent, it said.
In a statement, Priceline said it "believes that concerns related to sovereign debt and the viability of the Euro have negatively impacted historical operating results and are likely to impact future results."
The company's forecast seems especially dismal coming off its second quarter earnings, which it announced earlier in the week. Revenue got a 20.3% boost to $1.3 billion; international sales soared 30.2% Net income soared 43.2% to $405 million despite the "economic uncertainty … that intensified as the quarter progressed," according to Chief Executive Jeffery Boyd.
Same deal at Orbitz, where the company's predictions for revenue from $197 million to $203 million for the third quarter left analysts -- who had expected at least $215 million --wanting more.
But where Priceline was coming off a strong previous quarter, Orbitz had a lackluster second quarter. Net income slumped 48% to $4.6 million. Revenue, at $200.1 million, was nearly flat.
The company also blamed its sad-sack outlook on "the deterioration in economic conditions in Europe" as well as weaker air bookings online and uncooperative foreign exchange rates.
ALSO:
Orbitz defends search results for Mac users
American Airlines hits Orbitz with antitrust suit
Orbitz fined $60,000 for failing to disclose taxes and fees
Follow Tiffany Hsu on Twitter and Google+
---