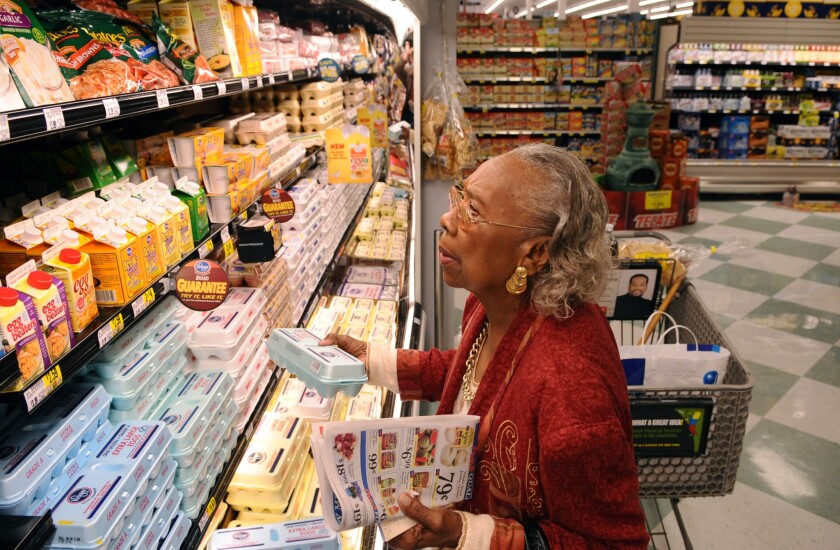 Kroger Co., the Cincinnati-based grocery giant that owns chains such as Ralphs and Food 4 Less, is heading for Wal-Mart territory with its $2.5-billion purchase of Harris Teeter Supermarkets Inc.
Taking over the Matthews, N.C., company and its 212 stores will give Kroger control over 2,631 total supermarkets in 34 states and Washington, D.C.
Harris Teeter – which Kroger said operates in high-growth markets, vacation destinations and university towns across the Southeast and Mid-Atlantic – also comes with distribution centers and a dairy facility in North Carolina.
The chain pulled in $4.5 billion in revenue in the most recent fiscal year. With Harris Teeter onboard, Kroger – with $96.8 billion in revenue in the fiscal year ended Feb. 2 – could soon become a $100-billion company.
Wal-Mart Stores Inc. pulled in $466.1 billion in revenue for the fiscal year ended Jan. 31.
Kroger paid $49.38 apiece for all of Harris Teeter's outstanding shares. The amount represents a 2% premium from Monday's closing price and a 33.7% premium from the price on Jan. 18, when reports first emerged of Harris Teeter considering strategic alternatives.
Harris Teeter will operate its stores as a Kroger subsidiary. The larger chain, which said it expects annual cost savings over the next three to four years of up to $50 million due to the effects of synergy, said it has no plans to close Harris Teeter stores.
The boards of both companies approved the deal, which still needs the go-ahead from Harris Teeter shareholders and regulators.
Kroger, along with many of its rivals, is branching beyond supermarket categories. In addition to its grocery holdings, the company also runs 784 convenience stores, 37 food processing plants, 1,182 supermarket fuel centers and 322 fine jewelry stores.
ALSO:
A powerful use for spoiled food
Discount grocer Aldi USA poised for move into Inland Empire
---