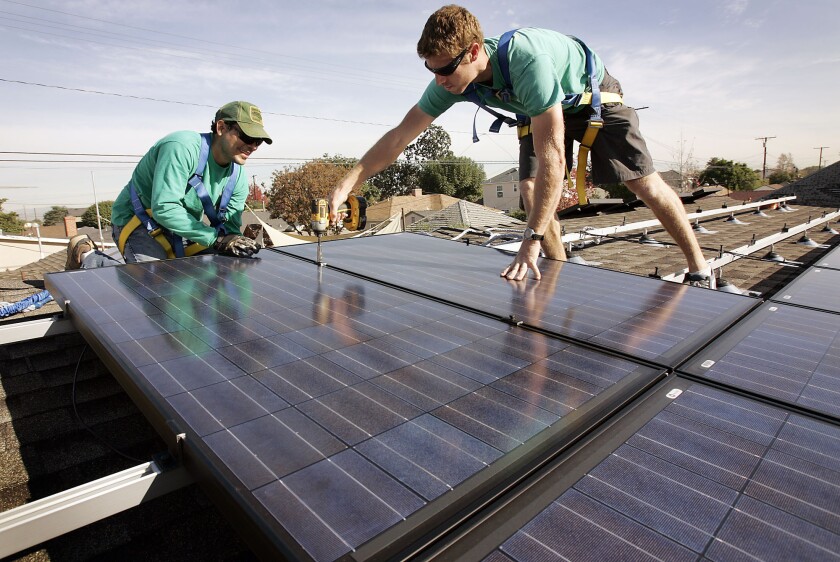 SolarCity Corp. expanded the size of its highly anticipated initial public offering but knocked down the share price in what analysts said was a bid to boost investor demand.
The San Mateo company said in a Wednesday filing with the Securities and Exchange Commission that it plans to sell 11.4 million shares at $8 apiece. That values the company, which is one of the country's largest providers and installers of residential and commercial solar power generating systems, at about $584.6 million.
Earlier, SolarCity had pegged its valuation at roughly $1 billion, expecting to sell 10.1 million shares at $13 to $15 each. The company is known for the financing options it gives customers, including a lease program designed to limit upfront costs for homeowners.
Chairman Elon Musk, cousin to SolarCity founders Lyndon and Peter Rive and head honcho at Tesla Motors Inc., intends to buy $15 million of the green energy company's shares in the IPO, according to the filing.
Existing shareholders plan to sell about 65,000 shares; none of those proceeds will go to the company.
The stock is set to trade on NASDAQ under the SCTY symbol, probably starting sometime this week.
SolarCity had been expected to price its IPO on Tuesday. But rumors began swirling Tuesday afternoon that the company was pushing back its debut after "having trouble collecting investor interest at the $13 to $15 range," according to research firm PrivCo.
Wall Street has eyed the clean-tech market with some skepticism after a string of high-profile duds.
In April, Oakland-based solar thermal start-up BrightSource Energy withdrew its arrangements for a debut, citing "adverse market conditions." Fremont-based Solyndra's collapse last year led to months of partisan finger-pointing.
SolarCity's revenue has soared in recent years, surging to a projected $124.1 million this year from $59.6 million last year and $32.4 million in 2010, according to PrivCo data. The company's net loss widened to $73.7 million last year from $47.1 million the year before, according to the research.
"If SolarCity's IPO size and price is reduced sharply, or if the IPO is withdrawn, the development would be a blow to an already hard hit cleantech IPO market this year," said PrivCo Chief Executive Sam Hamadeh in a statement Tuesday.
ALSO:
SolarCity sees bright future for residential solar systems
Federal plan designed to create large solar energy plants
SolarCity pegs IPO at $13 to $15 a share, or up to $151 million
---