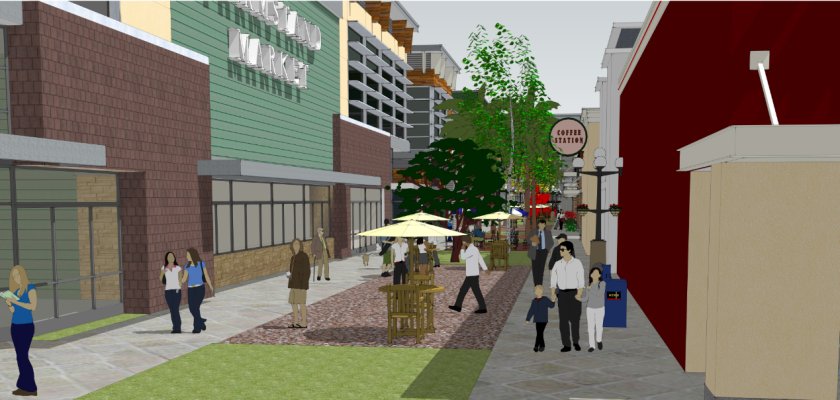 A Beverly Hills developer has bought the site of a long-vacant former Montgomery Ward in Panorama City, with plans to turn the nearly 9-acre location into a big apartment and shopping complex.
The Icon Co. paid $18 million for the land at Roscoe Boulevard and Tobias Avenue, where the company wants to build 350 apartments and 250,000 square feet of entertainment and retail space.
It would be one of the biggest developments in years in the working-class, largely Latino San Fernando Valley neighborhood.
Join the conversation on Facebook >>
Billy Ruvelson, an Icon principal, estimated that the project will cost $150 million. He hopes to have approvals and break ground by this time next year, with the project opening sometime in 2019.
He said tenants could include a grocery store, movie theater or big-box retailers, as well as smaller shops. Ruvelson said he hopes to turn the project into an attraction unto itself, similar to the Grove in the Fairfax District or Americana at Brand in Glendale.
"We want people to come and stay a while," Ruvelson said. "That kind of destination doesn't exist for that community."
The Montgomery Ward site, a block from Van Nuys Boulevard and adjacent to the Wal-Mart-anchored Panorama Mall, has been seen as prime for redevelopment since the department store closed in 2001, but a previous effort stalled.
In 2008, Indianapolis developer Mark Siffin proposed more than 500 condos and 450,000 square feet of retail, replete with Times Square-style billboards, but the project never materialized.
SIGN UP for the free California Inc. business newsletter >>
Icon's proposal is relatively modest compared to Siffin's, which called for 12-story residential buildings and a three-story mall. Ruvelson called that plan "a Beverly Hills or Century City project, which wouldn't have worked in Panorama City."
Ruvelson's office has been in touch with staffers for Nury Martinez, the Los Angeles city councilwoman who represents the neighborhood, said Martinez spokesman Adam Bass.
Bass said Martinez "wants the site to be useful to the community again" and is interested in the project but needs to see Icon's final proposal.
This would be Icon's biggest project to date. The company has built student housing projects in Santa Barbara and near USC, but it has never worked on a project of this size.
Twitter: @jrkoren
MORE BUSINESS NEWS
'Star Wars' holds top spot at China box office, hits $100 million
The corporate grab sparking the controversy over Yosemite Park's trademarks
Stocks eke out tiny gains; utilities and telecom firms rise, but oil tumbles
---