Judge orders California agricultural officials to cease pesticide use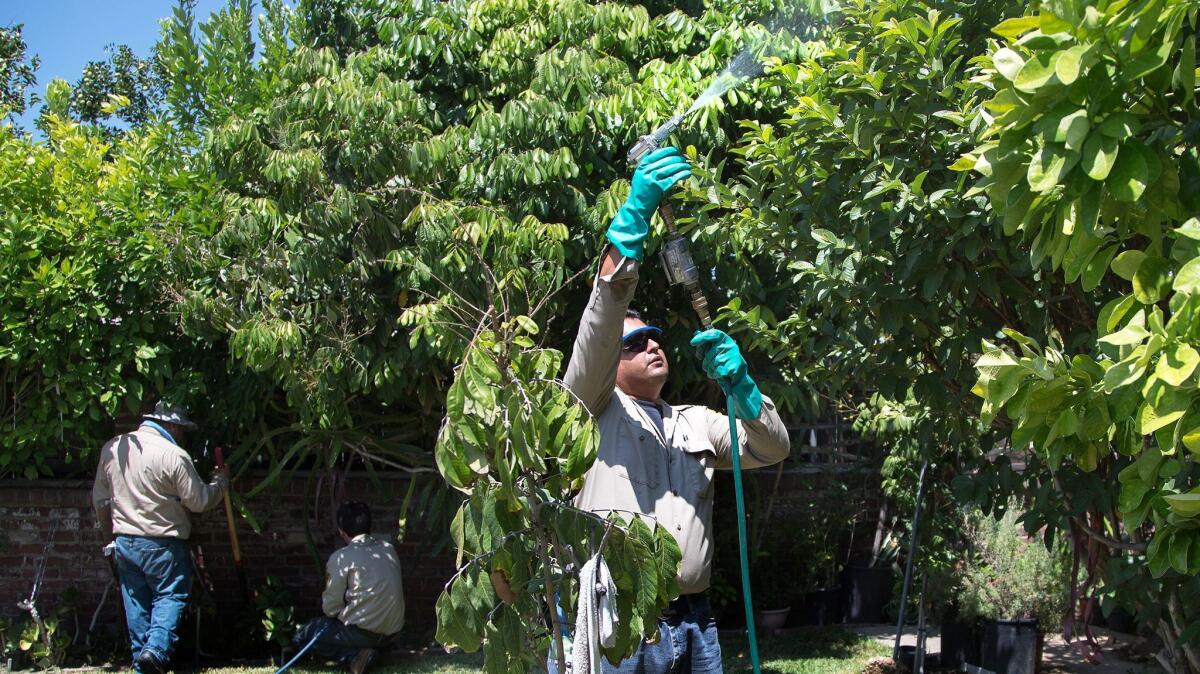 A judge has ordered California agricultural officials to stop spraying pesticides on public and private property to control insects that threaten the state's $45-billion agriculture industry.
The injunction by a Sacramento County Superior Court judge, issued late last week, could throw a substantial hurdle in front of efforts by the state Department of Food and Agriculture to control dozens of crop-damaging pests such as the Asian citrus psyllid, which carries bacteria that have decimated the citrus industry in Brazil and Florida.
Farmers and other property owners will still be able to use chemical insecticides, and the state can continue to use non-chemical means of pest control. But it will have to suspend spraying pesticides on vegetation in parks, school properties and even homeowners' backyards.
The agency also will have to improve its public information process, including offering more opportunities for comment. The environmental groups that sued the California Department of Food and Agriculture documented a long-standing pattern of spraying under emergency provisions that exempted the agency from full disclosure of health risks.
"The court rejected the agency's blank check to spray people's yards, exposing children and pets to a range of pesticides that can cause serious long-term problems, including cancer, asthma, and IQ loss," said Debbie Friedman, founder of MOMS Advocating Sustainability, one of the groups that sued over the program.
The groups also alleged that some of the chemicals threaten public water, endangered species and bees that pollinate crops.
"It's a real opportunity for the state of California to transition to less toxic alternatives," said Jonathan Evans, a senior attorney at the Center for Biological Diversity, which also was a party to the suit.
The state Department of Food and Agriculture issued a short statement Monday saying it will consider appealing the case, and will continue to conduct spraying "in compliance with" state environmental laws. It did not elaborate on the impact of the injunction.
Among the programs that apparently can continue are efforts to control insects by releasing sterile males of the species, or insects that prey on the targeted pest. For example, wasps have been used to control spread of the Asian citrus psyllid, a tiny aphid-like insect that can carry bacteria that cause Huanglongbing, also known as HLB or citrus greening disease.
Spraying to control public health threats such as West Nile virus won't be affected by the injunction, which came on the heels of a January ruling that found insufficiencies in the agricultural agency's environmental impact report for the Plant Pest Prevention and Management program.
Follow me: @LATgeoffmohan