Raytheon and United Technologies are merging, with a focus on R&D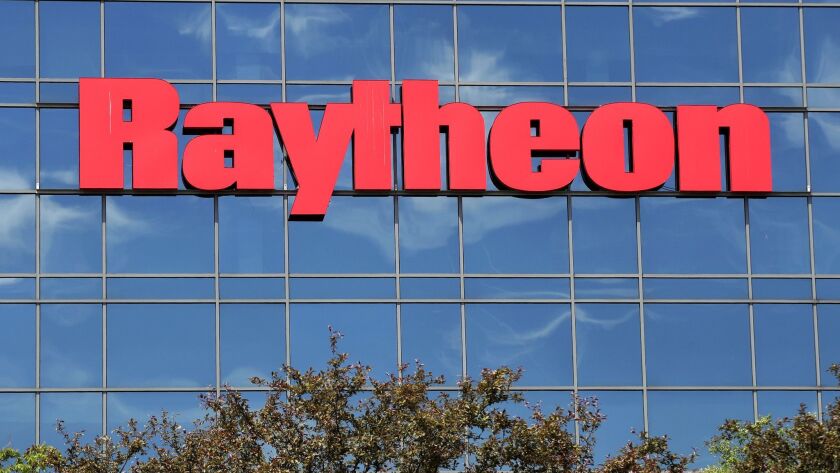 As the U.S. military looks to buy more cutting-edge technology, bulked-up research and development capabilities could give defense companies a better chance at landing lucrative Pentagon contracts. Size doesn't hurt either.
With this in mind, aerospace firms Raytheon Co. and United Technologies Corp. on Sunday joined the ever-growing horde of defense firms that are undertaking mergers or acquisitions.
The all-stock deal, billed as a merger of equals, would create a new company known as Raytheon Technologies Corp., which would have about $74 billion in annual sales. In a joint news release, the two firms touted the new company's "expanded technology and R&D capabilities."
The two companies have diverse portfolios — Waltham, Mass.-based Raytheon is known for Patriot missiles, radar systems, cyberdefense and sensors for spacecraft and aircraft, while Farmington, Conn.-based United Technologies makes commercial airline components and fighter jet engines.
That diversification could make the combined company "more resilient across the business cycles" and give it breathing room to "support significant R&D investments that will help drive sustainable growth," United Technologies Chief Executive Gregory Hayes said in an investor call Monday.
It is also unlikely to attract antitrust concerns because their businesses don't overlap much, said Stephen Perry, managing director of Janes Capital Partners, an Irvine-based investment firm focused on the aerospace and defense industry.
Raytheon already had made "substantial" investments in research and development with the belief that that would help it win Pentagon contracts, said Andrew Hunter, director of the defense-industrial initiatives group at the Center for Strategic and International Studies think tank.
The U.S. military has been increasingly interested in developing technology such as hypersonic weapons, which would fly at speeds of Mach 5 or faster, and laser weaponry. Hayes said during Monday's call that the combined company would be in a position to "immediately address" research and development priorities in those areas. "Merging our two companies brings Raytheon's deep expertise to vehicle integration, advanced guidance and control and payload and combines it with UTC's world-class propulsion technology," he said.
Countries such as Russia and China are also investing in hypersonic missile development, and U.S. military officials are concerned that the United States is falling behind.
During the investor call, Raytheon CEO Tom Kennedy said the combined company would have a total of $8 billion a year to spend on company- and customer-funded R&D.
The merger, which is expected to close in the first half of next year, is just the latest consolidation deal in the defense industry. Last year, United Technologies completed the acquisition of aviation communications and electronics supplier Rockwell Collins in a $23-billion deal that increased United Technologies' aerospace offerings.
Also last year, military communications companies L3 Technologies Inc. and Harris Corp. announced their intent to merge, and Northrop Grumman Corp. acquired spacecraft and rocket motor manufacturer Orbital ATK Inc.
But whereas the Northrop-Orbital deal vastly expanded Northrop's presence in the space and missile businesses, Raytheon's merger with United Technologies is merely a "marriage of systems suppliers," Cai von Rumohr, managing director at Cowen, said in a Monday note to clients. The deal probably won't enable Raytheon Technologies to enter "large new markets" or to start selling items such as aircraft, rather than supplying components to other companies, he wrote.
The two companies' "technologies look complementary and should be helpful," he wrote. "However these synergies don't look transformative."
The size of the combined company could help it compete against aerospace heavyweights. Von Rumohr's note said Lockheed Martin Corp., Boeing Co. and Northrop Grumman stocks could fall because the merger would create "a stronger competitor."
United Technologies is one of Boeing's largest suppliers of components for its commercial airplanes, but adding Raytheon into the mix would make the combined company one of Boeing's "most significant competitors on the defense side," particularly in the missile business, said Perry of Janes Capital Partners.
Last year, Raytheon landed $18.1 billion in federal defense contracts, ranking No. 3 in the nation, according to federal procurement data. Only Boeing and Lockheed Martin ranked higher. United Technologies ranked eighth.
"The combined entity will be an absolute behemoth in the aerospace and defense industry," Perry said. "All roads that matter are going to lead through Raytheon Technologies."
As the defense industry has consolidated over the years, the Pentagon "is in a weaker and weaker place when it comes to negotiating and holding contractors accountable," said Mandy Smithberger, director of the Center for Defense Information at the Project on Government Oversight, a watchdog group.
President Trump weighed in on the matter in a call with CNBC on Monday, saying he was "a little concerned" about the Raytheon-United Technologies deal. "When I hear they're merging, does that take away more competition? Does that make it less competitive? It's already not competitive," he said.
The Raytheon-United Technologies deal needs customary regulatory approvals, as well as sign-offs from both companies' shareholders. Before the deal can close, United Technologies also must finish spinning off its Otis elevator and Carrier air conditioning and heating systems businesses into separate entities; that's expected to happen in the first half of 2020.
After the deal is completed, United Technologies shareholders would own about 57% of the combined company and Raytheon shareholders would own about 43%. Hayes, the United Technologies CEO, would lead the combined company. Raytheon's Kennedy would be executive chairman for two years, after which Hayes would hold both roles.
---
Your guide to our clean energy future
Get our Boiling Point newsletter for the latest on the power sector, water wars and more — and what they mean for California.
You may occasionally receive promotional content from the Los Angeles Times.