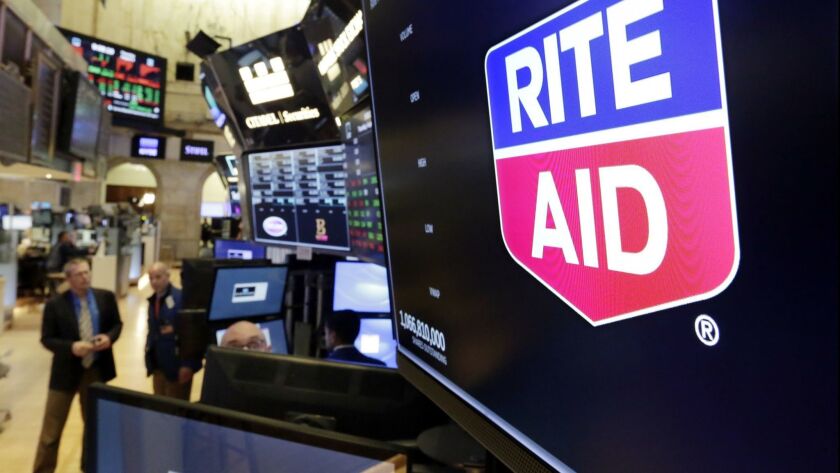 Rite Aid Corp. shares sank after the drugstore operator's proposed link-up with Albertsons Cos. was called off, leaving the company with dwindling options amid a rapid transformation of the pharmacy business.
The collapse of the deal is the second time an attempt to combine with a larger retailer has failed for Rite Aid, after its proposed merger with Walgreens Boots Alliance Inc. last year fell apart.
The company will now be forced to search for answers while its bigger rivals overhaul their business models amid wider changes in the healthcare system. Additionally, deep-pocketed new competitors including Amazon.com Inc. are pushing into the pharmacy business.
Shares of Rite Aid declined 12% to $1.53 in premarket trading in New York on Thursday and strayed little from that price during the day, closing at $1.54 a share. The drugstore chain has lost more than three quarters of its market value since the beginning of 2017.
Bonds issued by the heavily indebted company were also dropping, driving up its borrowing costs. Rite Aid's 6.125% bond due in 2023 plunged as much as 10.125 cents on the dollar Thursday, the biggest drop since it was issued in 2015, according to Trace, the bond price reporting system of the Financial Industry Regulatory Authority.
Rite Aid management "will now after multiple attempts to sell the business have to go back to the drawing board, which is likely going to be a heavy lift," said Evercore ISI analyst Ross Muken, who has an "underperform" rating on the shares.
Retailers have been under growing pressure from online competitors, affecting grocers and drugstores alike. Combining with Rite Aid would have expanded Albertsons to help it combat companies like Amazon that are increasing their food offerings. Amazon also agreed earlier this summer to buy online pharmacy company PillPack for about $1 billion.
Compounding the pressure on Rite Aid, pharmacy giant CVS Health Corp. agreed late last year to acquire health insurer Aetna Inc. for $68 billion in a deal that could combine more health services and put increased pressure on standalone drugstores that don't have in-house drug-benefit managers or insurance operations.
Rite Aid canceled a special shareholders meeting scheduled for Thursday and its board is evaluating governance changes at the company. There won't be a termination fee for either side, according to a statement.
Opposition to the transaction had increased before the expected shareholder vote. Rite Aid and Albertsons, backed by private-equity firm Cerberus Capital Management, opted to pull the plug on the deal late Wednesday.
"While we believed in the merits of the combination with Albertsons, we have heard the views expressed by our stockholders and are committed to moving forward and executing our strategic plan as a standalone company," Rite Aid Chief Executive John Standley said in a statement.
In February, Rite Aid agreed to be bought by Albertsons in a transaction that would have given shareholders of the grocery chain ownership of more than 70% of the combined company. It also would have given the grocer's private-equity owners a path to exit their 2006 investment without going through an initial public offering in a turbulent market.
In the weeks leading up to the deal vote, however, two prominent proxy advisors recommended that shareholders vote against it. It "does not appear that Rite Aid shareholders would receive a fair ownership interest in the combined company," said Institutional Shareholder Services Inc. in a report in late July.
Glass Lewis & Co. opposed the transaction, saying it would yield no premium for Rite Aid holders. It also said the negotiations "raise significant questions around possible conflicts of interest" as a Rite Aid board member negotiating the deal had "an ongoing outside relationship with Cerberus."
Evercore analyst Muken said that deal's termination underlines "our belief this was a 'lose, lose' scenario."
Rite Aid on Monday reduced its full-year earnings projections and said its generic purchasing efficiencies were significantly below its previous experience.
The Albertsons agreement came after Rite Aid's failed attempt to sell itself to Walgreens. That merger fell apart last year amid scrutiny by U.S. antitrust authorities. In September, Walgreens won approval to buy 1,932 stores, three distribution centers and related assets for $4.4 billion. The store purchases were completed earlier this year.
Under the Albertsons deal, Rite Aid shareholders would have gotten at most 18.32 cents a share, plus Albertsons stock.
---
UPDATES:
2:30 p.m.: This article was updated with Rite Aid's closing stock price.
This article was originally published at 12:40 p.m.
---