Entrepreneur seeks to boldly go where no one has gone before: 3-D printing nearly an entire rocket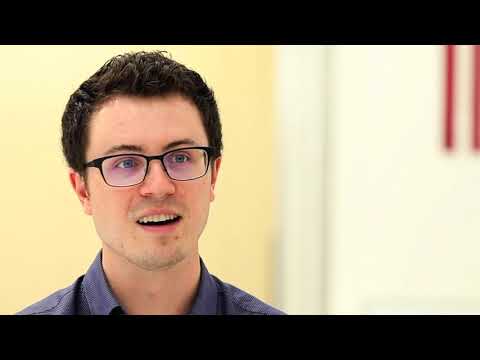 Relativity Space is trying to push the bounds of automated rocket production with robotics and 3-D printing.
As a child, Tim Ellis tossed away the printed instructions that came with the 200 or so Lego sets he begged his parents to buy, in favor of creating his own sleek spaceship designs. Today, his right thumb is permanently bent back further than his left — the result, Ellis says, of hours of pushing and pulling apart the tiny bricks.
At 27, not much has changed for Ellis. He is the chief executive of Inglewood space start-up Relativity Space, which is trying to push the bounds of automated rocket production with robotics and 3-D printing. About 95% of the company's rocket — which will be able to carry up to 2,755 pounds to low-Earth orbit — will be 3-D printed, the founders say, excluding items such as electronics and rubber seals.
Ellis and co-founder Jordan Noone, 25, who serves as chief technology officer, got their seed round of funding from entrepreneur Mark Cuban after they caught the billionaire's attention with a cold email announcing, "Space is sexy: 3-D printing a whole rocket."
Today, Ellis says, Relativity has amassed more than $1 billion in nonbinding launch term sheets and letters of intent, largely from public companies and well-funded start-ups. (He declined to disclose the breakdown between the two contract types.)
The 20-person company has raised more than $45 million of venture funding, and recently signed a lease agreement with NASA's Stennis Space Center in Mississippi to use a large testing facility.
Relativity plans to test-fly its Terran 1 rocket in 2020.
Behind its lofty ambitions is a stark reality: Relativity is one of at least 15 to 20 rocket companies started in the last 10 years. There may not be enough business for all of them.
And while the aerospace industry has cautious interest in Relativity's plans, experts say there is also skepticism about whether printing so much of the rocket will be possible, how that will translate into promised cost savings — and whether such a rocket can survive a launch.
Relativity is targeting a relatively little-served niche — satellites that are larger than the 500-pounders launched by Huntington Beach-based Rocket Lab but smaller than the school bus-sized spy satellites launched by nearby SpaceX or United Launch Alliance.
The company has designed and built a 24-foot-tall printer called Stargate to produce rocket components. It's squeezed into an unassuming industrial park near Los Angeles International Airport. An even larger printer with more robotic arms is in the works.
Ellis is emblematic of a new generation of rocket scientists, some of whom weren't even alive when Southern California aerospace companies such as North American Aviation and Douglas Aircraft built the Saturn V rocket and Apollo spacecraft that sent men to the moon. Largely untethered to big military contracts, their companies are racing to establish lower-cost ways to launch satellites or propel others to space.
Relativity advertises launches for $10 million. Launches on Rocket Lab's smaller Electron rocket start at about $5.7 million; a ride on SpaceX's much larger Falcon 9 rocket starts at $62 million.
"Obviously it's a bold move," Corey Gomon, 28, a childhood friend of Ellis' who works at a large European bank, said of Ellis' space venture. "But it kind of seems like a page out of the Tim playbook."
Growing up in Plano, Texas, as the oldest of three children born to a dental-hygienist mother and architect father, Ellis developed an eclectic set of interests. He excelled at math and science classes, but also stoked his creative side by playing with those Legos.
The designs were largely space-themed. Some could break apart and come together again, others had bay doors that really opened. What all the spaceships had in common was they were made entirely of black bricks.
"I think people are obsessive in building big cities and all that, but I was obsessed about black spaceships," he said. "It had to be cool-looking."
As Ellis got older, he and his friends transitioned into amateur filmmaking, with plots built around the "pulpy, action classics" the friends loved, twisted in the model of Christopher Nolan's "Memento." In fact, Ellis entered USC intending to study screenwriting or fiction writing. But he switched majors to aerospace engineering during his freshman orientation and joined USC's Rocket Propulsion Lab — a student-led group that builds, designs and tests rockets.
He met Noone there and got hooked on rocketry with a visit to the Mojave Desert in 2009 for a test firing. The experience was "way brighter and way louder than you could really ever expect," Ellis said. "It honestly shakes your chest."
Ellis honed his skills through three successive summer internships at Blue Origin, the Jeff Bezos-led space firm in Kent, Wash. After graduating from USC with a master's degree in aerospace engineering, he was hired to work full-time at the company.
Noone, meanwhile, graduated from USC with a bachelor's degree in aerospace engineering and went to Hawthorne-based SpaceX, where he worked on the Dragon 2 capsule that will be used to carry crew to the International Space Station. An integral part of the capsule is its 3-D-printed SuperDraco engine, designed to help jet astronauts away from the Falcon 9 rocket in case of an emergency.
It was Noone's first exposure to an engineered, fully-functional 3-D-printed product.
"Everything is integrated together, and you get rewarded for a lot of things aerospace wants," Noone said. "It's lightweight and easy to make."
During one of their regular phone calls on the way home from their respective employers, Ellis told Noone he wanted to start their own company, using an automated factory to 3-D print entire rockets. To do that, they would have to create a massive 3-D printer — bigger than any currently available.
They quit their jobs in December 2015.
"I've never seen him stop or give up or be unable to solve a really hard problem," Ellis said of his co-founder. "I just knew the start-up we were building would have a lot of hard problems, so he would be the right person to come and just make stuff happen."
Their strengths seem to complement each other.
"I'm very much in the technical weeds and practicalities of it, and he's very much in the creative thinking, out-of-the-box side of things," Noone said. "When you combine those together, we get a really healthy balance between lofty and extremely challenging, but still achievable goals."
The pitch to Cuban came after about 20 guesses of the entrepreneur's email address. They asked for $100,000. Cuban said he would invest $500,000.
"They are smart, innovative, focused and always learning," Cuban wrote in an email to The Times. "All traits that I look for from disrupters."
That same week, Relativity was accepted into famed Silicon Valley incubator Y Combinator for its Winter 2016 class. Geoff Ralston, a partner at Y Combinator, remembers talking with Ellis and Noone about Cuban's investment and how that would play into the company's business plan.
"The biggest reason they wanted Cuban on board was because they knew that this was a very capital-intensive business," Ralston said. "They wanted deep pockets behind them."
It's no coincidence that many of the most ambitious commercial space outfits are backed by billionaires: SpaceX (Elon Musk), Blue Origin (Bezos), Virgin Galactic (Richard Branson) and Stratolaunch (Paul Allen). Several private space companies have already flamed out or encountered funding setbacks. In November, space tourism and rocket engine company Xcor Aerospace filed for Chapter 7 bankruptcy after development of its Lynx suborbital space plane proved to be more expensive and difficult than anticipated.
Cuban's money allowed Relativity to create a prototype of its 3-D printer and print its first rocket engine, which helped impress additional investors. In late March, the company closed a $35-million Series B funding round led by Palo Alto venture capital firm Playground Global. That round also included participation from Relativity's prior investors, including Cuban and venture capital firm Social Capital.
A number of aerospace companies, including Aerojet Rocketdyne and Boeing Co., have started to utilize 3-D printing to produce parts for rockets and spacecraft. Ellis said he helped persuade Blue Origin to start doing metal 3-D printing work in-house.
In traditional manufacturing, aerospace parts are made either by whittling and shaping a block of metal with highly calibrated lathes and presses or by casting them with a mold. In 3-D printing, robotic arms guided by software slowly build the structure by layering ribbons of melted liquid metal one on top of the other, or by melting layers of metal powder with lasers.
"It makes for a much more efficient structure," said Melissa Orme, chief technology officer at Morf3D, an El Segundo firm focused on developing and 3-D printing aerospace parts. "A lot of separate components are incorporated into one structure, so there's less weld points, less points for failure."
Relativity hired a metallurgist from the Lawrence Livermore National Laboratory to develop a proprietary high-strength aluminum alloy, which it believes will result in fewer cracks and flaws than conventional aluminum.
Relativity's goal is to produce a complete rocket and finish all pre-flight testing in 60 days, compared with what Ellis says is 12 to 18 months using traditional methods. Noone said the company already has printed a prototype of the Terran's upper-stage tank structure in six days.
Meeting the 60-day goal would be more efficient, said Dave Barnhart, director of USC's space engineering research center. But one reason it's risky is that if defects are found, especially in the final layers of printing, they can be hard to fix and the part may be declared a total loss.
That's why some companies have chosen to start small with additive manufacturing, said Eduardo Rojas-Nastrucci, assistant professor at Embry-Riddle Aeronautical University. Rojas-Nastrucci is confident that defect detection and mitigation will improve dramatically in the next few years.
Ellis said Relativity already has developed a way to fix, validate and restart the printing process if a flaw is found. His team is working on sensors and machine learning platforms so the printer learns over time to produce fewer flaws.
"You save all the overhead in labor and time" with 3-D printing and "there is added value in that you can print really complex geometries that you cannot manufacture otherwise," Rojas-Nastrucci said.
Still, the aerospace industry, known for being conservative, has some doubts about such ambitious use of 3-D printing.There are questions about how a large 3-D printed structure would fare during the extreme shaking of a rocket launch.
"It might be cheaper and faster, but we just don't know for sure," said Bill Ostrove, aerospace and defense analyst at Forecast International.
Ellis said he thrives on the skepticism.
"I like questioning the fundamentals of why something should be a certain way and showing people it can be another," he said. "The harder the challenge, or the more people say this is going to be hard, or maybe it can't be done, the more I rally and make it happen."
Twitter: @smasunaga