Venice activists bemoan Snap's shuttle buses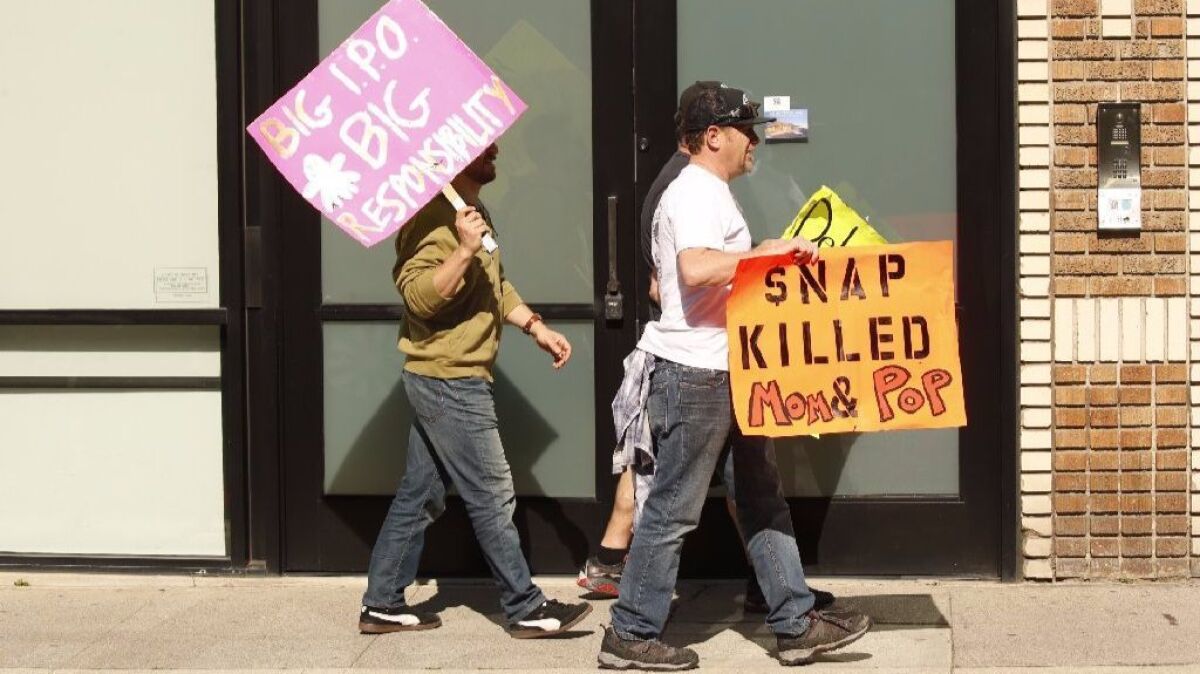 Traffic has been one of the chief complaints against Snap Inc. by local activists in Venice who say the social media company's sprawling footprint is diminishing the neighborhood's character.
Now a group called Venice Dogz is shedding new light on Snap's employee shuttle service by publishing Friday what it says is a van schedule that details how the company is contributing to congestion in the area.
The documents, which include a cover sheet with Snap's recognizable ghost logo and the title "Shuttle Services," list eight vans that start as early as 6:30 a.m. and finish as late as midnight. The white vans run in 15-minute intervals, dropping off employees at six separate zones by zipping along thoroughfares such as Abbot Kinney Boulevard, Brooks Avenue and Speedway. Venice Dogz says the schedule amounts to 544 van trips a day.
"This is too much for our small town," Venice Dogz said on its website. The group has organized protests against Snap, saying the company has driven up rents, displaced residents and harmed the neighborhood's history.
The activist group would not speak for attribution but said its aim is for Snap to move to a corporate campus.
Snap could not immediately confirm the veracity of the documents but said they do not reflect the company's current shuttle routes. Instead, Snap says it operates a maximum of six vehicles per day to move employees between offices and parking facilities spread across Venice, Santa Monica and Marina del Rey.
"While we're sorry for any negative impact that our shuttles may have, providing them is one of the best ways for us to reduce employee traffic and parking in the neighborhood," a company spokesman said.
The spokesman added that there have been no safety issues with the shuttles and that their routes would dwindle as Snap moves more of its operations to Santa Monica.
That can't come soon enough for activists such as Venice Dogz, which has been tracking Snap's dozens of leased and owned properties in the neighborhood.
Long synonymous with Los Angeles' bohemian culture, Venice is now the toast of the city's hip and moneyed set. High-end boutiques line Abbot Kinney Boulevard. And old bungalow homes are being replaced by glass, steel and concrete residential fortresses.
Snap's presence in Venice embodied the company's youthful appeal — a sort of retort to Silicon Valley, but with swimsuits instead of Patagonia fleece. But its continued expansion with over 1,500 employees spread across multiple buildings triggered local animosity. Shops and restaurants said Snap's security guards were scaring away customers. Some business owners say their rents have nearly doubled.
Snap, a $17.4 billion company by market capitalization that operates the messaging app Snapchat, readily admits its presence has been difficult for some neighbors. But the company says that has been the unintended consequence of its business growing as quickly as it has.
Snap asks its critics to be patient. The company is transitioning out of Venice into hundreds of thousands of square feet of new office space near Santa Monica Airport. Over 500 employees are currently there, and the plan is to keep only a handful of Venice offices by next year, the company said.
San Francisco Bay Area technology companies have faced protests from activists frustrated by their use of private shuttles to shepherd employees from their homes in San Francisco and Oakland to their offices in Silicon Valley.
Follow me @dhpierson on Twitter
ALSO
Snap buys lunch for protesters in Venice. That doesn't shut them up
Why Snapchat's unprecedented real estate strategy in Venice could be tech's new standard
California Journal: Venice has become an epicenter of Los Angeles' struggle over short-term rentals. Call it the Airbnb problem
Venice Beach Freak Show, a bizarre tourist attraction on the boardwalk, is closing
Sign up for the California Politics newsletter to get exclusive analysis from our reporters.
You may occasionally receive promotional content from the Los Angeles Times.