Southwest Airlines forecasts drop in revenue as bookings decline after first fatal accident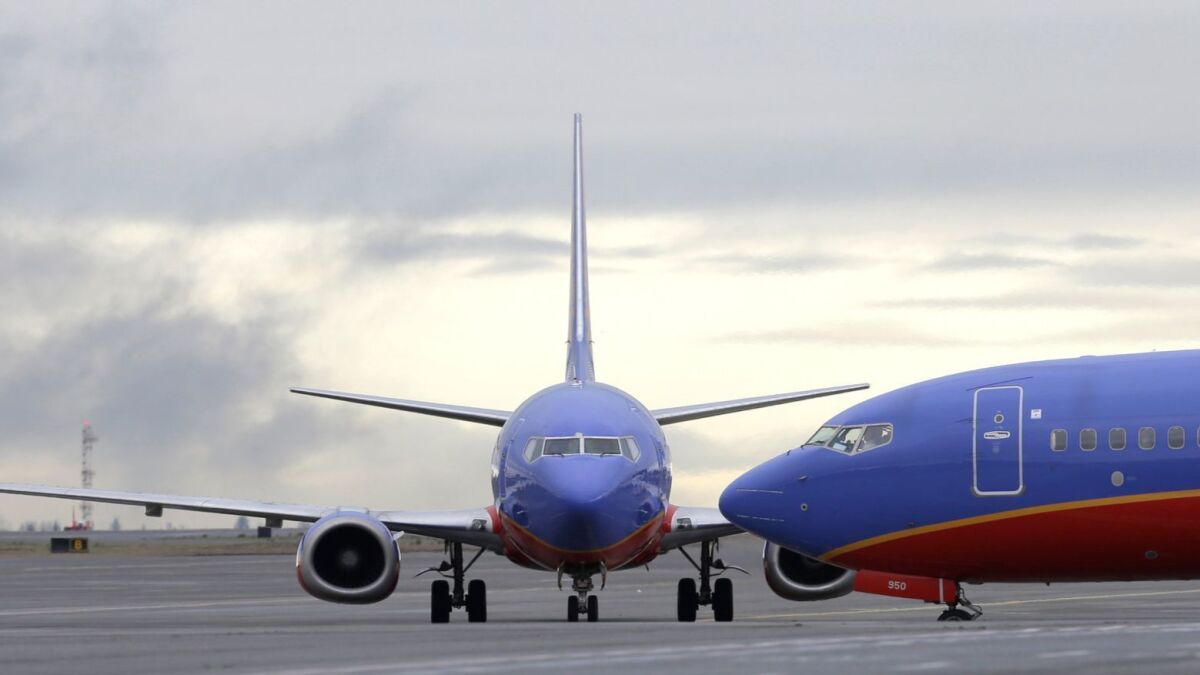 The first fatal accident in the history of Southwest Airlines has pushed bookings down as the nation's most popular domestic carrier tries to repair damage to its reputation and expedite inspections of virtually its entire fleet of planes.
While reporting earnings Thursday, the Dallas-based airline said that it expects revenue per mile, which tracks average prices, to drop between 1% and 3% in the April-through-June quarter. It said that about 2 percentage points of the decline were attributable to slower sales since the April 17 accident on a flight from New York to Dallas.

For the record:
2:50 p.m. May 1, 2018This article refers to an April incident as the first fatal accident in Southwest's history. It was the first passenger fatality. A 2005 crash of a Southwest plane into a car near Chicago's Midway Airport killed a child in the car.
The carrier, which recently announced that 2017 was its 45th consecutive year of profitability, estimated that the decline could result in a hit of $50 million to $100 million to the airline's bottom line.
In last week's accident, inspectors believe an engine fan blade failed and broke away, sending shrapnel into the fuselage and shattering a window. Jennifer Riordan, a bank executive and mother of two who was sitting next to the window, was killed. The flight made an emergency landing in Philadelphia. No other passengers were injured.
Southwest has announced plans to inspect within 30 days nearly its entire fleet of more than 700 Boeing planes, all of which are equipped with engines built by CFM International, a joint venture of GE and Safran Aircraft Engines of France.
Southwest often switches engine blades between planes, which means it must inspect all the engines to ensure none of the blades are overlooked.
"We will keep up with all the blades in the fleet with very frequent inspections, with an abundance of caution that none slip through," Chief Executive Gary Kelly said during a conference call with reporters and analysts.
To perform the inspections, Southwest has had to cancel hundreds of flights over the past few days. On Thursday, the airline canceled nearly 40 flights, most because of the expedited inspection plans, airline officials said.
The airline also announced plans to begin service to Hawaii with flights to four airports: Honolulu International, Lihue, Kona International at Keahole and Kahului. Pending regulatory approval, flights are expected to start late this year or early in 2019.
The airline did not say where the Hawaii flights will originate. An announcement is expected within a week. The move into Hawaii raises the stakes in a looming competition with other carriers that fly to the islands from the West Coast.
Southwest disclosed the drop in bookings as it reported a 22% increase in first-quarter profit, to $463 million. The results were in line with Wall Street expectations.
The focus of the conference call, however, was last week's accident that resulted in the first fatality in the 51-year history of the airline and the first passenger death on any U.S.-based carrier since 2009.
"It remains a somber time" at the airline, Kelly said in a statement. He repeated condolences to the family of the woman who died when a piece of the exploding engine hit the plane, pledged to cooperate with accident investigators, and said Southwest "will never compromise" on safety.
Later, in an interview on CNBC, Kelly said that the company's business is "holding up just fine."
"A little bit of softness is to be expected," he said, noting that the airline had pulled all marketing following the crash. "We will get back on track. We've got very little debt. We've got a lot of cash. We've got a lot of liquidity."
He also gave an update on inspections the airline is conducting of its fleet following an order last week by the Federal Aviation Administration that airlines inspect the same model of engine that failed, likely due to a fan blade's metal fatigue.
The FAA order only applies to older CFM 56 engines while Southwest is inspecting it entire fleet. Kelly said that the airline has already finished inspections of 80% of its fleet, and is on a schedule to conduct such inspections every 18 months.
"We are on a very accelerated cycle. I feel very comfortable with what we are doing. The inspections are going well and I am pleased with the results so far," he said.
Southwest also said it will lease coveted takeoff and landing slots at LaGuardia Airport in New York and Washington Reagan National Airport just outside the nation's capital from Alaska Airlines, allowing it to expand at two airports that are essentially full.
Lower income taxes helped Southwest overcome cheaper average fares and higher fuel and labor costs in the January-through-March quarter. Taxes dropped 28% from a year ago, saving the Dallas-based airline $54 million.
Excluding items such as fuel-hedging contracts, Southwest said it would have earned 75 cents per share, matching the forecast of analysts surveyed by Zacks Investment Research.
Revenue rose 2% to $4.94 billion. That was a Southwest record for the first quarter, but it fell short of the $5.02 billion that analysts in the Zacks survey had expected.
Southwest boosted revenue despite a drop of nearly 5% in the average one-way fare, to $146.33 — reflecting slightly short trips and competition on key routes. However, the airline carried 6% more passengers, and the average flight was fuller — 81.5% of seats were sold, compared with 79.9% a year earlier.
Labor costs rose 5% and fuel costs grew 6%. But Southwest said second-quarter cost increases would be modest, even with possible pay raises for mechanics and what it termed a preliminary estimate of expenses related to the fatal accident. Southwest did not give a figure for those.
Southwest shares have fallen 18% since the beginning of the year, while the Standard & Poor's 500 index has decreased slightly more than 1%. The stock has fallen roughly 6% in the last 12 months.
Shares closed down 54 cents, or 1%, to $53.30 on Thursday.
The Associated Press contributed to this report.
---
UPDATES:
2:10 p.m: This article was updated with Southwest's closing stock price.
12:15 p.m.: This article was updated with more details on the accident and the airline's plans to add Hawaii as a destination.
This article was originally published at 7:15 a.m.
---
Sign up for the California Politics newsletter to get exclusive analysis from our reporters.
You may occasionally receive promotional content from the Los Angeles Times.