Southwest Hawaii air service caused a 17% fare drop from California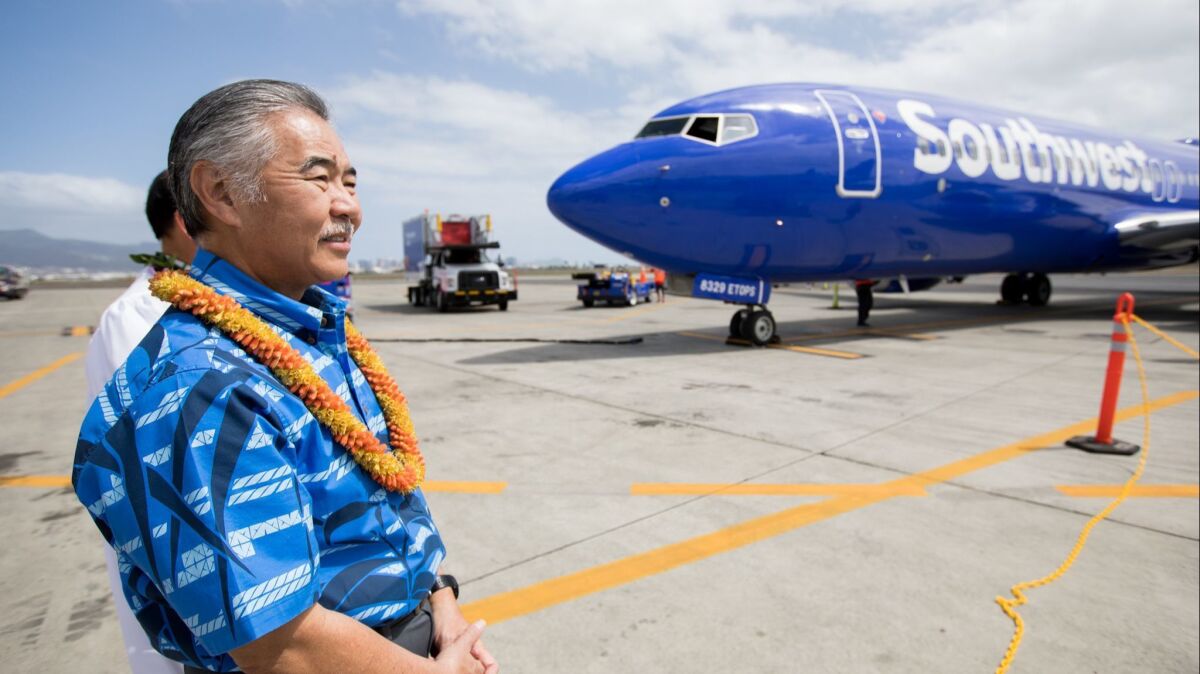 If you are a fan of Hawaii, you may be saying mahalo for the Southwest Effect.
Since Southwest Airlines began flying from California to Hawaii last month, the average airfare among all carriers flying between the two states has dropped 17%, compared with the same time last year, according to a new analysis.
The Dallas-based low-cost carrier launched service from Oakland to Honolulu on March 17, with introductory one-way coach fares as low as $49. Those fares now range from about $300 to $600, depending on the day of departure.
Southwest has announced additional routes, starting with Oakland to Maui on Sunday, with additional service from Norman Y. Mineta San Jose International Airport to Honolulu on May 5 and to Maui on May 26. Still more service, including from San Diego, is expected to be firmed up soon.
Since Southwest began to challenge the established major airlines in the 1990s, the low-cost carrier has become so well known for forcing competitors to reduce fares that industry insiders have dubbed it the "Southwest Effect."
"Whenever you have a new player in a market and a lot more seats, fares will drop," aviation analyst Seth Kaplan said. "It's usually good news for consumers when there is more competition in the market."
An analysis of fares by the travel booking site Kayak found that average fares offered by all carriers from California to Honolulu, Maui, Kauai and the big island of Hawaii have dropped by 17% in the first half of the year, compared with the same period last year.
The average round-trip coach fare from California to Hawaii in the first half of 2019 hovered around $412, down from about $501 in the year-earlier period, according to the Kayak analysis.
Southwest's ability to force competitors to slash prices in markets the carrier entered was first documented by a federal study in the 1990s.
Since then, academic studies have shown that the introduction of Southwest and other low-cost carriers still put pressure on larger competitors to keep prices low.
But a 2013 study from MIT's International Center for Air Transportation concluded that "the Southwest effect has started to weaken and no longer provides the same degree of downward pressure on fares."
A 2017 study from the Darden School of Business at the University of Virginia disagreed with the MIT study, saying that Southwest still has a strong influence on the prices charged by rivals.
The University of Virginia analysis, authored by Alan R. Beckenstein, a professor of business administration, and Brian Campbell, an aviation consultant, looked at 109 daily nonstop markets that Southwest entered from 2012 to 2015.
The average fares for all carriers dropped at least 15% in 56 out of 109 markets after Southwest entered and 74 markets had average fares that dropped at least 10%, the study found. Only 12 had fare increases after Southwest stepped in.
In an interview, Campbell said he was not surprised that Southwest continues to have an influence on its rivals' fares and he predicts the carrier's influence will continue indefinitely.
"You can count on that to be a pretty permanent fare reduction in those markets where Southwest enters," he said.
Madhu Unnikrishnan, editor of the publication Skift Airline Weekly, said Southwest launched the Hawaii service with low introductory fares, which pushed down all prices significantly. He predicted the average fare to Hawaii from California will edge back up slightly in the next few weeks, especially as bigger carriers begin to offer higher-priced spots to Hawaii with roomier seats and extra perks, such as high-end meals.
"Everyone was running a bit scared when Southwest started to launch its service to Hawaii and they had to preemptively drop prices," he said. "It will shake out in the next few months."
A Southwest Airlines representative declined to comment on the Kayak data, saying federal law prohibits carriers from discussing future airfares.
But Southwest Airlines spokesman Brad Hawkins said: "In general terms, we entered the Hawaii marketplace to do what we do — lower fares, stimulate traffic, and raise the level of customer service that our fans and loyalists don't tie to so-called premium services, but rather to comfort and value for all."
Hawaiian Airlines, the largest carrier in the state of Hawaii, would not acknowledge that Southwest has had an impact on fares.
"Fares fluctuate daily and seasonally in the airline industry," Tara Shimooka, Hawaiian Airlines spokeswoman, said in a statement. "Hawaiian Airlines competes with all the largest U.S. carriers, and we strive to offer our guests the greatest value through competitive pricing year-round as well as our superior product and Hawaiian hospitality."
To read more about the travel and tourism industries, follow @hugomartin on Twitter.
---
Sign up for the California Politics newsletter to get exclusive analysis from our reporters.
You may occasionally receive promotional content from the Los Angeles Times.