Terranea Resort and workers settle a lawsuit over unpaid work time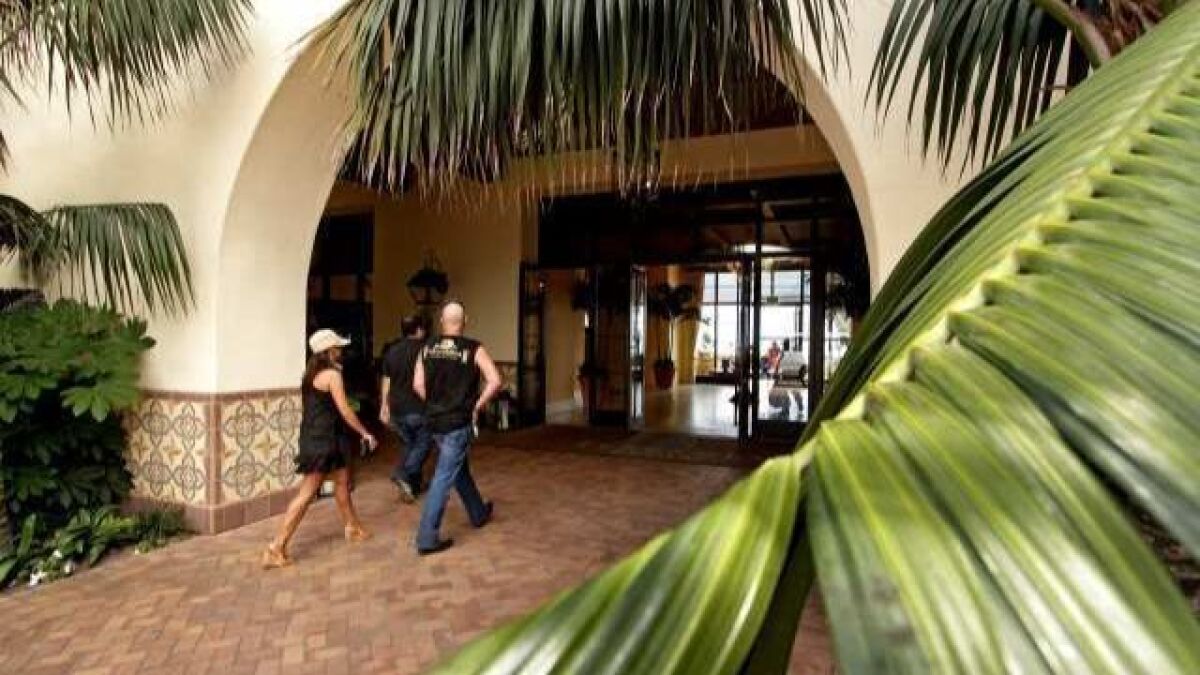 The Terranea Resort in Rancho Palos Verdes has settled a lawsuit filed by workers who demanded pay for time they spent waiting to get uniforms before each shift and being driven from a remote parking lot.
The lawsuit, filed in 2017 in Los Angeles County Superior Court, accused hotel management of violating California labor law by requiring employees to show up as much as 30 minutes before their shifts to a remote parking lot to take a company shuttle to work, without providing compensation for that time.
In addition, the suit said that workers are required to show up an additional 15 minutes before their shifts to get and put on work uniforms, also without compensation for that time. It also accused the resort of failing to provide proper meal and rest breaks.
The two sides agreed that the resort will pay for a $2.1-million settlement fund to be split among the approximately 400 hourly workers at the resort and their attorneys.
In addition, an attorney for the workers said in a statement that the lawsuit "has already resulted in Terranea making significant changes to its unlawful wage-and-hour policies that benefit employees."
However, Terranea President Terri A. Haack said the resort did nothing wrong and settled the lawsuit to avoid a costly legal battle.
"We are happy to have expediently resolved this matter and avoided a costly and lengthy litigation that would have largely benefited a small group of plaintiff lawyers," she said in a statement.
In court documents, Lauren Teukolsky, the attorney for the resort workers, called the proposed settlement "a fair, adequate and reasonable one."
She said in court records that she is prohibited from commenting further on the settlement.
The lawsuit was filed by three workers but, as part of the settlement, Terranea agreed that it met the requirements to be considered a class-action lawsuit, representing about 400 hourly employees.
Under the settlement, the lead plaintiffs will get as much as $7,500 each in back pay but Haack said the biggest share of the settlement money will go to the lawyers for workers.
"Plaintiffs' attorneys, including an attorney who also represents Unite Here Local 11, stand to receive more than $716,000 in legal fees as part of the settlement. Employees will receive individual sums that are a very small fraction of what the attorneys will receive," she said.
In court documents, Teukolsky said that the California Supreme Court has previously decided that it is reasonable for lawyers to request up to a third of the plaintiff's settlement award — which is how much lawyers in the Terranea lawsuit requested.
The resort has been in a labor fight with Unite Here Local 11, a union that represents hotel workers — a feud that has pulled in resort guests and even some engaged couples who planned to hold wedding events at the ritzy resort.
Unite Here Local 11 has been trying to unionize the workers at the resort, asking that Haack sign a "neutrality agreement," which would give union organizers access to the property to collect signature cards.
Under the neutrality agreement, Haack said, she would be prohibited from speaking out against the union and must automatically recognize the union if more than 50% of the workers signed cards.
She has refused that request but has offered to allow a secret ballot vote, under the control of a third-party mediator.
Unite Here also collected about 4,000 signatures to qualify a measure for the Nov. 5 Rancho Palos Verdes citywide election that would require Terranea and the nearby Trump National Golf Club to provide panic buttons for employees who work alone in isolated locations. Haack said her employees already have panic buttons.
To read more about the travel and tourism industries, follow @hugomartin on Twitter.
---
Sign up for the California Politics newsletter to get exclusive analysis from our reporters.
You may occasionally receive promotional content from the Los Angeles Times.