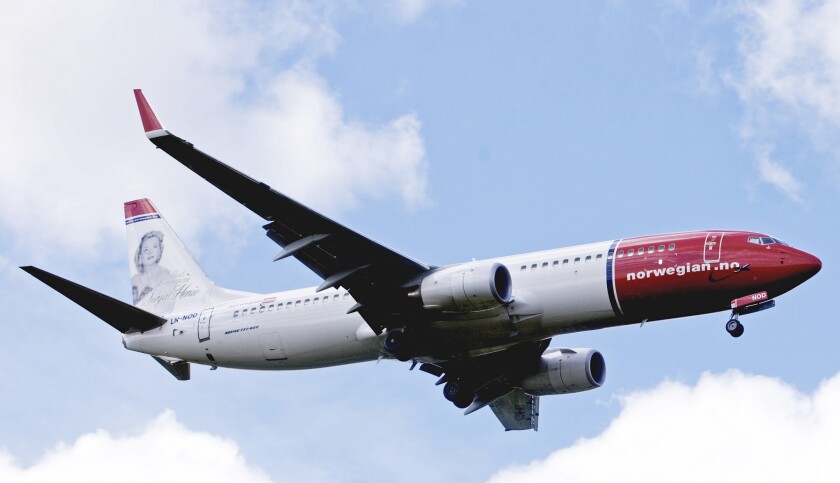 Democratic presidential front-runner Hillary Clinton has jumped into the dispute over whether Norwegian Air International is competing fairly against its U.S.-based rivals — and she is taking a position critical of the Obama administration.
Norwegian Air, a subsidiary of Norway-based Norwegian Air Shuttle, one of Europe's biggest low-cost carriers, has been accused by U.S.-based carriers and their unions of skirting U.S. and European labor laws by establishing a base in Ireland but hiring pilots out of Asia to save money.
Norwegian has denied the charges, and a report by the U.S. Department of Transportation said the agency investigated and found no basis to deny Norwegian a permit to fly to the U.S. from Ireland on that basis.
See the most-read stories this hour >>
Norwegian already flies from its base in Norway, but a base in Ireland would give the carrier greater access to U.S. airports.
Norwegian's chief executive, Bjorn Kjos, urged the Obama administration to move ahead with the permit's final approval, saying the low-cost airline will create "much needed competition and affordable fares to consumers on both sides of the Atlantic."
But Clinton's labor campaign director, Nikki Budzinski, released a statement saying that Clinton was urging the Obama administration to reject Norwegian's permit.
"Workers in the U.S. airline industry deserve rules of the road that support a strong workforce with high labor standards — not attempts by airlines to flout labor standards and outsource good-paying jobs," Budzinski said.
Clinton rival Sen. Bernie Sanders also called on the federal government to deny Norwegian's permit. "We must do everything we can to prevent a global race to the bottom in the airline industry," he said in a statement.
No word yet if Republican nominee Donald Trump will side with the Obama administration or with Clinton and Sanders on the dispute.
ALSO
SpaceX successfully lands rocket at sea for third time
What would it take to put CBS and Viacom together again?
LAX arrivals are slowest at getting to the gate after landing, study finds
For more travel news, follow Hugo Martin on Twitter: @hugomartin
---