What would it take to put CBS and Viacom together again?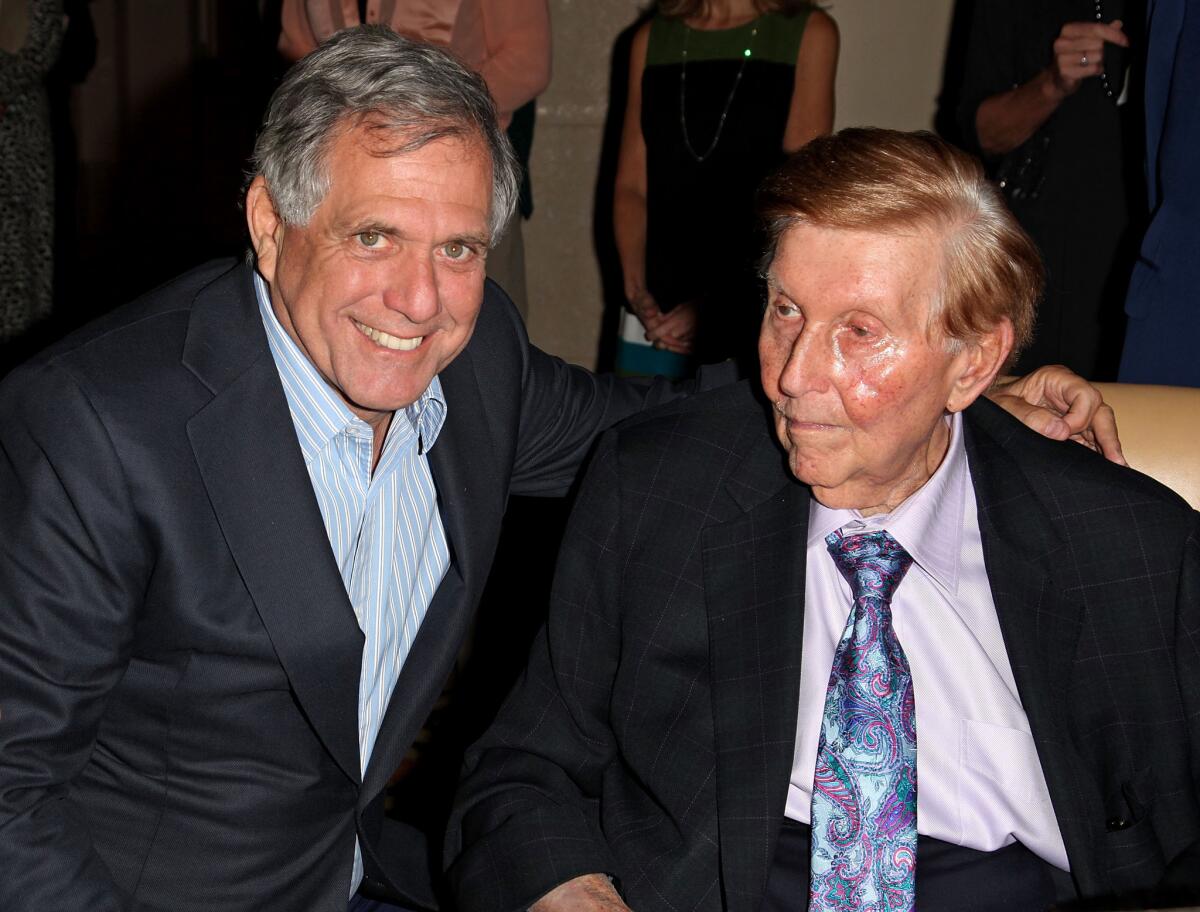 Sumner Redstone had his reasons when he split his media empire into two separate corporations a decade ago: He had two strong top executives whom he wanted to keep happy, and more than enough successful businesses to go around.
Since then, network chief Leslie Moonves has been running the stalwart CBS Corp., which boasts the nation's most watched TV network. Viacom, meanwhile, has seen its stock plummet more than 45% in the last two years, and its chairman and chief executive, Philippe Dauman, is on increasingly shaky ground.
The contrasting trajectories of the two companies, and Dauman's precarious position, has prompted speculation about whether the Redstone family might eventually put CBS and Viacom back together again. That would allow them to hand the combined entity to Moonves, 66, who has long wanted to run a major movie studio.
"It's clear that Les Moonves knows what he is doing while the people running Viacom are stumbling around in the dark," said Jonathan Taplin, a USC Annenberg School communications professor.
The pitched battle between Viacom and the Redstone family – which controls 80% of the voting shares of Viacom and CBS – intensified Friday amid speculation about Dauman's uncertain future.
Last week, Redstone ousted Dauman and another Viacom board member from the trust that will eventually oversee his controlling shares in the companies. On Monday, Dauman and George Abrams sued, claiming that Redstone is being manipulated by his daughter, Shari Redstone. That legal action put Dauman in direct conflict with the company's controlling shareholders.
An activist shareholder who has been critical of Viacom management turned up the heat, saying Dauman should be tossed out.
"We think the ideal next CEO of Viacom should be Leslie Moonves of CBS," said Eric Jackson, a managing director of SpringOwl Asset Management, which has been demanding management changes."It's in the best interests of both Viacom and CBS shareholders to see a remerging of those two companies under the leadership of Moonves."
Moonves declined to comment.
Redstone's representatives hinted that change was afoot.
"Sumner Redstone will make every decision with the same deliberation and consideration with which he removed Philippe Dauman and George Abrams as trustees, based on the best interests of shareholders," Redstone's newly hired spokesman, Mike Lawrence, said in a statement.
A Massachusetts judge has scheduled a hearing June 7 to wade into the dispute over whether Dauman and Abrams should be restored as trustees and remain on the board of National Amusements, the Redstone family's investment vehicle.
Viacom shares gained 4%, or $1.71 a share, to $44.24 on Friday. CBS shares closed up 1%, or 52 cents, to $54.87.
Redstone turned 93 on Friday, and his family celebrated with him at his Beverly Park compound. In contrast to last year, top Viacom executives did not attend the celebration.
Rejoining the two companies would result in a more powerful conglomerate that would allow Viacom to better compete with the likes of the Walt Disney Co., Comcast Corp.'s NBCUniversal and 21st Century Fox.
Brian Wieser, a media analyst at Pivotal Reseach, said there was some merit in merging Viacom and CBS – if CBS' management, directors and shareholders were interested in such an arrangement. "There would be tons of synergies," he said.
CBS boasts the nation's most-watched network, with TV sports and news, one of the nation's largest chains of TV stations, premium cable channel Showtime and the Simon & Schuster book publishing house.
Viacom has a different set of assets, with its profits coming from its stable of cable TV channels, including MTV, VH1, Comedy Central, Nickelodeon and BET. It also owns the struggling studio Paramount Pictures, responsible for such big franchises as "Star Trek," "Mission: Impossible" and "Teenage Mutant Ninja Turtles."
When Redstone was preparing to split his corporate empire into two companies in late 2005, there was squabbling over the assets each executive would be given. At the time, MTV architect Tom Freston was running Viacom, although he was forced out in September 2006 – nine months after Viacom became a stand-alone operation.
Dauman, a longtime Redstone advisor, quickly stepped into the CEO position.
A decade ago, Redstone refused to give Moonves the Paramount movie studio, but Moonves snagged two other lucrative Viacom assets that have gone on to pay dividends. One was Paramount Television, which included a library of old TV shows such as "Cheers" and "Star Trek." Moonves renamed the unit CBS TV Studios.
Moonves also picked up the premium pay channel Showtime, which has dramatically increased the number of subscribers in recent years, with such programs as "Homeland," "Shameless," "Billions" and "Masters of Sex."
In the last three years, as the value of TV content has increased, Viacom's Paramount has begun to ramp up a new television studio, under the Paramount brand. This year, Viacom's Paramount TV co-produced a live production of the Paramount movie "Grease," which scored big ratings for Fox.
But CBS already has a formidable TV production studio that produces more than two dozen prime-time shows, including "Jane the Virgin," "Blue Bloods," "Hawaii Five-0" and "Crazy Ex-Girlfriend." CBS also has a 50% interest in the CW television network and small film studio.
Some of Viacom's TV channels, such as TV Land and Spike, would complement CBS' offerings, and give CBS' TV studio more distribution outlets for its shows, analysts said.
But it is unclear whether Moonves or CBS' board – which must look out for the interests of CBS shareholders – would favor such a merger.
"I'm not so sure that CBS shareholders want Viacom back," Wieser said.
Some in Hollywood say Moonves might be more interested in Time Warner Inc., which is in better shape than Viacom and has more compatible assets with CBS, including Warner Bros. Television, which makes some of CBS' biggest hits including "The Big Bang Theory."
"Time Warner would be too big to go after," Jackson said.
Shari Redstone, who serves as a vice chair of Viacom and CBS, has not publicly said whether she would support reunification, although she has been a strong supporter of Moonves. In February, she made the motion to elevate Moonves to the role of chairman of the company to replace her ailing father.
Stitching the two companies together, however, would be more complicated than when they were broken apart in January 2006.
One obstacle would be coming up with a valuation for Viacom that would be acceptable to Viacom shareholders – and not too steep of a price that would cause CBS shareholders to cry foul. Viacom currently is valued at $17.5 billion.
The two companies would have a delicate balancing act because the board of Redstone's private company, National Amusements, would be on both sides of the deal, longtime media insiders said.
Swallowing a company as large as Viacom would not be easy for CBS, which is among the smallest of the major media firms. CBS is valued at $25 billion – one-sixth the size of Disney or Comcast. Any deal would have to have a strong stock component.
CBS, known for being lean and scrappy, would also have to absorb Viacom's considerable $12.5 billion in debt. CBS has $8.5 billion in debt.
Most analysts agree that CBS has a stronger hand than Viacom. In an era of "skinny bundles," not having to peddle little-watched channels has been an advantage for CBS.
In addition, revenue from so called "retransmission fees" – the money that CBS charges pay-TV distributors such as DirecTV and Cox to retransmit CBS station signals – has swelled to an estimated $1 billion this year, up from $150 million in 2010.
CBS can charge more because it boasts NFL football, college basketball, prominent local TV stations and strong prime-time shows.
By contrast, Viacom is facing headwinds as pay-TV providers are under pressure to drop small cable channels, like some in the Viacom portfolio, in an effort to hold the line on costs. However, Viacom has been successful this year, clinching deals with two major distributors, Dish Network, and, on Friday, Cox Communications, which serves Orange County.
"You can put two strategically useful assets together but if the management does not have a vision for what they want to do with it, then it would be a waste of time, Wieser said.
From the Oscars to the Emmys.
Get the Envelope newsletter for exclusive awards season coverage, behind-the-scenes stories from the Envelope podcast and columnist Glenn Whipp's must-read analysis.
You may occasionally receive promotional content from the Los Angeles Times.