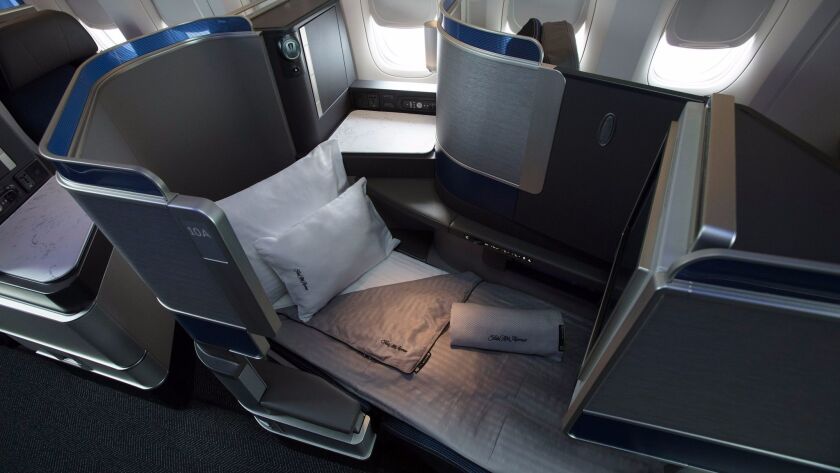 If you hate the middle seat on a plane, you probably won't like the new seat configuration on United Airlines Boeing 777s.
The Chicago-based company announced that it is the latest carrier to reconfigure the seating on the Boeing 777-200 to add 21 additional seats.

The plane, to be used starting this winter primarily for long-haul flights, will have 50 lie-flat business class seats — known as Polaris seats — and 242 economy seats.
The good news is that the legroom for the economy seats will remain about the same as before. The distance between the back of one seat and the back of the next — known as the "pitch" in industry jargon — will be 31 inches for economy seats and 34 inches for "Economy Plus" seats.
But to fit the extra seats, the economy and "Economy Plus" seats will be arranged in rows of 10 across instead of nine.
United already has 19 Boeing 777-200 planes equipped with rows of 10 seats but now plans to deploy more jets in the next few years with the ultra-luxurious Polaris seats and the 10-seat configuration in the economy section.
American Airlines has already configured some of its 777-200s with ten seats across to fit 289 passengers, 42 more than under a previous layout. The Fort Worth carrier said it has plans to reconfigure those planes again to add premium economy seats, but economy passengers will still sit in rows of ten.
To read more about the travel and tourism industries, follow @hugomartin on Twitter.
ALSO
Workers' lawsuit accuses ritzy Terranea Resort of wage theft
JetBlue to remove its fares from several online travel booking sites
Hotel rooms near L.A. Convention Center have nearly doubled but aren't enough, city study finds
---