Walmart to salad growers: If you want to sell, you have to blockchain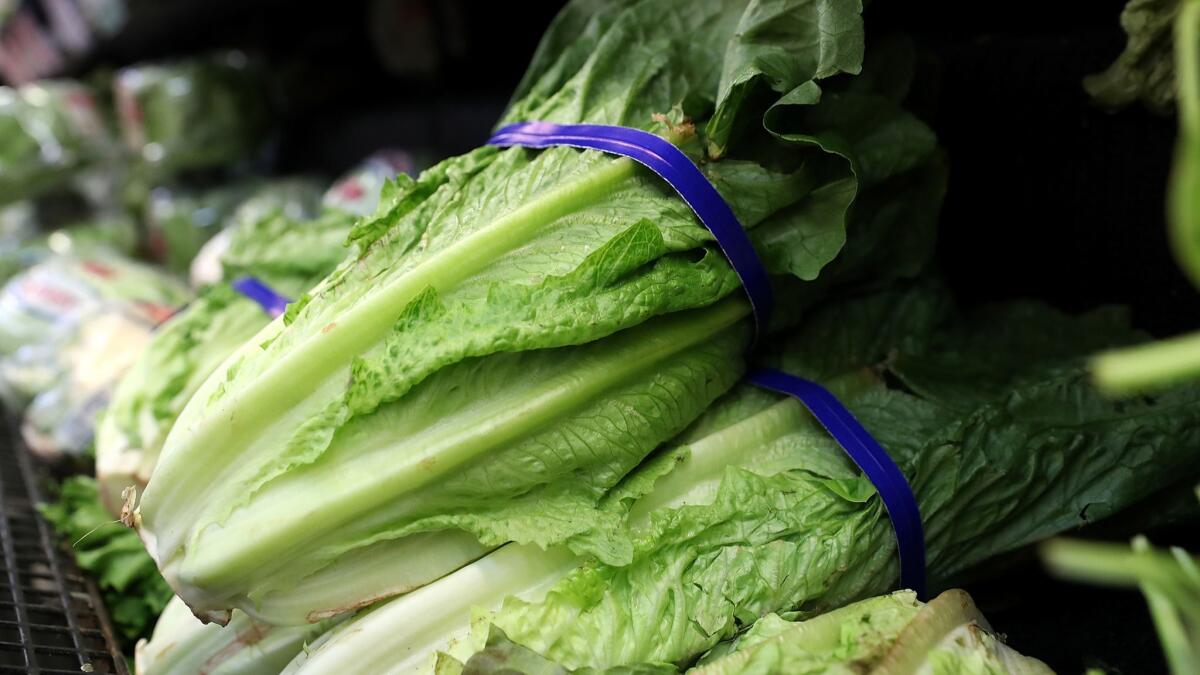 Produce companies that want to sell lettuce and salads at Walmart and Sam's Clubs will have to learn the skills of cryptocurrency traders, the giant retailer announced Monday.
By the end of January, 2020, Walmart will require California-based produce companies such as Dole, Taylor Farms and Fresh Express to join a blockchain-based supply chain that the mega-retailer has been experimenting with for nearly two years to enable Walmart to trace the source of food-borne illness.
Shifting to the encrypted system of shared information made famous by bitcoin would enable Walmart and its suppliers to contain and limit recalls involving Walmart and Sam's Club stores, a $280-billion grocery empire.
"We're requiring our suppliers of fresh leafy greens to be able to trace back their product to the source, to the farms, in seconds and not days or weeks," Frank Yiannas, Walmart's vice president for food safety, said Monday.
The move by Walmart could upend the way the produce industry controls its supply lines — a system that lags behind not just last century's "digital age," but the current era of "smart" interconnected devices and data encryption capabilities.
Produce companies centered in the Salinas Valley and Yuma, Ariz., were hit hard this year by a nationwide scare over romaine lettuce tainted with E. coli bacteria.
Five people died and 205 were sickened in the 36-state outbreak that began in April and prompted an unusual national advisory for consumers to avoid any lettuce grown in the Yuma region.
Consumers were largely baffled and unable to find out where their lettuce was grown, officials acknowledged at the time.
The strain of bacteria responsible for the illnesses was found in a Yuma-area irrigation canal, but only one farm was identified as a source of an isolated group of illnesses among Alaska prisoners.
Authorities believe there were multiple farms that grew tainted lettuce but were unable to prove the thesis before lettuce production halted in the region. By the time it was declared over in July, the outbreak was the most extensive and deadly ever to hit the produce industry.
"The time is now for a better way to tackle the issue of food traceability," Yiannas said. "There's a strong public health case as well as a business case for doing so."
Yiannas said the blockchain requirement "shouldn't really come as a surprise" to those who sell into Walmart's vast network. The company has been experimenting with a pilot program for nearly two years, involving major food companies such as Nestle, Danone, Unilever and Driscoll's berries in Watsonville.
"We've been pretty transparent and vocal in the work that we've been doing," he said.
Dole, for example, has participated in the company's trial period for the system, and Taylor Farms, a company known for an aggressive adoption of food-safety technology, has reacted positively to the change, Yiannas said. (Officials with those companies were not immediately available for comment Monday.)
For suppliers, the shift is more cultural than technological. At its core, blockchain is a democratized accounting system in which information is not centralized but spread out on a shared ledger.
Instead of forfeiting privacy by moving proprietary data to a centralized space that must be guarded against hacking, blockchain creates a web in which each participant shares and verifies limited information, linked by complex encrypted codes, like boxcars in a train.
The first block of the chain would come from growers providing information by smartphones, or in some cases via preprinted boxes and labels. Next, packers and shippers would enter information on every lot of produce they process as it passes through their facilities to trucks and enters the Walmart distribution system.
Each move is known to other parties, who must verify the activity in a system in which no one knows everything, but everyone knows every move. (That has earned blockchain the dual nicknames of the Internet of Trust and the Internet of Distrust.)
Companies that already are vertically integrated, from field through packing, face the easiest transition. Others that operate through multiple contracts with independent growers will face a more complex task, Yiannas acknowledged.
"My sense is that in due time everybody will figure out that this is the right thing to do and come along," he said.
The conversion to blockchain could offer much more than food safety advantages, experts say. It could speed up payment of contractors, help companies learn what products have the best shelf life, and offer consumers a peek into how a crop was grown and harvested at a time when they are demanding to know more about their food.
There are about 900 food-borne illness outbreaks in the U.S. every year, causing at least $152 billion in healthcare costs, lost work hours and trashed food annually, health officials and analysts say.
The U.S. Food and Drug Administration currently requires companies to be able to trace products one step back and one step forward. That leaves the Centers for Disease Control and Prevention with a complex set of multiple strands to trace, a tediously time-consuming task that can take weeks or months and fail to find conclusive evidence.
Although most E. coli cases are related to meat, leafy greens are the biggest culprit in fresh produce, a category that accounted for at least half of the outbreaks of listeria, E. coli and salmonella, and a third of the campylobacter outbreaks reported from 2009 to 2013.
Fresh Express, based in Salinas, was linked this year to an outbreak of illnesses caused by cyclospora that affected prepackaged salads and wraps sold at Trader Joe's and other outlets, and salads served by McDonald's outlets in the Midwest. More than 500 people were sickened.
Del Monte Fresh Produce was linked to a separate infection this year involving prepared salad trays that sickened more than 200 people.
This month, the FDA confirmed that it had found cyclospora in routine testing of U.S.-grown cilantro — the first confirmed detection of that parasite in domestic produce. Previous outbreaks have been linked exclusively to produce grown in other countries where sanitation standards are less stringent. No illnesses were traced to the cilantro, the FDA reported.
Follow me: @LATgeoffmohan