Wells Fargo reportedly facing huge fine for mortgage lending and auto insurance problems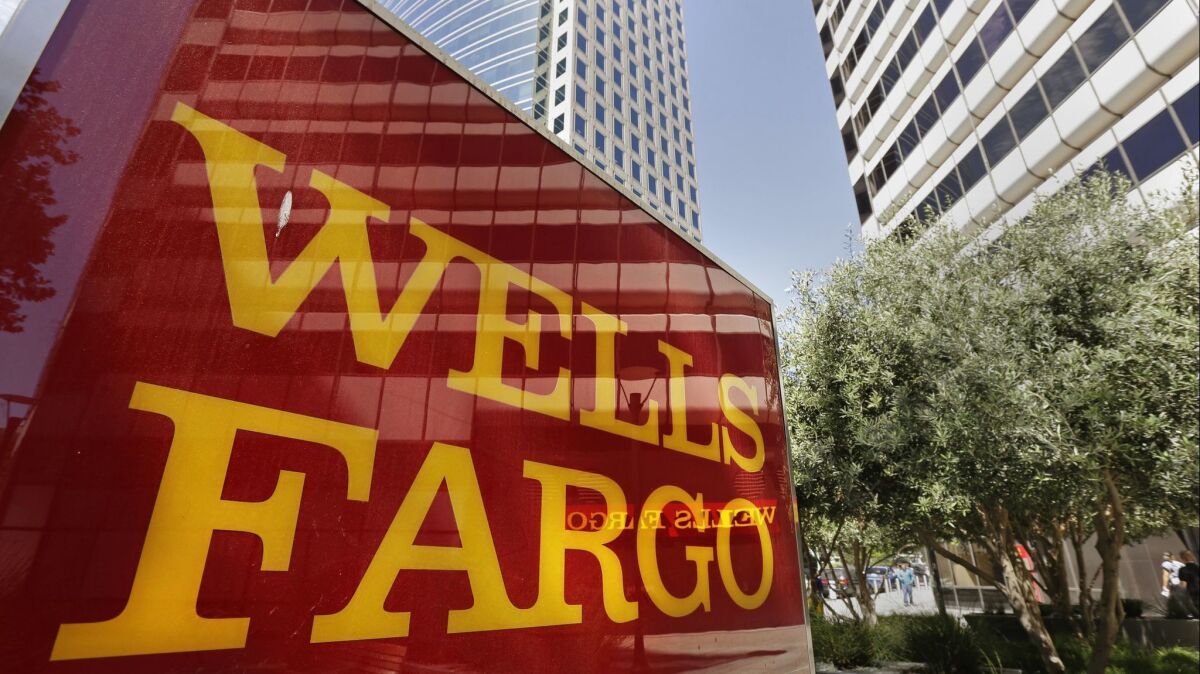 The Consumer Financial Protection Bureau is considering fining Wells Fargo & Co. hundreds of millions of dollars for its mortgage-lending and auto-insurance abuses — following up on a threat by President Trump to take aggressive action against the bank.
The agency is in talks with the San Francisco bank over penalties for the problems, Reuters reported Monday, citing two unnamed people with knowledge of the discussions. CFPB acting Director Mick Mulvaney is pushing for fines as large as $1 billion, Reuters said.
A CFPB spokesman did not immediately respond to a request for comment. A Wells Fargo spokeswoman declined to comment.
Mulvaney, the White House budget chief, has been critical of how aggressively the independent agency was run under the Obama administration.
But the large fines would align with Trump's public vow in December that Wells Fargo would face stiff penalties for charging fees to certain homebuyers to secure low mortgage rates. Trump said on Twitter that regulators would "make penalties severe" when companies are "caught cheating."
Any penalty imposed by the agency could amount to the second major enforcement action this year against the bank, which was ordered in February by the Federal Reserve to cap its growth while it worked to improve its corporate governance — punishment for what the regulator called "widespread consumer abuses and other compliance breakdowns."
The bank has been struggling to right itself since it agreed in 2016 to pay $185 million to settle investigations by the CFPB, the federal Office of the Comptroller of the Currency and Los Angeles City Atty. Mike Feuer into the creation of millions of unauthorized accounts.
The $100-million CFPB portion of the settlement was a record for the agency, which began operations in 2011. Reuters reported Monday that Mulvaney, who was installed as acting director by Trump in November, is looking for a penalty against Wells Fargo that would dwarf that earlier figure.
The bank did not admit any wrongdoing in the 2016 settlement but said its employees had opened millions of checking, savings and credit card accounts that customers never authorized. Wells Fargo's sales practices were first reported by the Los Angeles Times in 2013 and were attributed to onerous sales goals.
Wells Fargo has since been accused of forcing auto-loan customers into unneeded insurance policies and charging improper fees to some mortgage borrowers.
The Times reported last year on a wrongful-termination lawsuit by a former Wells Fargo mortgage banker who alleged that the bank falsified records so it could blame mortgage-processing holdups on borrowers. The banker said Wells Fargo fired him for trying to report the practice.
Accusations of improper mortgage fees also have been the subject of a class-action lawsuit, and the bank reported in August that the consumer bureau was investigating the matter. Wells Fargo has acknowledged that the controversy was a factor in a shakeup of the bank's mortgage division.
In October, Wells Fargo announced that it would refund "rate-lock extension" fees to some mortgage borrowers whose delays in completing mortgage applications were primarily the bank's fault. The fees in question were charged from Sept. 16, 2013, through Feb. 28, 2017.
The fees are supposed to be charged only when borrowers fail to finish their paperwork on time and want to retain the interest rate that initially was quoted for the loan.
Jaret Seiberg, an analyst with brokerage and investment bank Cowen & Co., wrote in a research note Monday that Wells Fargo remains at risk for regulatory action because of its reported abuses.
"We have warned for many months that Wells Fargo was not in the clear over its various consumer account controversies, including the most recent allegations over auto lending and mortgage lending," he wrote. "To us, the bank remains the ideal target for those on the far right and far left who believe the biggest banks are too large to manage."'
Ed Mierzwinski, consumer program director of the U.S. Public Interest Research Group, said a record fine from the bureau for Wells Fargo's abuses would be a welcome development.
It also would be somewhat surprising given Mulvaney's moves since taking leadership of the bureau to scale back its aggressive approach to enforcing consumer protection laws. As a Republican congressman, Mulvaney once called the bureau a "joke ... in a sad, sick kind of way."
"The days of aggressively 'pushing the envelope' are over," Mulvaney said in a January email to employees that also was published as an opinion article. But while he has pushed Congress to sharply reduce the bureau's authority, Mulvaney also has promised to be tough when necessary.
Last week, the bureau filed documents asking a federal judge to reconsider a recent decision reducing penalties and restitution the CFPB was seeking against Orange County lender CashCall Inc., for issuing loans with illegally high interest rates.
"There will absolutely be times when circumstances require us to take dramatic action to protect consumers," Mulvaney said in the January email. "At those times, I expect us to be vigorous in our enforcement of the law."
"But bringing the full weight of the federal government down on the necks of the people we serve should be something that we do only reluctantly, and only when all other attempts at resolution have failed," he said.
Shares of Wells Fargo closed up 2 cents to $52.25 in trading Monday on the New York Stock Exchange.
Twitter: @JimPuzzanghera
---
UPDATES:
1:50 p.m.: This article was updated with comment from Ed Mierzwinski of the U.S. Public Interest Research Group, and additional details.
This article originally was published at 12:10 p.m.
Our six-week newsletter will help you make the right decision for you and your property.
You may occasionally receive promotional content from the Los Angeles Times.