Wells Fargo to pay $1.2 billion over bad government-backed mortgages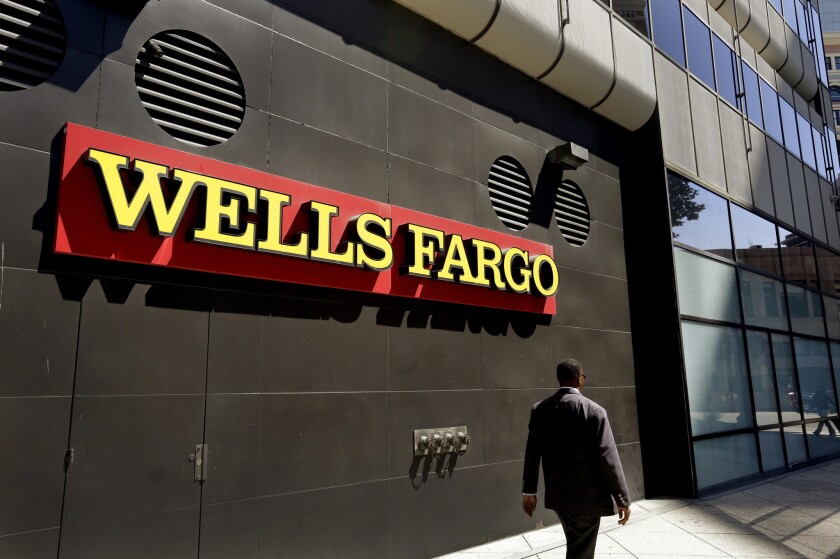 Wells Fargo & Co. will pay $1.2 billion to settle claims that it duped the federal government into insuring thousands of risky mortgages in the years leading up to the housing crash, the San Francisco banking giant said Wednesday.
If approved by a federal judge, the settlement would close the books on a 2012 lawsuit that the government filed against the bank over bad loans backed by the Federal Housing Administration. It's one of the biggest fines paid by Wells Fargo related to the crash.

Prosecutors alleged that the bank "engaged in a regular practice of reckless origination and underwriting" of FHA loans backed by federal insurance and intended to help first-time home buyers.
Between 2001 and 2005, prosecutors said, the bank issued thousands of FHA loans that did not meet the program's requirements, which include minimum incomes and credit scores for borrowers. They also said that from 2002 to 2010, the bank violated federal reporting requirements by keeping problem loans under wraps and collecting insurance payouts when loans went bad.
Banks are required to report loans if they find problems in their underwriting — for instance, if a loan officer approved an FHA-backed mortgage even though the borrower did not meet criteria or provided fraudulent information when applying.
Prosecutors said Wells Fargo internal reviews found more than 6,500 problem FHA loans from 2002 through 2010, but the bank reported only 238 of them. Prosecutors said the lax underwriting was partly the result of incentives that encouraged employees to approve more loans.
The loan defaults caused the FHA to pay hundreds of millions of dollars in insurance claims to Wells Fargo to cover the bank's losses, even though those loans should not have been insured, according to the suit.
Wells Fargo reported the settlement Wednesday in a filing with the Securities and Exchange Commission, noting that the deal has not been finalized. Bank spokeswoman Catherine Pulley said she could not provide additional details.
The bank initially fought the federal allegations, denying them in court filings. Other big banks, meanwhile, were quicker to settle similar suits.
In 2014, Chase agreed to pay $614 million for submitting shoddy FHA loans and Bank of America agreed to an $800-million settlement over similar allegations, part of a much larger deal with multiple state and federal regulators.
Wells Fargo has paid other fines relating to problems with mortgage origination and servicing during the housing boom, including a $5.3-billion payment into a national mortgage settlement in 2012.
In the wake of settlements over FHA loans, Wells Fargo and other big banks have cut back on FHA lending, saying it invites too much risk of legal entanglements.
Although borrowers with credit scores as low as 580 can qualify for FHA loans, in the last few years big banks have been willing to make FHA loans only to borrowers with higher scores.
Wells Fargo shares fell 86 cents, or 1.8%, to $47.60 on Wednesday.
james.koren@latimes.com
---
For reporting and exclusive analysis from bureau chief John Myers, get our California Politics newsletter.
You may occasionally receive promotional content from the Los Angeles Times.