Albertsons is interested in buying Whole Foods, report says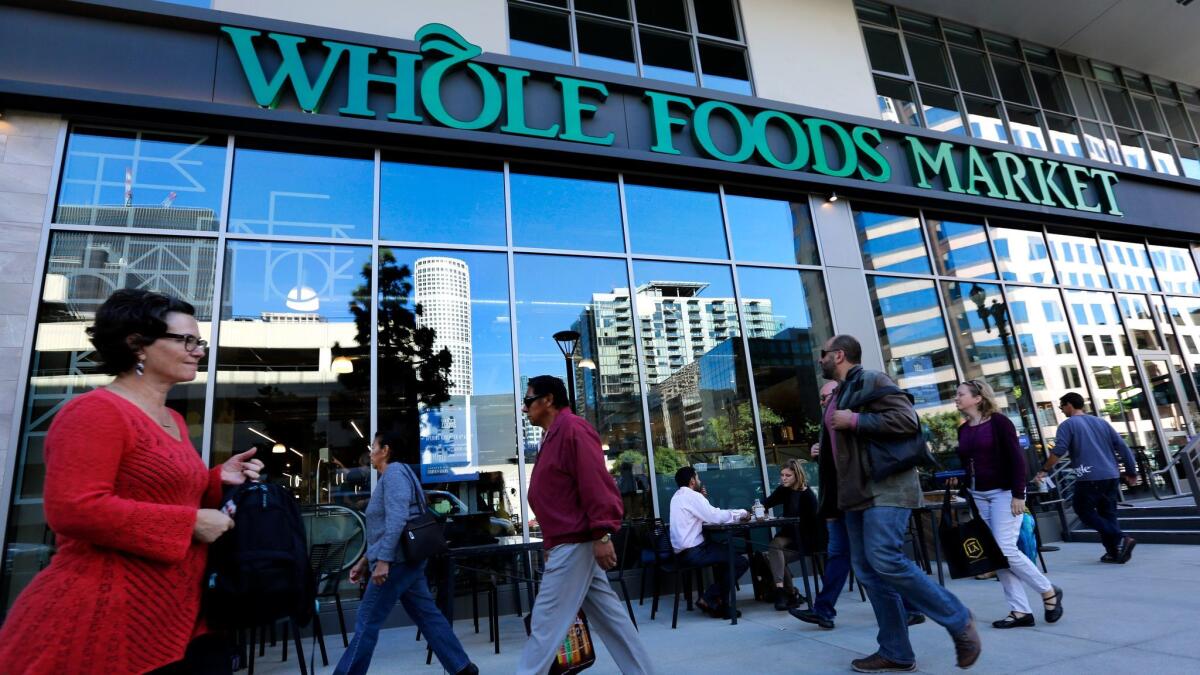 Albertsons is apparently still shopping around in the organic aisle.
The grocery chain's owner is reportedly considering a takeover of high-end grocer Whole Foods Market Inc., according to a report Monday from the Financial Times. The news comes just weeks after Bloomberg reported that Albertsons had preliminary discussions about merging with another organic grocery chain, Sprouts Farmers Market Inc.
Citing unnamed sources, the Financial Times said Cerberus Capital Management — a New York private equity firm that owns Albertsons and Safeway among other grocers — has had early talks with bankers about making a bid for Whole Foods.
Whole Foods, Albertsons and Cerberus all declined to comment on the Financial Times report.
Whole Foods built a following with its high quality and high-priced organic and natural food. But over the years, other grocers have also bulked up their organic offerings, making the natural food category more competitive.
The Austin, Texas, chain responded with a new concept called 365 by Whole Foods. The company hoped the smaller stores, lower prices and more limited selections would attract younger shoppers with less disposable income. Its first 365 store opened in Silver Lake last year.
While Whole Foods is still "optimistic about the future growth potential" for 365 stores, company Chief Executive John Mackey said in an earnings call in February that the chain wanted to see how the next round of stores did before "getting more aggressive."
That same month, Whole Foods said it would close nine of its supermarkets, including two in California, as part of a "more thoughtful" growth strategy.
David J. Livingston, supermarket analyst and founder of DJL Research, said despite some slowing sales, Whole Foods is still a heavy hitter in the grocery business, which makes it an attractive target for a takeover bid — and takeover speculation.
"Whole Foods is still the envy of the industry," he said. "They might have gone backwards a bit. … But that's nothing compared to the struggles everyone else has had."
Investors didn't appear thrilled at a possible acquisition. Whole Foods shares dipped 1.37% to $35.96 at 8:07 a.m. Pacific.
Twitter: @smasunaga
ALSO
Home prices rose at the fastest pace in nearly 3 years
Here's why Chinese money is pouring into Temecula's wine region
Does your credit card make you feel more attractive? Wells Fargo wants to know