After the COVID-19 pandemic forced nonessential businesses to temporarily shut down across Southern California, the Los Angeles Times invited readers to send in the names of businesses in their areas that had failed as a result.
Over the next several months, readers told us about restaurants, shops and other mainstays in their communities that had closed their doors permanently. Some were large chains, such as Souplantation. Others were smaller, family-run operations: a plant shop, a workout studio, more than a few neighborhood eateries.
Some businesses will make it through the COVID-19 pandemic on a blend of adaptability, risk tolerance and, often, luck. Many others are in jeopardy of closing permanently.
Here are the stories of three small businesses that closed for good.
The Awesome Playground: Seeing the writing on the pandemic wall
Cuties Coffee: When the mission is more important than staying open
Olive Tree Restaurant: Cutting losses and sailing off into the sunset
The Awesome Playground: Seeing the writing on the pandemic wall
The Awesome Playground was in the first wave of Los Angeles businesses to close as a result of the pandemic, shutting its doors in March.
Owner Kay Osorio opened the Awesome Playground in Highland Park 10 years ago, after becoming a mother and looking for a way to balance her personal and professional lives. She strove to give the children's play destination and birthday mainstay a down-to-earth vibe: "I wanted it to feel like we were inviting people into a home setting."
How four small businesses have survived in the COVID age.
This approach helped build a loyal customer base. "We've seen nannies come through with different sets of kids throughout the years," Osorio said. In addition to the colorful play sets and toys offered to children, Awesome Playground provided parents and caregivers with thoughtful touches such as free Wi-Fi and an area to have coffee.
But when the coronavirus crisis began making headlines in Southern California, Osorio knew immediately it could have a devastating effect on her business. "At the beginning of March, there were less and less open play customers coming. People had started canceling their birthday parties," she said. After more cancellations in the second week of March, Osorio saw the writing on the wall. "I thought, you know, that you just can't go on."
Her first worry was rent. "Right when the pandemic started, and I felt like it was gonna be a bad situation, maybe the second week of March, I called my landlord," Osorio said. She asked her landlord to abate her rent for April, but her landlord urged her to look for government assistance instead.
Osorio wasn't interested in applying for a loan, which she believed would be impossible to repay after months of minimal revenues.
The Awesome Playground "was never super profitable," she said. And unlike other businesses that have been able to pivot to outdoor-only or remote offerings, "we couldn't come up with another way to deliver our service."
Osorio was able to close the Awesome Playground without breaking her lease thanks to what she had previously viewed as a piece of misfortune: a substantial rent increase her landlord imposed in October 2019. When she expressed her concern that this rent increase would be unsustainable, her landlord offered to switch to a month-to-month lease. Five months later, she was able to walk away from her lease without owing additional rent — an action many other business owners hurt by the pandemic have been unable to take.
Osorio does not have immediate plans to reopen, given the altered outlook on indoor activities. "If I were a parent of a small child, I'd probably be pretty cautious about going back to indoor playgrounds" even after the state allowed businesses to fully reopen, she said.
She says she'll miss Awesome Playground clientele. "There are some really amazing people I've had so many conversations with over the years," she said. "I feel like Awesome Playground was a big giant second home to people."
Cuties Coffee: When the mission is more important than staying open
Sasha Jones had just one day in late July to clear out Cuties Coffee before its lease was taken over by a new tenant. "I got an email late Thursday afternoon, like, we need to get what we can out tomorrow, Friday, and the locks are being changed Saturday morning," the Cuties CEO said.
For weeks, the threat of closure had loomed over the LGBTQ-owned and -operated coffee shop near Los Angeles City College in East Hollywood. Pre-pandemic, Cuties Coffee employed three baristas, in addition to Jones. But after a temporary closure beginning in mid-March, only Jones and another staff member were willing to continue working in the shop. They adjusted the shop's hours so that it was open only four hours a day, five days a week. "We were like, 'All right, well, we're gonna go as long as we can, with just us two.'"
Amid early concerns about the virus' spread, customers were slow to return. The first week, the shop was making less than $400 per day; by Week 2, it was less than $200. Meanwhile, the shop continued to fall behind on rent. "It was just like, this doesn't make any sense. We're not making enough money to even sustain the shop being open."
Founded in 2017 with a mission to be "a safe space for queer and trans people," Cuties Coffee was never particularly profitable, Jones said. Its goal of serving as a physical community gathering space eventually became incompatible with the realities of the pandemic. "If we can't act on our mission ... and we're not making money, there's really just no point," Jones said. "We have to keep our community and the safety of our community in mind."
Since the closure of the coffee shop, Cuties is continuing to operate without a physical space. Jones has been organizing both virtual and in-person, socially distanced events during the pandemic, such as a book club, a "portraits in the park" get-together and an outdoor sound meditation. "They're just ways to bring the community together," Jones said. "I'm going to be doing more of that."
Jones said Cuties was continuing to receive support, with people contributing to its Patreon on a monthly basis. "People are sticking around," Jones said. "Someone's offered to produce a podcast for us for free. Someone's offered to redo our website for free. People really want to see us survive and thrive. And I'm really grateful for that."
Despite Cuties' experience during the pandemic, Jones said she would like to eventually open up a physical location again. "I'm hoping that people will continue to contribute for whatever the future iteration of Cuties is," Jones said.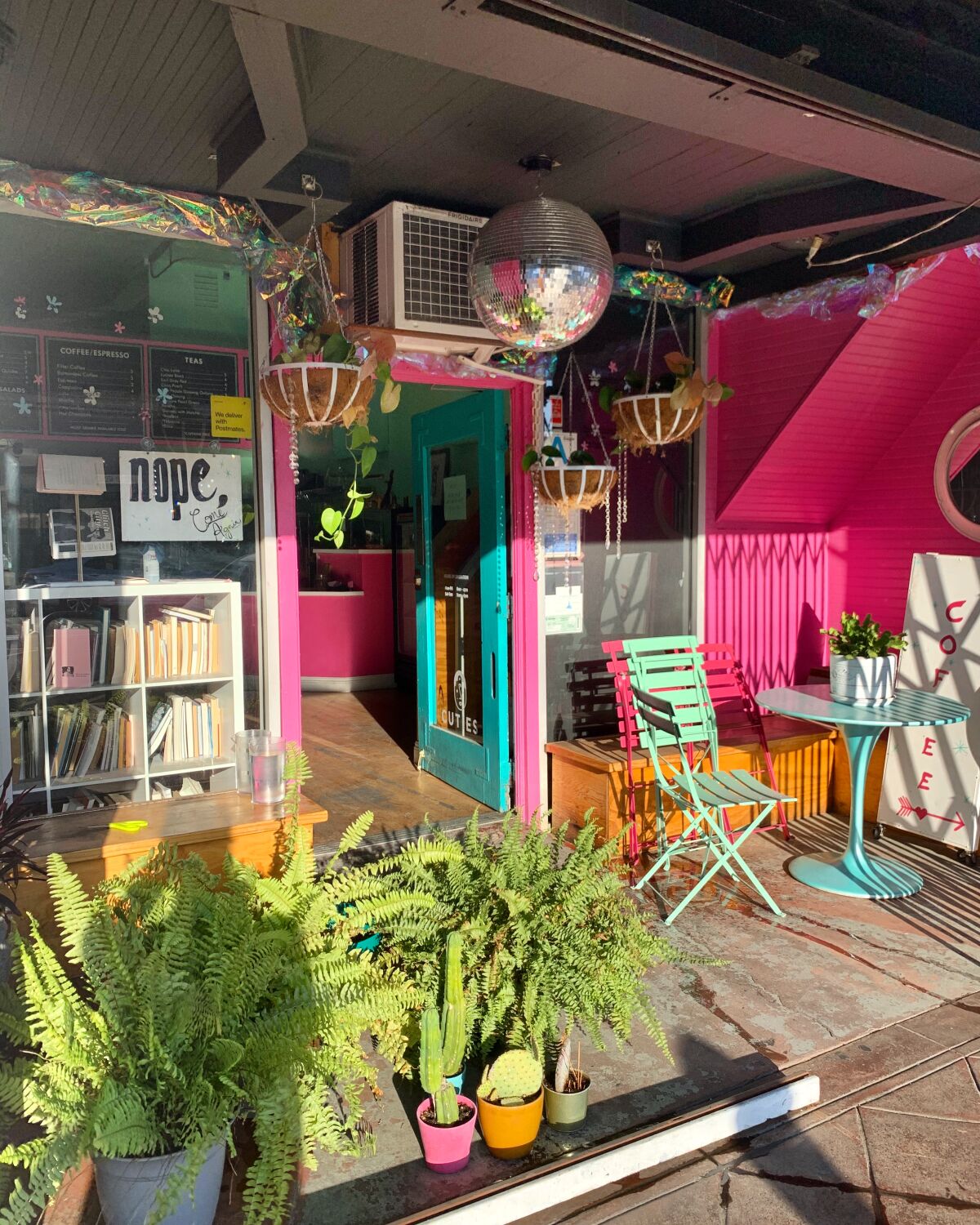 Olive Tree Restaurant: Cutting losses and sailing off into the sunset
When Alan Abdo negotiated with his landlord to end the lease for Olive Tree Restaurant, he remembers saying, "I can't close fast enough. I'm losing money by the minute."
Olive Tree was a thriving, well-known Middle Eastern restaurant in Anaheim right up until the enforced business closures began. "The day before, we were still busy," owner Alan Abdo said. Then, he began losing "between $15,000 and $20,000 a month."
Abdo said the restaurant was particularly beloved by "people like my dad that immigrated here [and] enjoyed our food because it was like home cooking from back home. And they brought their families." He said he'd often become friends with guests and join them at their table as they enjoyed their food.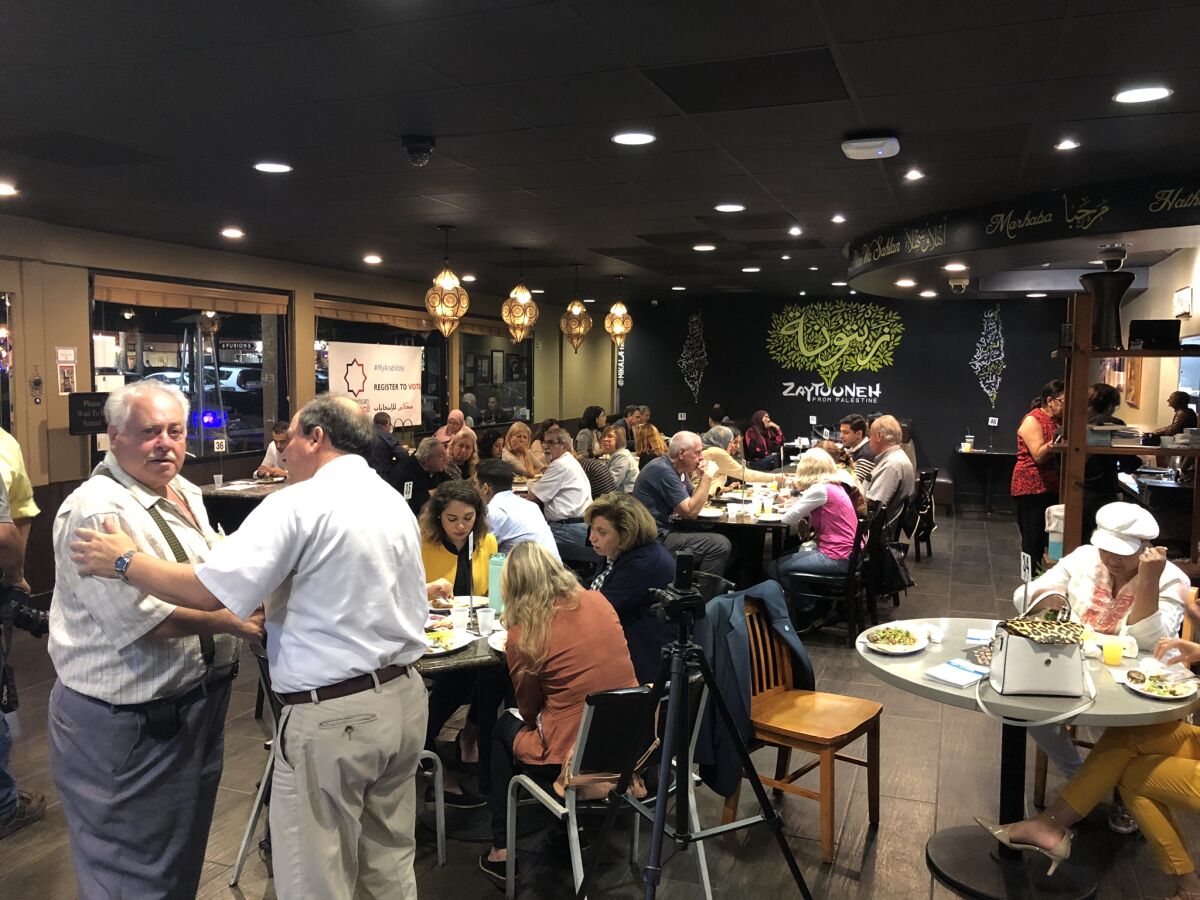 The restaurant caught a temporary break when it was approved for $70,000 in federal Paycheck Protection Program loans, which Abdo used to cover the cost of payroll and rent. But the PPP money ran out in under three months. "No matter what I was going to do," Abdo said, "I was still going to lose money."
Though some restaurants have successfully pivoted to takeout, Abdo said it didn't work for Olive Tree — when they tried it, he said, they didn't come close to breaking even. "I'm a nice sit-down restaurant. ...We weren't a fast food place," Abdo said. "On average people spent between $21 and $25 a person when they came into the restaurant. That was too expensive, especially with people losing their jobs."
Abdo's landlord let him out of his lease in exchange for the restaurant's ovens, refrigerators, tables and chairs, in addition to the recent remodeling Abdo had done to the building. "I basically left a half a million dollars and walked away from it," Abdo said. But with a family to support, the threat of losing even more money by staying open weighed on his mind. "I didn't see the light at the end of the tunnel. ... I'm absolutely sure this is gonna get worse. And I don't want to be a part of it."
Despite the pain of losing Olive Tree, Abdo said he felt good about his decision to close permanently. "Everybody's losing money. Well, I stopped losing money," he said. "It seemed like I was the smartest guy in the restaurant business."
Abdo said he might reopen Olive Tree Restaurant at some point in the future, but in the meantime, he's busy with another business pursuit that has taken off during the pandemic: boat charters.
He bought a remodeled 1989 Sea Ray around the same time Olive Tree closed, thinking he could rent it out. He's been taking people out on cruises of Newport Harbor and Emerald Bay, as well as on longer trips to Catalina Island.
"It was like therapy after closing the restaurant," Abdo said. This new venture has paid off: At this point, he has earned enough to pay all of his bills through March. "I'm one of those people that's going to survive this. And if it gets better, and it's good to open a restaurant, I'm going to have money to do it."
---