Which attractions will be open on Disneyland's opening day, and which will still be closed?
With Disneyland and Disney California Adventure reopening April 30 and ticket sales starting next week, prospective park visitors are wondering what to expect there. COVID-19 safety protocols will represent the biggest changes, and not all rides and attractions will be available.
Here's a list of rides and attractions that are scheduled to be offered at the Anaheim theme parks when they open their gates to visitors, alongside links to previous Times coverage for a peek into Disneyland's history and lore. Following that is a list of attractions that still will be closed.
Disneyland
Alice in Wonderland
Astro Orbitor
• Disneyland steps back to get ahead - March 22, 1996
Autopia
• Tomorrowland retools part of its past — June 29, 2000
Big Thunder Mountain Railroad
• What's old is old again for Disneyland's Big Thunder Mountain — March 11, 2014
Casey Jr. Circus Train
Disneyland Railroad
• Walt Disney's first love lives on at this historic California ranch — May 24, 2018
Dumbo the Flying Elephant
• Want your own Dumbo from Disneyland? An authentic Skyway car? Why park history is headed to auction — Aug. 16, 2018
Gadget's Go Coaster
• New attraction: Disney toons it down — Jan. 27, 1993
Haunted Mansion
• Digging up the ghosts of Disneyland's Haunted Mansion ride — Oct. 16, 2015
Indiana Jones Adventure
• He built a temple of zoom: Tony Baxter is the mastermind behind Disneyland's Indiana Jones Adventure — Feb. 26, 1995
It's a Small World
• 'It's a Small World' after all; iconic ride celebrates 50 years — Aug. 3, 2014
King Arthur Carrousel
• Riding in circles for children — Nov. 14, 2013
Mad Tea Party
• Meet the legendary ride maker that invented the modern theme park — Jan. 4, 2016
Main Street vehicles
• How Main Street, U.S.A. is rooted in Walt Disney's Missouri childhood — July 10, 2015
Mark Twain Riverboat
• Draining of Disneyland waterway reveals items lost by guests — May 4, 2010
Millennium Falcon: Smugglers Run
• Millennium Falcon: Smugglers Run is a fully realized 'Star Wars' toy — May 29, 2019
Mr. Toad's Wild Ride
• Disney voice-over actors bring theme park rides to life — July 28, 2015
Peter Pan's Flight
• Disneyland adding new special effects to classic rides — May 4, 2015
Pinocchio's Daring Journey
Pirates of the Caribbean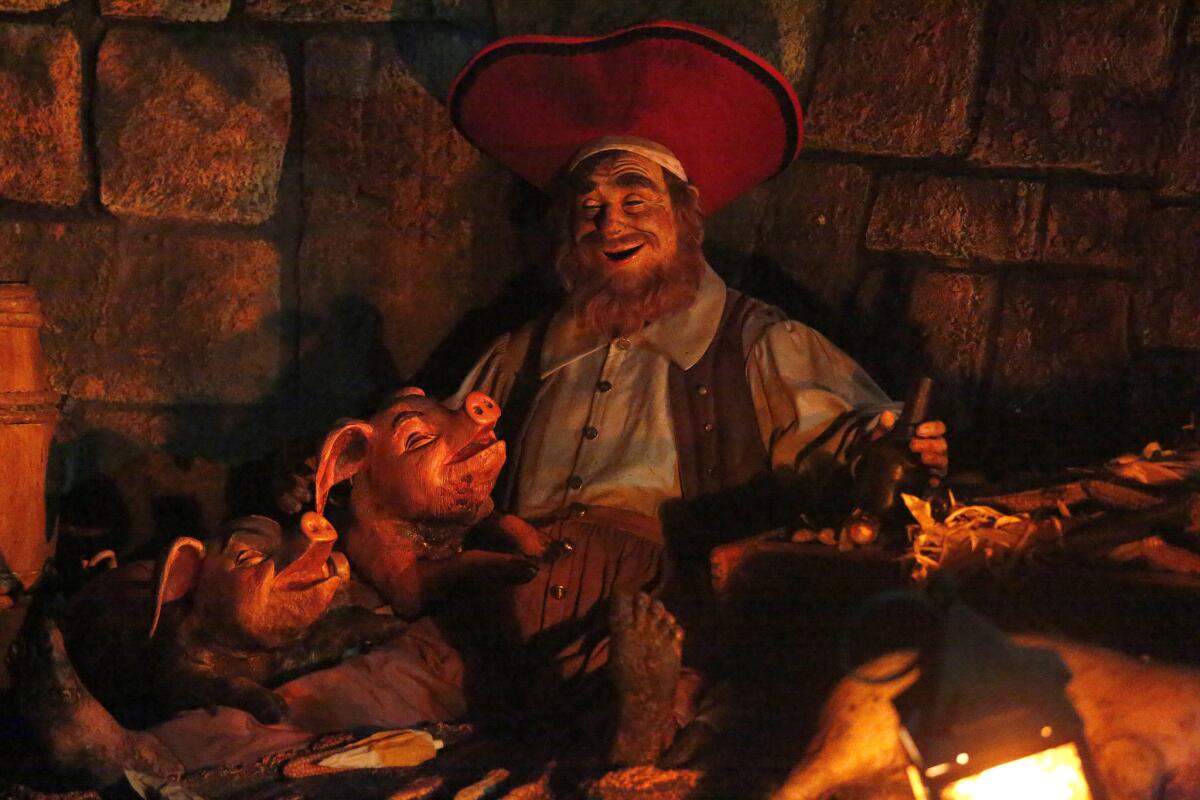 • Disneyland's Pirates of the Caribbean: 50 years of change — July 7, 2017
Roger Rabbit's Car Toon Spin
• Disneyland Previews Roger Rabbit Ride — Nov. 19, 1993
Snow White's Enchanted Wish
Space Mountain
Splash Mountain
• Disney to replace Splash Mountain 'Song of the South' theme with 'Princess and the Frog' — June 25, 2020
Star Tours — The Adventures Continue
• Star Tours 2.0 journey started long ago at Skywalker Ranch — May 20, 2011
Star Wars: Rise of the Resistance
• A showstopping Star Wars: Rise of the Resistance — a new hope for Galaxy's Edge? — Dec. 4, 2019
Surprise character sightings
Tarzan's Treehouse
The Many Adventures of Winnie the Pooh
• Pooh new? Nah — April 10, 2003
Walt Disney's Enchanted Tiki Room
• An early Disneyland designer won over Walt Disney with his rebel reputation — Sept. 7, 2018
Disney California Adventure
Games of Pixar Pier
• Pixar Pier is Disney's latest effort to pump up California Adventure — June 21, 2018
Goofy's Sky School
• Review: Goofy's Sky School coaster — June 28, 2011
Guardians of the Galaxy — Mission: Breakout!
• How Disney fit a Guardians of the Galaxy space age power plant into a theme park — May 26, 2017
Incredicoaster
• How Disney's Paradise Pier, the 'antithesis' of Walt, became California Adventure's Pixar Pier — June 22, 2018
Inside Out Emotional Whirlwind
Jessie's Critter Carousel
Jumpin' Jellyfish
Luigi's Rollickin' Roadsters
• Disney's California Adventure rocks out with Cars Land's Luigi's Rollickin' Roadsters — March 12, 2016
Mater's Junkyard Jamboree
• How Disney's imagineers transformed Carland into Cars Land — March 19, 2014
Mickey's PhilharMagic
Monsters, Inc. Mike & Sulley to the Rescue!
Pixar Pal-A-Round (swinging and non-swinging)
Radiator Springs Racers
• The real Route 66 inspirations behind Disney's Cars Land — Jan. 5, 2013
Silly Symphony Swings
Soarin' Around the World
• Disney's rebooted Soarin' ride takes flight over worldwide landmarks — June 22, 2016
Surprise character sightings
The Little Mermaid — Ariel's Undersea Adventure
• Little Mermaid dark ride is just the ticket for kids — June 1, 2011
Toy Story Midway Mania!
• Disney ride takes video game play to new level — June 17, 2008
Turtle Talk with Crush
What will still be closed
A few of these attractions are closed for renovation. The rest will be unavailable because of pandemic precautions.
Disneyland:
Buzz Lightyear Astro Blasters (closed for renovation)
Chip 'n Dale Treehouse
Davy Crockett's Explorer Canoes
Disneyland Monorail
Finding Nemo Submarine Voyage
Goofy's Playhouse
Jungle Cruise (closed for renovation)
Main Street Cinema
Matterhorn Bobsleds (closed for renovation)
Sailing Ship Columbia
Sleeping Beauty Castle walkthrough
Storybook Land Canal Boats
Disney California Adventure:
Grizzly River Run (closed for renovation)
Golden Zephyr
Red Car Trolley