Honda takes another crack at U.S. EV market with help from GM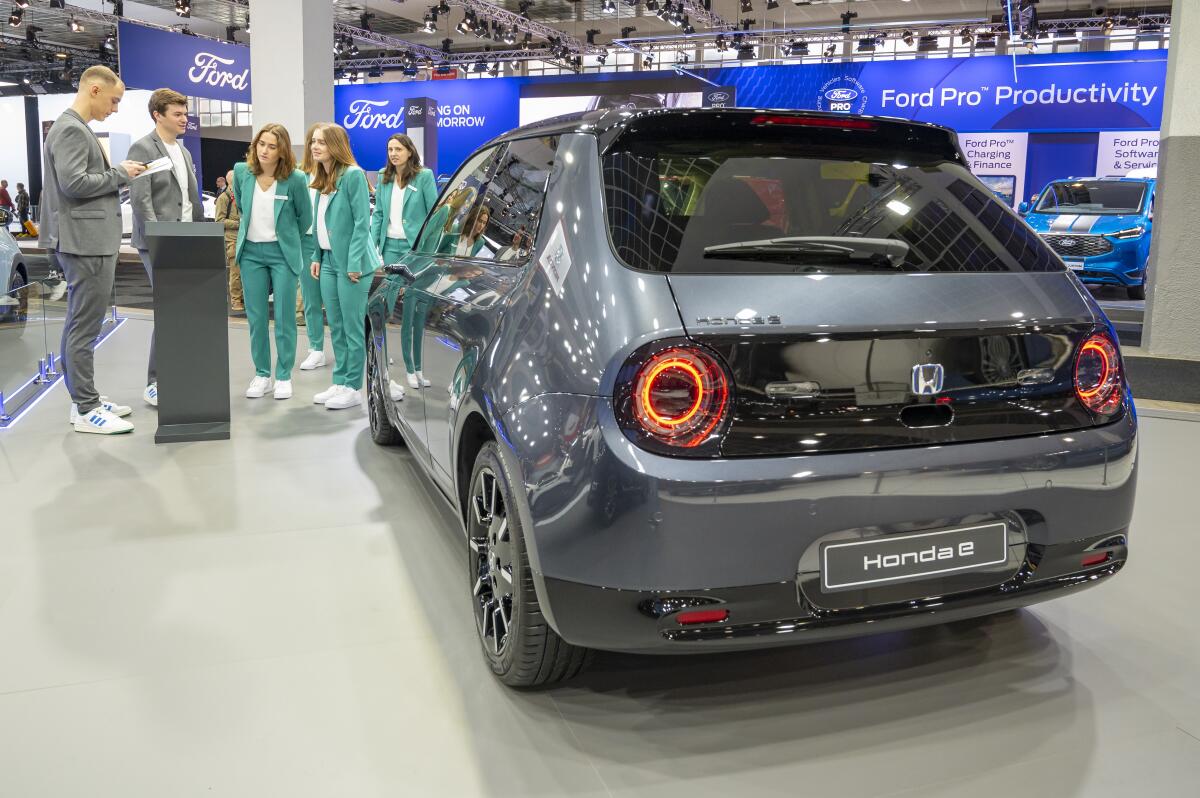 Honda Motor Co. is trying to crack into the U.S. market for electric vehicles with a new model and an old strategy: If you can't beat 'em, join 'em.
The Japanese carmaker unveiled the brand's first electric SUV on Thursday, marking a renewed push into fully electric vehicles to complement its hot-selling gas-electric hybrids.
But the 2024 Prologue is only a half-step in Honda's broader EV efforts. Co-developed with General Motors Co., it's being built in a GM plant and shares key parts with GM models, including its Ultium batteries.
"We were able to leverage leading, state-of-the-art EV hardware to accelerate development," John Hwang, the Prologue's development leader, told reporters at a briefing in suburban Detroit.
As autos writer for the L.A. Times, Russ Mitchell gets a lot of questions about electric car buying. Here's his guide to choosing the right EV for you.
The midsize SUV — and its upscale sibling, the Acura ZDX — are placeholders until the company starts making EVs at its facilities in Ohio using batteries from a newly constructed $4.4-billion joint-venture factory with LG Energy Solution. Honda plans a series of new electric models with production starting in late 2025.
The rollout of the Prologue marks an about-face by Honda, which just last year doubted the extent to which American car buyers are interested in EVs. Chief Executive Toshihiro Mibe now plans to sell 30 new battery-electric models globally — and deliver almost 500,000 EVs in North America alone — by 2030.
The company has had difficulty with previous fully electric forays into the U.S., having introduced and withdrawn three different EVs from the late 1990s through 2020. All of those models were made in Japan, unlike the Prologue and ZDX. Honda has declined to disclose which GM plant is manufacturing these vehicles, saying only that they're being made in North America.
With an estimated 300 miles per battery charge and a price tag in the high-$40,000 range, the Prologue is comparable to Tesla Inc.'s Model Y. Honda sees its main competition as other Asian-brand EVs, including the Nissan Ariya, Toyota bZ4X, Hyundai Ioniq 5 and Kia Niro.
But its primary role may be to keep existing Honda buyers from fleeing the brand in search of a fully electric model.
"This car is more targeted at Honda loyalists who've been waiting — or maybe who've already defected," said Rob Keogh, a product planning manager at Honda in charge of EVs.
Will California's efforts to adapt to climate change move the needle? Our experts have answers.
It's not viewed as a niche product. Honda officials say they expect U.S. sales, which start in early 2024, of as many as 40,000 units in the Prologue's debut year. The company aims to increase deliveries of the vehicle to some 70,000 a year.
"We're confident it's going to do very well in the marketplace," Mamadou Diallo, Honda's U.S. sales chief, said in an interview, noting the brand's success with hybrid models, which now account for almost one-fifth of its sales in the U.S.
The Prologue's styling — something like a cross between a Chevrolet Blazer and a Subaru Outback — is a departure for Honda partly because of its reliance on GM's architecture. The SUV sports the word "Honda" in large letters on its backside — unlike any of the brand's other vehicles — to help people identify it.