Former Obama advisor Valerie Jarrett joins Lyft board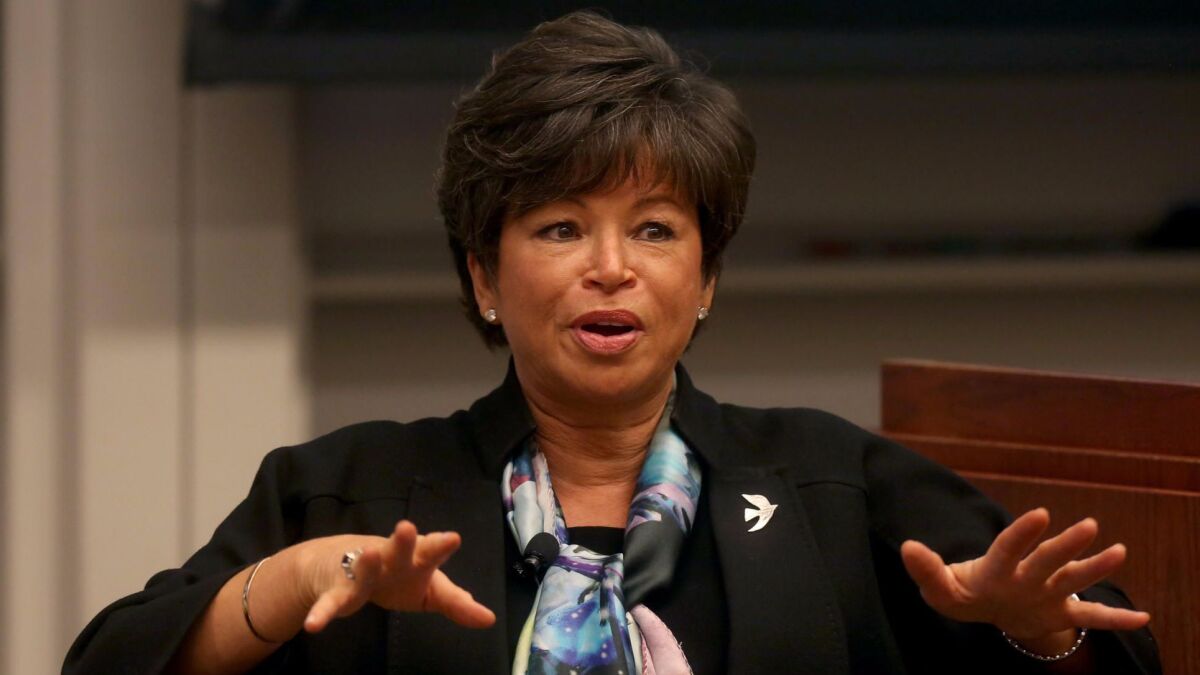 The Washington Post
Valerie Jarrett is joining Lyft's board of directors, the company announced Monday, making her the latest of President Obama's former staffers to enter the world of ride-hailing.
Jarrett, the former senior advisor to the president, joins the panel as an independent director, expanding Lyft's board to nine members from eight. She will focus on addressing the problems of urban transportation, a Lyft spokeswoman said, drawing on her background as former commissioner of Chicago's Department of Planning and Development and chairwoman of the Chicago Transit Board in addition to her eight years at the White House.
"I am a frequent Lyft passenger and have been inspired by the strong community [that Lyft co-founders] John [Zimmer] and Logan [Green] have created that is dedicated to enlightened corporate values," Jarrett said in a statement provided by Lyft. "We share a belief that reliable, affordable transportation positively impacts social mobility, and improves the quality of life in densely populated communities. I am thrilled to join the ride."
Zimmer and Green, who sit on the San Francisco company's board, welcomed Jarrett's appointment.
"She will be a great partner for Lyft as we continue working alongside public transit agencies to provide upward mobility through transportation, reduce congestion, and ultimately reshape our cities," Green said in a statement. "We couldn't be more excited to welcome Valerie to the Lyft family."
Zimmer praised Jarrett for "perspective that will push Lyft forward as we work to improve people's lives with the world's best transportation."
Since leaving the White House in January, Jarrett has also joined the board of Chicago-based Ariel Investments, the Chicago Tribune reported in March. Obama's longest-serving advisor during his presidency, she became an advisor to the Obama Foundation after he left office.
Other members of Obama's team have also waded into the emergent world of ride-hailing in recent years.
David Plouffe, Obama's 2008 campaign manager and then senior advisor, was hired to head Uber policy in 2014, but he has since departed that role to lead policy for the Chan Zuckerberg Initiative, a philanthropic organization founded by pediatrician Priscilla Chan and her husband, Facebook Chief Executive Mark Zuckerberg.
Former Atty. Gen. Eric H. Holder Jr. was hired to lead an investigation into Uber's corporate culture after a spate of high-profile company scandals this year.
Jarrett joins Lyft during a period of growth largely stemming from Uber-related backlash — after the #DeleteUber scandal, widespread accusations of sexual harassment at Uber, a video showing founder and then-Chief Executive Travis Kalanick berating a driver, and a variety of other setbacks to Lyft's chief rival.
Lyft touted in its blog post that it had given more rides so far this year than in all of 2016. Still, Uber remains the giant of the industry, with recent valuations at about $70 billion — nearly 10 times that of Lyft.
Jarrett is the first Lyft board member not to represent a major shareholder, according to Lyft. The other board members are: founders Green and Zimmer, Andreessen Horowitz co-founder Ben Horowitz, General Motors President Dan Ammann, Icahn Capital's Jonathan Christodoro, investor and former Trulia Chief Financial Officer Sean Aggarwal, Rakuten's Hiroshi Mikitani and Floodgate Fund's Ann Miura-Ko.