Beyond Meat expands to new El Segundo lab, where it hopes to concoct plant-based bacon and steak
Sales of Beyond Meat's plant-based replications of chicken and beef have doubled the last year. But the Bill Gates-backed company isn't standing pat, opening a 26,000 square foot R&D center in El Segundo so it can continue seeking the perfect analog
"Slightly better Tofurkey."
The appraisal of Beyond Meat by an influential technologist hangs on the wall of company founder and Chief Executive Ethan Brown's office like a motivational taunt.
Tofu is the last thing Brown wants his products to conjure. If he's ever going to garner mass appeal for his plant-based meat alternatives, he's going to have to develop fake chicken, beef and pork that tastes and feels like the real thing.
"There's a lot of people who have created meat analogues out of soy that loosely mimics the experience of meat," Brown said. "But we really want to look at this in a more fundamental way, and we want to be the first people who build a piece of meat perfectly from plants."
Some of Beyond Meat's backers say the company's already there. The brand has seen revenue double the last year. It has won over fans such as basketball star Kyrie Irving and the writers of "South Park." And it has successfully infiltrated the meat cases of major grocery chains such as Ralph's and Vons — as well as the menus of TGI Fridays, Bareburger and BOA Steakhouse.
But Brown argues there's plenty more work to be done. The El Segundo company's faux chicken strips, ground beef and soon-to-be-released sausage need constant tinkering, like software updates. Then there's the moonshots — ersatz bacon and steak, considered the holy grails of mock meat.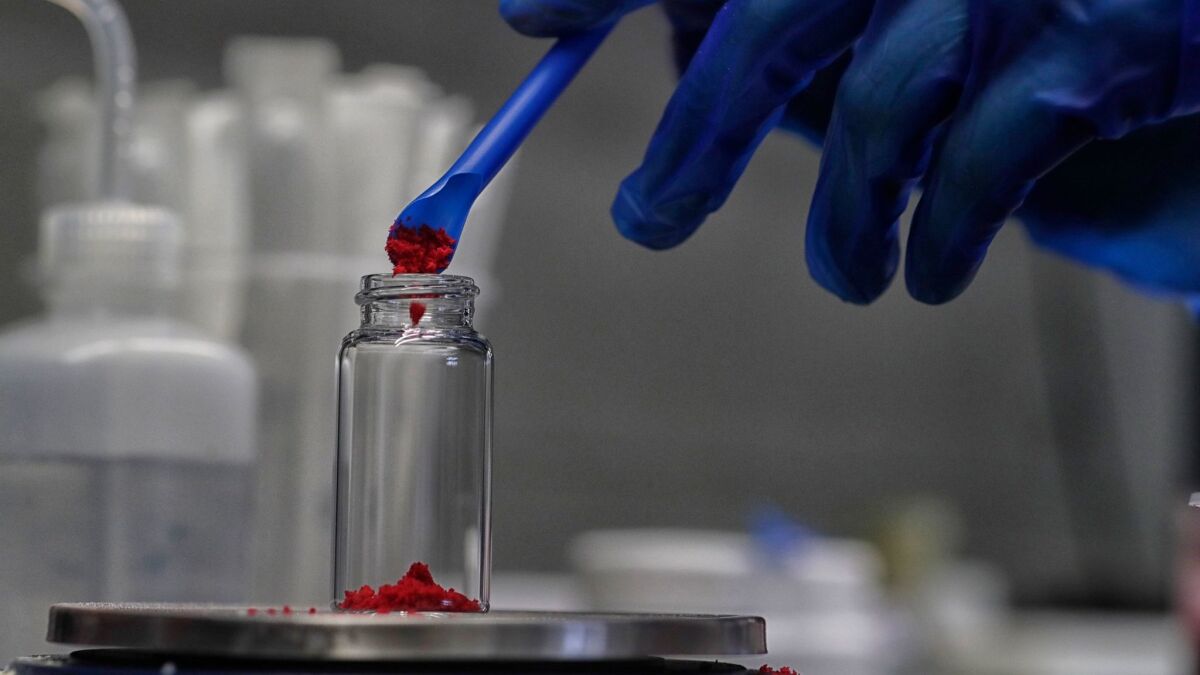 Brown is quick to dismiss suggestions by employees that the existing product is already good enough.
"Then go work at Morningstar," Brown said, evoking the name of a longstanding meatless competitor. "It has to be indistinguishable."
To do that, Beyond Meat is pouring its profit and investor funding into research and development. The company disclosed for the first time that it's set to add an additional 26,000 square feet of R&D space in El Segundo. By putting all its researchers under one roof and adding more equipment, the company thinks it can cut the time it takes to bring some products to market in half.
Beyond Meat says it could also make as many as 40 new hires as a result of the expansion, which will include a test kitchen, several new labs and a room for focus groups. The company currently has more than 150 employees.
The introduction of the new facility comes at a time when competition in meat substitutes has been on the rise. Among Beyond Meat's rivals is Redwood City, Calif.'s, Impossible Foods, maker of the Impossible Burger, which is available at chains such as Umami Burger. There's also Memphis Meats, a San Francisco company making lab-grown meat that takes the feeding, breeding and slaughtering of animals out of the equation.
All three companies have scored investment from Bill Gates because of their potential to improve human health, the environment and animal welfare.
And while Beyond Meat's total funding of $72 million is just under a quarter the amount Impossible Foods has secured, it boasts a diverse cast of backers that includes Tyson Foods, the Humane Society and General Mills — suggesting the company's appeal extends to all sides of the debate over the future of meat (though many vegans were furious the company took money from Big Ag).
Those investors will need to be patient. The country remains decidedly carnivorous. About 98% of Americans eat meat at least once a week, according to research firm NPD Group.
"Eating patterns shift like tectonic plates: very slowly," said Darren Seifer, food and beverage industry analyst for NPD Group. "It usually takes five to 10 years before consumers develop new behavior."
Seifer said Beyond Meat and its rivals are making it easier on consumers by presenting a facsimile of animal protein rather than simply urging them to give-up meat for unadorned vegetables.
"Asking consumers to make a sacrifice is usually met with less acceptance," he said.
Beyond Meat estimates a little more than half its customers are meat eaters, a coup for a company that essentially sells vegan fare. But that share needs to be much higher if the company hopes to reach its ultimate goal of making its plant protein a dietary staple.
Whether or not that occurs rests largely on a team of researchers trying to rebuild meat on an atomic level with protein derived from peas, rice and fava beans, among others.
Brown said he recruited experts from various disciplines beyond food science — biochemists and biophysicists capable of getting Beyond Meat ever closer to the perfect analogue. The company's vice president of innovation, Dariush Ajami, previously worked at the Scripps Research Institute as a professor of molecular assembly.
"As much as we need food scientists, we realized we had to have a broader set of tools," Brown said.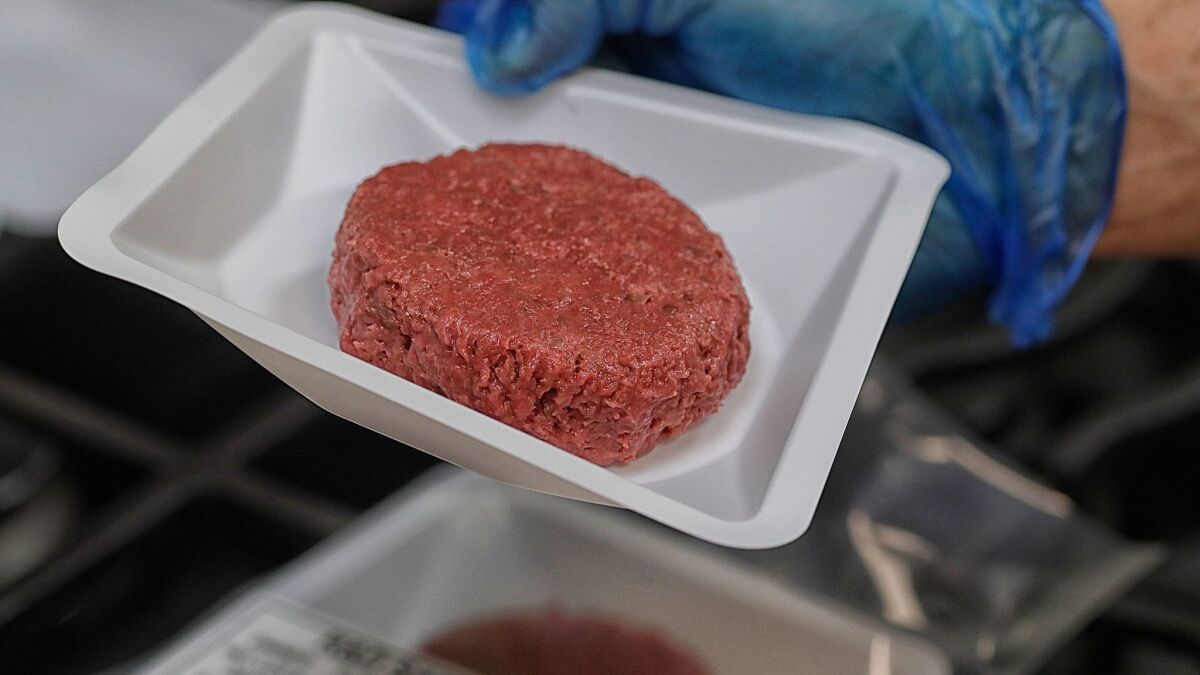 On a recent weekday, those researchers gathered around the company's latest batches of ground fake meat, grading it for taste, aroma, texture and appearance.
It's tedious work that requires a deep understanding of the interplay between heat, pressure and moisture to extract the most realistic textures. Even the slightest changes to the formula can overhaul the mouthfeel of Beyond Meat's products.
"Over 1,000 molecules make meat taste like meat. It's painstaking matching those molecules in plants to create the same sensory experience," said Brown, a vegan who still chews real meat when taste-testing for comparison, though he spits it out.
Brown developed the empathy and affection for animals that drives his professional life by visiting a dairy farm that his father, then an environmental policy professor at the University of Maryland, ran as a hobby. He's instilled that same appreciation for animals in his children, who share a home with two dogs, a cat, turtles and a pot bellied pig name Wilbur.
"I wanted them to understand how keeping one animal and killing another doesn't make much intellectual sense," he said.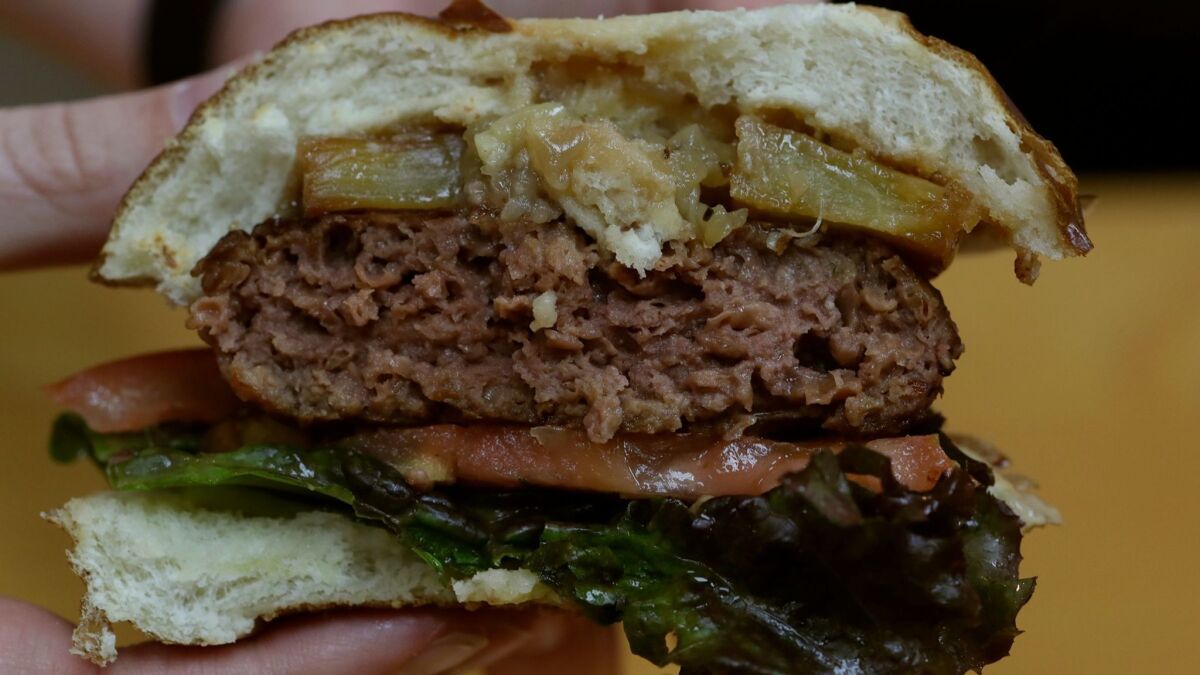 Follow me @dhpierson on Twitter