San Francisco officials are fed up with Bird scooters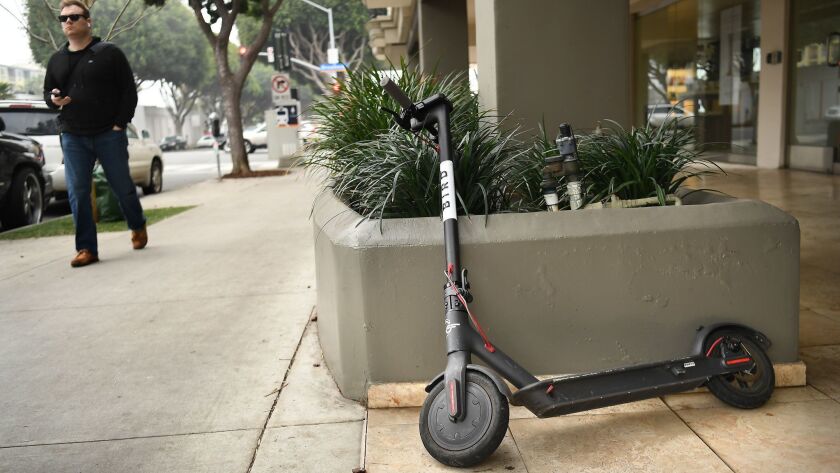 Reporting from San Francisco —
San Francisco has long been a place where tech companies roll out their services first and seek permission later.
City officials, however, are losing patience with such strategies.
Members of San Francisco's Board of Supervisors on Monday admonished Bird, LimeBike and Spin for blanketing the streets with electric scooters before the city's transportation agency finished crafting rules to regulate their use and storage.
"When you enter the arena with that level of hubris and arrogance, you don't create trust," said Supervisor Aaron Peskin, a member of the board's land use and transportation committee.
Legislators criticized the companies' decision to launch knowing that regulation — including a permitting process — was on the way.
It was a familiar argument in a city where firms such as Uber, Lyft and Airbnb all became wildly popular by taking advantage of the fact that there were no explicit laws regulating their practices in their early days.
Separately on Monday, San Francisco City Atty. Dennis Herrera sent cease and desist letters to the firms saying they ignored previous warnings and continue "to operate an unpermitted motorized scooter rental program" that is "creating a public nuisance on the city's streets and sidewalks and endangering public health and safety."
LimeBike did not immediately respond to a request for comment.
Bird spokesman Kenneth Baer said the company is taking the city attorney's "concerns and recommendations for improving Bird in San Francisco very seriously."
"We are working to ensure that we comply with any of the outlined recommendations we don't already have in place," a Spin spokeswoman said.
While dozens of customers praised the companies Monday for offering an affordable and convenient transportation solution, many San Francisco residents described the "dockless" scooters — which, as their name suggests, can be parked anywhere — as a hazard that endangers pedestrians and obstructs sidewalks.
In Santa Monica, home to e-scooter company Bird, the city attorney's office in December filed a criminal complaint against Bird and its founder alleging the company began operating without approval and ignored required licensing and orders to remove the scooters from sidewalks. Bird pleaded no contest and agreed to pay more than $300,000 in fines and secure proper licenses.
The scooter companies must submit reports to the city attorney's office on how they have addressed complaints by April 30.
Twitter: @traceylien
---