E3 Day 2 highlights: Kanye West, HoloLens and a boy genius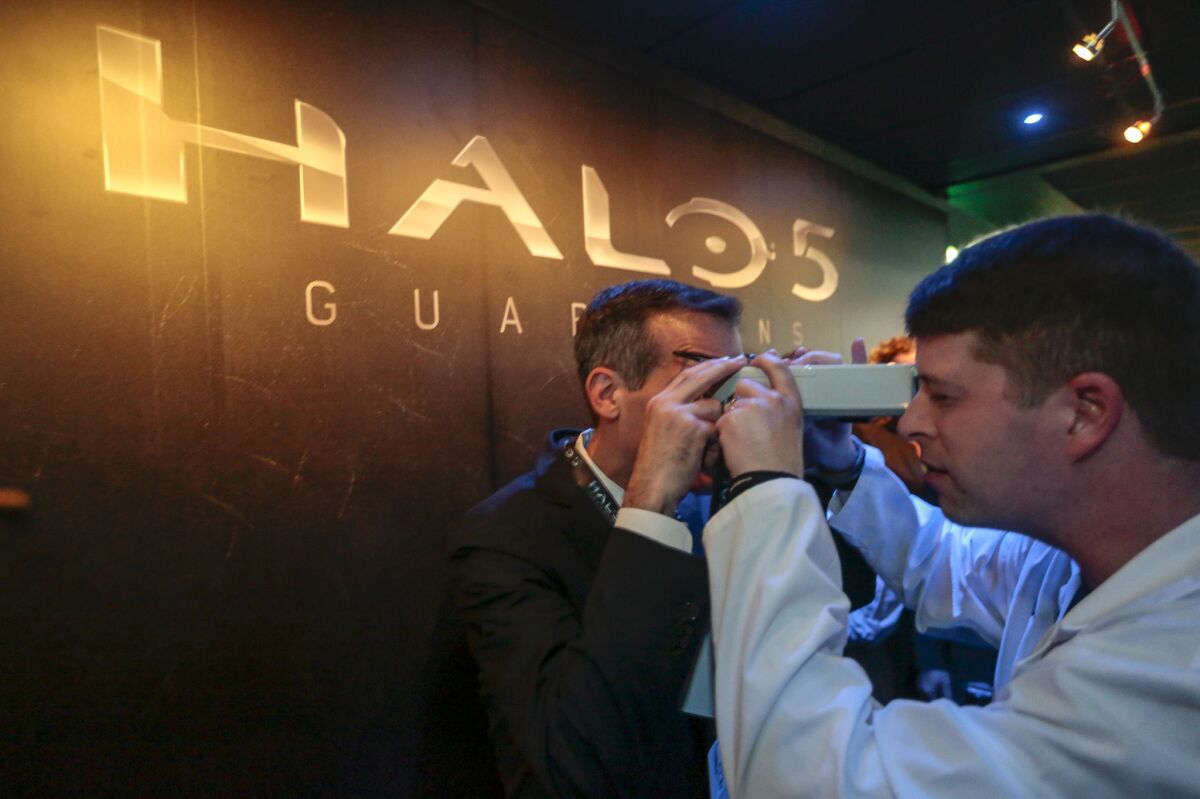 Hundreds of fans waited in line to get into the Electronic Entertainment Expo on Wednesday before the video game industry conference opened its doors for a second day at the Los Angeles Convention Center. Here are some highlights:
Mr. West is in the building: Kanye West showed up at the massive gaming convention, where he cut the lines and tried his hand at the latest version of "Halo."
The Entertainment Software Association, which puts on E3, had expected the rap mogul's attendance to check out the latest games. Maybe his wife Kim Kardashian West, whose mobile game "Kim Kardashian: Hollywood," has been a huge success, helped him score a pass to the industry-only conference.
----------
FOR THE RECORD
June 18: An earlier version of this article incorrectly referred to the Electronic Software Association. It is the Entertainment Software Association.
----------
Wearing all black and trailed by an entourage of bodyguards, West caused quite the sensation during his brief appearance, with fans angling to get a look at the "Gold Digger" singer and, of course, posting photos and reaction all over social media.
Other celebrities who have made an appearance include actors Verne Troyer and Zach Braff, actress Rosario Dawson, singer Soulja Boy and professional basketball player Ty Lawson.
Commands from a hologram: Microsoft is promoting its newest "Halo" game with its newest gadget, the HoloLens.
People had the distance between their pupils measured by a pupillometer before heading into a room resembling a laboratory. That's where people in white lab coats outfitted each guest with a HoloLens, a headband that holds up a transparent visor that hangs down in front of the eyes. The HoloLens is calibrated to the pupil distance, so images on the visor screen look crisp.
The HoloLens augments reality, enabling, say, a digital arrow to pop up in the middle as you stare down a hallway.
Microsoft gathered six people at a time around a circular table, and with the HoloLens on, they would see a small virtual woman appear to explain a multiplayer battle mode in "Halo 5: Guardians." She explained the geography of the battlefield and ran through rules and goals before sending people off to another room to play the game. A release date for HoloLens hasn't been set.
Lunch with luminaries: Down the road at the Millennium Biltmore Hotel, executives from eight gaming companies lunched over salads and sweets as a few journalists listened in on their conversations about their work, inspirations and the future of gaming.
It was hosted by David Perry, founder of streaming technology provider Gaikai. Attendees included game designer Tim Schafer, Oculus VR Chief Executive Brendan Iribe and Michael Frazzini, vice president of games at Amazon.com.
Also invited was Thomas Hughes, a 13-year-old who has built three mobile games. The quick-witted teen received advice from each of the luminaries, including guidance that having a college degree in software development isn't necessarily an important prerequisite to getting a job.
"If I was magically teleported back, I'd go to school as a safety net, but I'd make games at night and not hesitate to drop out," said Cliff Blezinski, founder of game developer Boss Key Productions.
Hughes then asked Iribe why he donated $31 million to the University of Maryland for an engineering lab despite having dropped out. Iribe acknowledged that hardware engineers and some other disciplines do need traditional book-learning.
Chat with me on Twitter @peard33
Times staff writer Whip Villarreal contributed to this report.