ROC co-working space in Santa Monica closing after terrace dispute and missed rent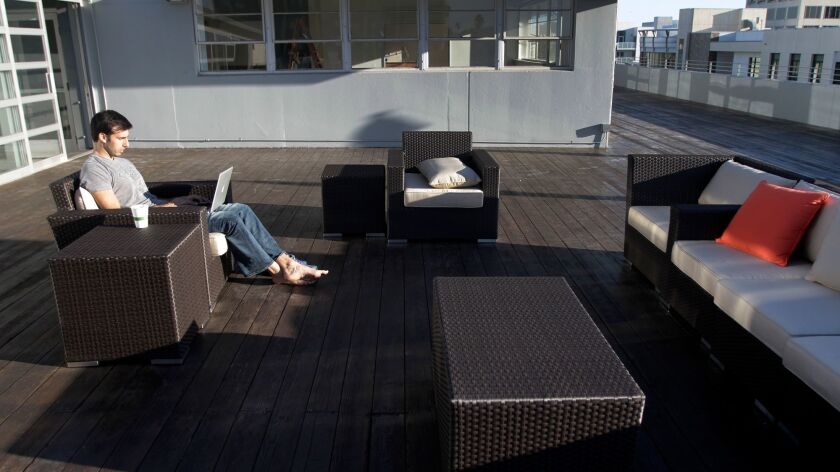 The Real Office Centers co-working space in the heart of downtown Santa Monica is set to close in the coming days, forcing more than 100 tenants into a last-minute scramble for new offices.
A long-simmering legal battle preceded the shutdown of what over the last five years had become a landmark of the region's booming tech industry.
The Arizona Avenue building's picturesque terrace was the source of tension between the landlord and Real Office Centers, which operates seven other facilities across the West Coast where about 500 start-ups and remote employees lease communal workspace, Chief Executive Ron McElroy said.
The outdoor space became a regular landing spot for tech industry mixers and start-up events such as Silicon Beach Fest and Social Media Week. But Hudson Pacific Properties alleged misuse of the terrace in a 2014 lawsuit.
McElroy said the dispute stemmed from the wife of Hudson Pacific Properties Chief Executive Victor Coleman wanting to use the area for a garden. Hudson Pacific declined to comment on the assertion.
Legal actions were settled with a new 10-year lease, but it prevented Real Office Centers from renting its upper floor and terrace for big, third-party events, McElroy said. Those were a key source of revenue, and Real Office Centers couldn't sustain itself without them, he said.
The lease in the region's priciest commercial real estate pocket became a drag on the rest of the Newport Beach company.
"That last thing we wanted to do is pass on hardships to tenants," McElroy said.
The settlement also left Real Office Centers on the hook for remedying building violations, including an unpermitted audio-recording studio and bathrooms not in compliance with disabled-access regulations.
Real Office Centers didn't pay rent the last two months, and Hudson Pacific successfully sought an eviction order Monday.
"This matter solely concerns ROC's failure to pay its rent to Hudson," the landlord said in a statement. "Since the start of 2017, ROC has been the subject of nine separate unlawful detainer actions brought by its various landlords. In addition to these landlords, ROC's innocent members, including many hardworking entrepreneurs, are also unfortunate victims."
Most of the cases filed against Real Office Centers this year are ongoing actions from missed rent or refunds because of its cash crunch, though it has settled or lost some.
McElroy said his staff had relocated most Arizona Avenue tenants to neighboring co-working facilities or Real Office Centers' other Santa Monica location, which is bleeding cash and subject to litigation too.
After co-working tenants move out, Hudson Pacific plans to retrofit the 44,000-square-foot property and relist it.
Among the most prominent onetime users of the Real Office Centers space was Uber, which had sought to take over the entire property, McElroy said.
The Los Angeles Business Journal, which first reported the Santa Monica eviction, said Real Office Centers earlier this year pulled out of a 15-year lease for 27,000 square feet on the edge of downtown Los Angeles' Arts District.
McElroy said a "drastic shutdown won't happen in any other location" because the other landlords suing Real Office Centers are working with him to find ways to maintain his co-working operations.
Attorneys for several property managers in the disputes didn't respond to requests for comment Friday. One plaintiff, Irvine Co., confirmed that it was in discussions to resolve litigation.
Snapchat patent application talks of prioritizing content from influencers and advertisers
Snapchat maker Snap Inc. is seeking a patent for how content gets organized in Stories — the themed group albums on its service. Though Snap mostly has rejected the idea of developing special non-advertising features for companies and celebrities, the patent application suggests that employees have given thought to favoring prominent accounts.
In the simplest terms, videos or photos from a brand or mentioning a brand could get shown to users perusing a Story before posts from ordinary users. In some cases, brands would have to pay for the privilege under the imagined setup. Snap declined to comment.
From mobile game to animated short, Seriously gets to its second act
Mobile game company Seriously, with offices in Los Angeles and Helsinki, Finland, has reached the second part of its business plan.
This week, the start-up released an animated short on YouTube that's centered around the same slug characters as its "Best Fiends" mobile games. The company expects entertainment mediums to merge over the next few decades and for consumers to seek out the experiences on smartphones. It saw games as a first step and movies as a second one.
The three-minute video came together over nine months as Seriously worked with animation production studio Reel FX. Usage data from the game didn't play a significant role in designing the flick. Rather, the company based creative decisions on whether ideas made them laugh.
Seriously plans to release two more shorts and a game this year, Chief Executive Andrew Stalbow said. The videos will generate revenue through ads, but Stalbow said he would consider charging for access to a library of Seriously videos once a portfolio builds up.
Though intended for mobile users, who often hold their devices vertically, Seriously produced the video to display horizontally. Stalbow said he may reconsider in the future.
Seriously's two games collectively have about 2 million daily players, mostly people aged 25 to 50 in North America, Europe, Russia and China. Stalbow said the games generate about $110,000 in revenue per day.
The company recently added two investors: Michael Montgomery, a former Walt Disney Co. treasurer, and Ynon Kreiz, former chief executive of Disney-division Maker Studios.
Culver City start-up Embrace.io sets out to identify why apps crash on you
Embrace.io wants to rid people of the annoyances of apps that load slowly or crash without warning.
The Culver City start-up has worked with 15 apps over the last year, tracking usage and identifying the most troublesome bugs.
Chief Executive Eric Futoran said app developers often don't realize the issues that users face unless they get reported. By including Embrace's software inside an app, a company can gather more data about what users are tapping on the screen and how the app responds.
Embrace's software detects actions associated with a problem in the app. For example, a user manually shutting down an app and then immediately reopening it probably encountered a frozen app.
The service can take screenshots automatically in many cases to further understand the issue the user suffered. At goods-storage start-up Clutter, Embrace's service identified a feature in an app for warehouse workers that took several seconds to load, Futoran said.
"That's wage loss," he said. "They are just sitting there looking at a spinning wheel."
Screenshots aren't taken when users are on a page that could reveal sensitive information, such as a social media feeds or log-ins, Futoran said.
Large companies such as Facebook and Pinterest have developed technology similar to Embrace, but it's expensive for smaller companies to follow suit, Futoran said. He declined to provide pricing details beyond saying that app developers pay a predetermined monthly fee.
Embrace can help companies prioritize what to fix by identifying the traits of users. If high spenders using a shopping app continually run into one issue, the company may want to resolve that problem before working on something that mostly affects browsers who never buy.
Power users "not being able to get on for a day or two can have a big impact," Futoran said.
Embrace this week announced a $2.5-million investment from Eniac Ventures, Chernin Group and others.
Elsewhere on the Web
In case you missed it
Coming up
The Code Conference, a gathering of technology and media companies, takes place Tuesday through Thursday at Terranea Resort in Rancho Palos Verdes. Featured speakers include former presidential candidate Hillary Clinton, Viacom Vice Chair Shari Redstone and Netflix Chief Executive Reed Hastings.
Twitter: @peard33
---