Snap bounces back as Snapchat user numbers grow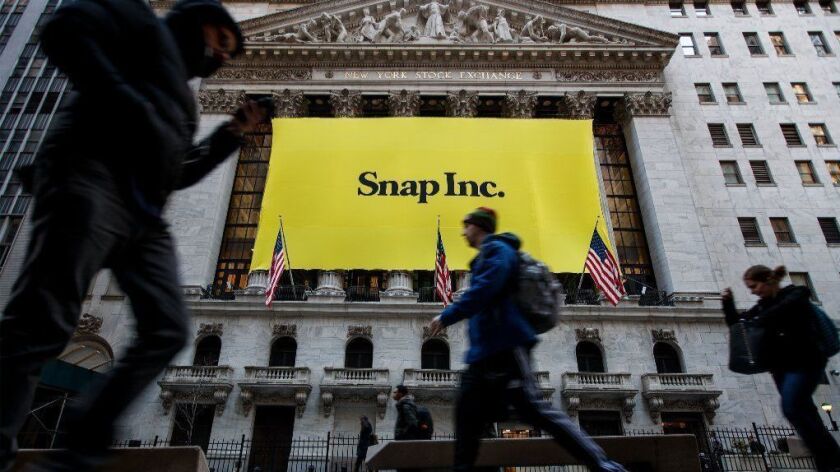 Snap Inc.'s fortunes rise and fall on the size of Snapchat's user base.
When the user numbers started to decline in early 2018 because of a tumultuous redesign and flabby Android app, its stock price began a long slide to less than $5 a share. Executive churn followed, and a dark cloud seemed to hang over the Santa Monica company's future.
When its earnings report in February showed that the bleeding had stopped, Snap shares began a rally, more than doubling in price after closing at $11.99 on Tuesday.
After the closing bell Tuesday, Snap released its first-quarter earnings report, which contained more good news: Its user base grew 2% to 190 million — a number the company says includes 90% of 13- to 24-year-olds and 75% of 13- to 34-year-olds in the United States. Snap's shares climbed in after-market trading, cresting at $13 before giving back some of those gains.
In addition to reversing the decline in users, the company has also steadily increased the amount of money generated from each of those sets of eyeballs, above and beyond most observers' expectations. Snap posted a net loss of 10 cents a share for the quarter, an improvement from its loss of 17 cents a share in the same quarter last year.
Revenue was $320 million in the quarter, up 39% from the year-earlier quarter, it said.
Much of that positive change came from fine-tuning the company's algorithmic advertising platform after a rocky launch, said Evan Spiegel, the company's 28-year-old co-founder and chief executive.
"The improvements we have made to our cost structure over the past year were largely due to efficiencies we found in our products and operations that outpaced our growing investments across our content, gaming, augmented reality and advertising platforms," Spiegel said in a statement.
Snap announced a new set of products at its first major media event last month, including social gaming, a new clutch of Snapchat-specific scripted shows, and a suite of video ad integration tools to increase its utility for advertisers.
Snap has three years to make a profit before it runs out of money »
The company attributed some of the uptick in user numbers to the long-awaited redesign of the Snapchat app for Android phones, which make up a slim majority of smartphones in the U.S. but are an overwhelming market leader in the rest of the world.
For years, the Snapchat app was too processor- and data-intensive to run effectively on many Android handsets, especially the more affordable models popular in developing countries. The hope is that the new lightweight version, backed by efforts to make some of Snapchat's augmented reality lenses and other products culturally specific to new markets such as India and Malaysia, will continue to grow overseas.
Growth comes at a cost. Millions of new users require more cloud computing space to deliver content quickly, and the company projects that rising Amazon Web Services and Google Cloud bills will lead to higher losses in the second quarter of 2019.
Analysts are feeling bullish as Snap pulls out of its long slide.
"For the last year it almost felt like they were a deer in the headlights," said Richard Greenfield, an analyst at BTIG. "The recovery has begun."
He's encouraged by Snap growing its user base, offering more to advertisers and last month rolling out a suite of new products such as games — which have yet to prove lucrative but could lead to more time spent on the app, and with it increased ad revenue.
Twitter: @samaugustdean
---