Tell us: How has your life changed since March 2020?
Good morning, and welcome to the Essential California newsletter. It's Monday, March 6.
This weekend marked three years since California declared a state of emergency in response to the novel coronavirus that spread from China to the U.S. in late 2019. Gov. Newsom, who lifted the order on Feb. 28, first enacted it on March 4, 2020 — when the state had just 53 known cases of COVID-19.
Over the next three years, more than 1 million people in the U.S. died from the virus. In California, 100,424 deaths have been confirmed, representing roughly 9% of the nation's fatal cases, according to the latest figures from the federal Centers for Disease Control and Prevention.
There have been more than 11 million confirmed COVID cases in the state over the last three years.
Statewide, close to 73% of Californians received the initial series of COVID vaccines. Roughly 61% of residents came back for their first booster, and nearly a quarter of Californians got a dose of the bivalent booster.
Those big, public statistics gauge the effects of the pandemic from a public health standpoint. But COVID-19 and the response to it permeated and warped almost every aspect of our lives: how we worked, how we learned, how we ate, how we recreated, how we interacted with our community.
For me, much of 2020 is a haze. The rug of daily routine was pulled out from under us so quickly. Suddenly I was confined mostly to my home, scrambling with everyone else in my newsroom at the time to make sense of what was happening and convey the latest facts, figures and health guidance to the public.
But through it all, my family and I were among the fortunate ones. My spouse and I both kept our jobs (though I did face a period of reduced pay due to company furloughs at my previous newsroom). We didn't lose any close family or friends to the virus. We managed to avoid getting COVID until late 2022, and thankfully didn't require serious treatment or hospital stays.
But friends and colleagues lost loved ones. Millions of Californians were laid off, switched careers, moved or otherwise saw the trajectory of their lives change.
Can we even begin to comprehend the toll a globally disruptive health crisis took and continues to take on Californians? Maybe not, but we're hoping you can help us understand the personal, nuanced impacts of the pandemic by sharing your stories.
We've launched a new survey for newsletter readers: Tell us how the COVID-19 emergency changed your life.
We want to know how the pandemic affected you most acutely — whether that was a physical or mental health issue, the loss of loved ones, economic hardships, educational impacts, or changes in relationships or social connections.
Our goal is to feature as many of your responses as we can in an upcoming edition of the newsletter, so please keep your submissions to around 150 words per question and focus on the single biggest effect the pandemic has had on you.
You can take the survey here, and stay tuned to see your responses featured in an upcoming edition of Essential California.
And now, here's what's happening across California:
Note: Some of the sites we link to may limit the number of stories you can access without subscribing.
L.A. STORIES
An arson fire destroyed a historic Black church in South L.A. last fall. As the leadership of Victory Baptist Church considers rebuilding, they're also contemplating heavy questions about the church's place in a changing community. Los Angeles Times
The rare snowfall in our local mountains has led to another rare sight: waterfalls. Times photographer Raul Roa captured some temporary cascades in Angeles National Forest. Officials have warned residents against trying to get up mountain roads right now to get a glimpse, with many routes closed off due to storm damage. Los Angeles Times
Check out "The Times" podcast for essential news and more
These days, waking up to current events can be, well, daunting. If you're seeking a more balanced news diet, "The Times" podcast is for you. Gustavo Arellano, along with a diverse set of reporters from the award-winning L.A. Times newsroom, delivers the most interesting stories from the Los Angeles Times every Monday, Wednesday and Friday. Listen and subscribe wherever you get your podcasts.
POLITICS AND GOVERNMENT
Roughly 1.5 million older Californians who qualify for food assistance don't take part in state programs. State data show that two-thirds of eligible state residents over age 60 do not participate in CalFresh. Experts and officials point to misinformation, a cumbersome application process and stigma around government assistance. The Sacramento Bee
The state task force studying reparations for Black Californians with enslaved ancestors recently held meetings over two days in Sacramento. Here's what's next for the effort that could lead to the nation's first statewide plan for Black reparations. KQED
HEALTH AND THE ENVIRONMENT
A winter storm continued to pummel Northern California on Sunday, causing dangerous conditions in the Sierra Nevada and closing ski resorts in the Tahoe area. UC Berkeley's Central Sierra Snow Lab measured 30.5 inches of snow yesterday over the previous 24 hours and officials expect an additional 2 to 4 feet will fall through Monday. San Francisco Chronicle
As state and local officials take steps to address the fentanyl crisis, many Bay Area school districts still aren't ready to save overdosing students. A survey by the Bay Area News Group found 36% of the 33 districts that responded said teachers and staff have not been trained to spot the signs of fentanyl overdoses. Some districts aren't yet stocking the lifesaving drug Narcan in schools. The Mercury News
CALIFORNIA CULTURE
K-Pop has some competition in Koreatown. "Trot" music is captivating older community members, with its nostalgic lyrics and "Sinatra-like crooner feel," my colleague Jeong Park explains. Los Angeles Times
Times entertainment reporter Amy Kaufman has a new column, where she'll examine the lives of "icons, underdogs and rising stars" to understand the people shaping pop culture. In the debut of "For Real," Amy interviews Drew Barrymore. Los Angeles Times
Free online games
Get our free daily crossword puzzle, sudoku, word search and arcade games in our new game center at latimes.com/games.
AND FINALLY
Today's California landmark is from Kathy Smith of Goodyear, Ariz.: the Ancient Bristlecone Pine Forest in Inyo National Forest.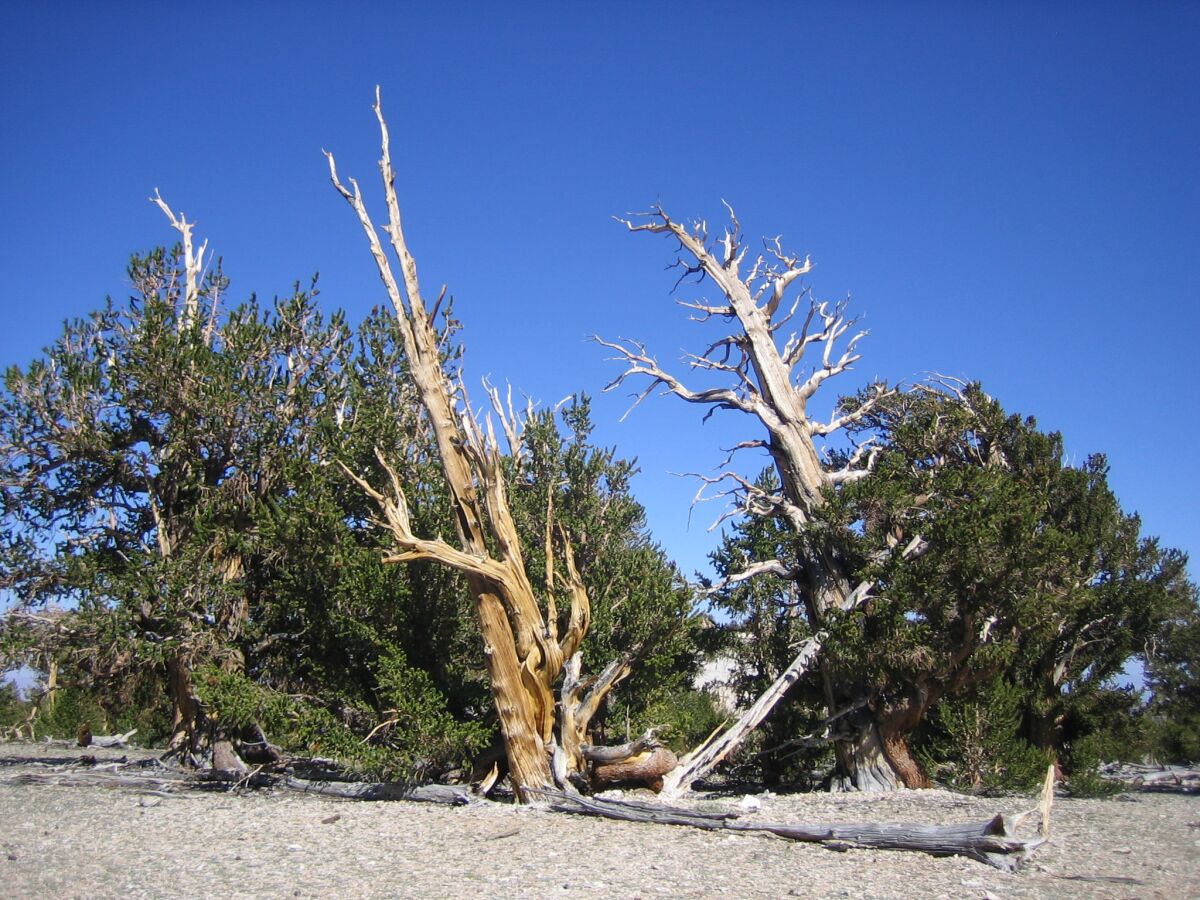 Kathy writes:
The trees are the oldest non-clonal organism in the world. The oldest have survived nearly 5,000 years in very harsh conditions. They have been sculpted by wind, sand and ice and are incredibly beautiful. The landscape has a stark beauty and offers incredible views of the Sierra Nevada range to the west and the Great Basin to the east. When staying at the Grandview Campground, the dark sky at night provides fantastic star-gazing.
What are California's essential landmarks? Fill out this form to send us your photos of a special spot in California — natural or human-made. Tell us why it's interesting and what makes it a symbol of life in the Golden State. Please be sure to include only photos taken directly by you. Your submission could be featured in a future edition of the newsletter.
Please let us know what we can do to make this newsletter more useful to you. Send comments to essentialcalifornia@latimes.com.

The stories shaping California
Get up to speed with our Essential California newsletter, sent six days a week.
You may occasionally receive promotional content from the Los Angeles Times.