The passengers of the Conception dive boat ended their second day in the waters off the California coast with a nighttime swim, exploring a lush, watery world populated with coral and kelp forests.
In the hours after the dive, the passengers on the 75-foot charter boat went below deck, retiring to narrow wooden bunk beds covered with green curtains.
When a massive fire broke out on board around 3 a.m., quickly engulfing the boat, five crew members who were above deck escaped by jumping overboard.
The passengers and one crew member who were below deck were trapped, with the only two exits apparently blocked by flames. The boat sank four hours later.
The catastrophe killed 34 people. After a grueling, multiday search, officials said they had recovered all but one body. The victims most probably died of smoke inhalation, officials said.
Santa Barbara County officials have publicly identified nine people. Family members, friends and employers have confirmed the deaths of 23 others. Two remain unidentified.
An effort to confirm the identity of the victims through a DNA analysis tool has required taking cheek swab samples from family members as far away as Japan and Singapore.
The victims of the Conception boat fire were athletes, immigrants, CEOs and students. Many were passionate about science, exploring and shaping the world as marine biologists, nature photographers and teachers. All were united by their love of adventure and spirit of exploration.
These are their stories. If you have a memory of a victim, please share it with us below.
Neal Baltz, Patricia Beitzinger
Neal Baltz, an engineer from Phoenix, loved wine and loved making it.
After years of experimenting at home, fermenting grapes in his bathtub, he enrolled in an enology program at a community college in northern Arizona's Verde Valley wine region.
He made the 1½-hour drive to attend Yavapai College, working in the vineyards and cellars, and sometimes sleeping overnight in his Ford F-150. At school, he joked that he was "sleeping in a van down by the river," a reference to a classic Chris Farley sketch on "Saturday Night Live."
Baltz was a goofy, friendly classmate who got along with everyone, keeping spirits up during the early mornings of hard physical work that comes with running a vineyard, said Michael Pierce, the director of enology and viticulture at the Southwest Wine Center, who taught six of Baltz's classes. Once during a bottling session, he said, Baltz put corks over his eyes and ran through the cellar, pretending to be an alien.
"He's one of those people who was an absolute pleasure to know," Pierce said. "He went through life with joy."
Baltz, 42, worked as an engineer for a semiconductor company and had studied electrical engineering at the University of Texas at Austin and the University of Illinois at Urbana-Champaign.
After Baltz finished his enology program, he endowed a scholarship for the school, a nontraditional campus where the average student age is 48. He also gave more than $5,000 to help renovate an old racquetball court into a winemaking center.
The school had expected Baltz on campus Tuesday night to make a presentation on wines from Washington, where he had recently traveled, Pierce said. The instructor already had his presentation in hand, Pierce said.
Baltz and his longtime girlfriend, Patricia Beitzinger, lived in the Ahwatukee Foothills in southern Phoenix and loved to explore the world together. Their diving trips had taken them to Micronesia, Fiji and the Caribbean Netherlands. On his YouTube page, he had shared dozens of videos of mountain biking, skiing and diving expeditions in the Caribbean, Gulf of Mexico and Channel Islands.
"He loved so many things," Pierce said. "He loved the ocean, he loved his dogs, he loved Patricia. We are a small community. It's a huge loss for us."
Beitzinger, 48, worked as a nutritionist at an endocrinology practice. She was encouraging and enthusiastic as she coached people on how to eat better and lose weight, and regaled her patients with travel stories, said Dan and Linda Reynolds, who saw Beitzinger for five years.
"Unfailingly, she was smiling," Linda Reynolds said. "She was so energetic, and lively, and funny -- someone that you wanted to spend time with."
After the dive trip to the Channel Islands, Beitzinger planned to go to Komodo in Indonesia. They had also gone swimming with stingrays on Socorro Island in Mexico, explored caves in Hawaii, hiked to Machu Picchu and white-water rafted in the Grand Canyon. Their travels took them to Egypt, Iceland, the Galapagos and Honduras.
"The two of them, you could just read the joy on their faces," Reynolds said. "It was just part of who they were."
— Laura J. Nelson
Raymond Scott Chan, Kendra Chan
Scott Chan shared his love of scuba diving with his daughter, Kendra, who often accompanied him on expeditions in the Channel Islands. One photo shared by their family showed father and daughter grinning next to a Christmas tree, sporting new diving gear.
"You don't expect to have a child that dies before you," said Vicki Moore, Kendra's mother and Scott's partner, in an interview with KTVU-TV of Oakland.
Scott, 59, graduated from Stanford and worked in Silicon Valley as an electrical engineer for two decades. Then he started a second career as a high school teacher in the Bay Area, bringing "experience from research laboratories, and the electronics, computer, and high-performance automotive industries into the classroom," he wrote in his LinkedIn profile.
At American High School, Scott's students "knew him to be an innovative and inspiring teacher who developed a passion for physics among his students," said Brian Killgore, a spokesman for the Fremont Unified School District.
Kendra Chan, 26, was a biologist with the U.S. Fish and Wildlife Service in Ventura. She lived in Oxnard.
"I was so proud, so proud of her and all that she was doing," Moore said. "She was absolutely an amazing young woman."
In a video produced by the agency last year for Women's History Month, Kendra said she grew up diving in the Channel Islands with her father, and loved skiing, hiking and camping. She described her love for the marine world, including watching "all the tiny little creatures come alive" on rocks and kelp holdfasts.
"Just get outside," she said. "Get involved. Work on citizen science projects. Volunteer somewhere. You don't have to be a biologist on paper to be a scientist in real life."
— Laura J. Nelson
Justin Dignam
Justin Dignam's love of the water dated back decades. He was a four-year varsity swimmer and water polo player in college, coached the men's water polo teams at Wesleyan University and Iona College and continued to compete in water polo tournaments into his 50s.
Dignam, 58, was the founder and chief executive of Big Fish Employer Services, a payroll company in Placentia. The company's president said in an email that the staff was "shocked and horrified" at his death. Dignam founded the company out of his house in Anaheim Hills in 2003, according to a story last year in the California Business Journal.
USA Water Polo's chief executive, Christopher Ramsey, said in a statement that Dignam was a familiar face, appearing at golf tournaments, Hall of Fame inductions and other events. This July, Dignam passed out medals at the Junior Olympics in Irvine, he said, "savoring the smiles and encouraging everyone to give it their all — just like he did."
— Laura J. Nelson
Berenice Felipe, Tia Salika-Adamic, Steve Salika, Diana Adamic
Tia Salika-Adamic, a high school student from Santa Cruz, boarded the Conception with her close friend Berenice Felipe and her parents — Steve Salika and Diana Adamic — to celebrate her 17th birthday.
Steve, 55, worked at Apple Inc. for three decades and met Adamic there, said Deirdre O'Brien, the company's senior vice president of retail and people. She said his "energy and enthusiasm touched so many people across our company throughout his career."
When Jennifer Morales started working at Apple in 2001, she passed by Steve's office frequently. She recalled him as a big, burly guy who was always willing to help. Steve worked on quality assurance for major projects, she said, including the iPad and the first Apple TV.
"He had this crazy pouf of hair, and these enormous Robert Irvine biceps and these round glasses," she said. "He had such patience, and he had this great big huge booming laugh. If you could make him laugh, that was the extra payoff."
The family loved diving, traveling to Fiji and the Caribbean Netherlands to explore reefs and other marine life. They encouraged their daughter's love of the ocean from an early age, taking her on excursions to learn how to snorkel and dive.
Adamic, 60, volunteered at the Santa Cruz County Animal Shelter, where she was remembered as compassionate, honest and inclusive. She worked to find resolutions among the most difficult of relationships, said Jen Walker, a former humane educator at the animal shelter, in a statement.
"She was an ally to all living things — orphan kittens, wild birds, youth volunteers — and a champion for the natural world around us," Walker said.
The two girls attended Pacific Collegiate, a Santa Cruz charter school for students in seventh through 12th grades, according to a letter sent to parents. Berenice had previously been honored by the school for her work in plant science, according to the school's Facebook page.
Tia and Berenice both volunteered at the animal shelter, too, helping to care for foster kittens and keeping homeless cats and dogs company, Walker said. She said that Berenice's "calm and easy-going manner was a true gift that she shared with us."
— Laura J. Nelson and Colleen Shalby
A commercial diving boat caught fire near the shoreline of Santa Cruz Island, Calif., early Monday. Many aboard the boat were believed to be sleeping below deck when the fire broke out in the pre-dawn hours.
Lisa Fiedler
Lisa Fiedler worked as a hairdresser in Mill Valley in the Bay Area. In her free time, she pursued her passion for nature photography, traveling extensively in the West and to Holland, China, Tibet and Guatemala.
"Everybody loved her," Fiedler's mother, Nancy Fiedler, said in an interview with KGO-TV. "She was a kind, gentle person. She loved nature."
Her photos captured the peace and beauty of nature, including crisp images of hummingbirds in flight, dewdrops clinging to spiderwebs, and sunsets across stunning mountain ranges.
"Nature is ever changing and always slightly different, begging to be eternally appreciated," Fiedler wrote on her website.
Last year, Fiedler, 52, traveled to Cozumel, Mexico, with Worldwide Diving Adventures, the same company that led the Labor Day weekend excursion on the Conception. She wrote on Facebook about the joy of finishing her deepest scuba dive ever in an underwater cave formation called Devil's Throat.
"Petting an octopus on a night dive was another highlight," she wrote. "Wish I could stay here forever."
— Laura J. Nelson
Kristy Finstad
Kristy Finstad first swam the waters of California's Channel Islands as a toddler, tucked under her father's arm. The 41-year-old marine biologist had since returned hundreds of times to the area's swaying kelp forests and arrays of coral.
On Aug. 30, Finstad boarded the Conception to help lead an expedition for her family's scuba diving company. After fire broke early Monday morning, engulfing and sinking the 75-foot vessel, Finstad was among those unaccounted for.
"She's extremely strong-willed and very adventurous," said her brother, Brett Harmeling, 31. "If there was a 1% chance of her making it, she would have made it."
Finstad had worked as a research diver for the Australian Institute of Marine Science and wrote a restoration guidebook for the California Coastal Commission. She had dived in the area near Santa Cruz Island often, and the trip was one of the company's most popular, Harmeling said.
"She has an extraordinary depth of knowledge," Harmeling said. "She has a passion for the Earth, and a love for marine life."
Finstad and her husband recently had returned from a multiyear sailing trip through the Pacific. In a blog on the company's website, she chronicled the beauty and monotony of life on the ocean, "her colors changing, her energy moody with moon tide currents, thundering waves and glassy reflection."
"What were we doing with our lives?" Finstad wrote before they embarked. "Dragging your feet is no way to climb a mountain; holding your breath is no way to dive."
— Laura J. Nelson
Andrew Fritz, Adrian Dahood-Fritz
Two weeks ago, Adrian Dahood-Fritz celebrated her 40th birthday with a marine-themed cake covered in white chocolate sea stars. Her colleagues at the California Ocean Protection Council took her out for shaved ice cream at a place with "penguin" in its name, the bird she was known to love after years working in Antarctica.
Dahood-Fritz and her husband, Andrew Fritz, a photographer, had recently moved from Texas to Sacramento so Dahood-Fritz could join California's efforts to manage marine protected areas. She quickly developed a reputation as smart, unpretentious and passionate, said Mark Gold, the organization's executive director.
Dahood-Fritz previously worked for the National Science Foundation and the National Oceanic and Atmospheric Administration. In a statement, Gov. Gavin Newsom said Dahood-Fritz "embodied marine conservation" and led the state's efforts to manage California's network of marine protected areas.
Josh Baker, a longtime friend of Fritz's, said the couple had a "meteor" impact on Austin's photography community, a race car community in Houston, an international diving community. His two young sons knew Fritz as "Uncle Andrew," he said.
"There was no escaping their impact," he said. "If they were in your lives, they were in your lives."
The two friends had started a photography business together four years ago. Fritz, 40, would shoot portraits, weddings and nature — his passion. He often put his computer science degree to use, managing their website, and once built a photography time-lapse application.
"He was a doer and a hands-on constructor," Baker said.
— Colleen Shalby
Dan Garcia, Yulia Krashennaya
Apple engineer Dan Garcia was on the Conception with his girlfriend, Yulia Krashennaya, his aunt said. She described him as "a gifted engineer" who loved scuba diving and was a loving partner, son, brother and friend.
Garcia, 46, a Berkeley resident, was "as passionate about his job at Apple as he was about diving," Apple's O'Brien said.
— Laura J. Nelson
California Boat Fire: There is growing focus on the limited escape route on the boat where 34 died in the worst maritime disaster in modern California history
Allie Kurtz
Allie Kurtz was one of six crew members on the Conception for the Labor Day trip. The five other employees survived by jumping off the boat and paddling in a dinghy to a nearby fishing boat. But Kurtz was below deck when the fire broke out.
"She had the biggest heart," her sister Olivia told reporters this week as her family waited for news on shore. "She was my role model, my big sister. She was everything to me."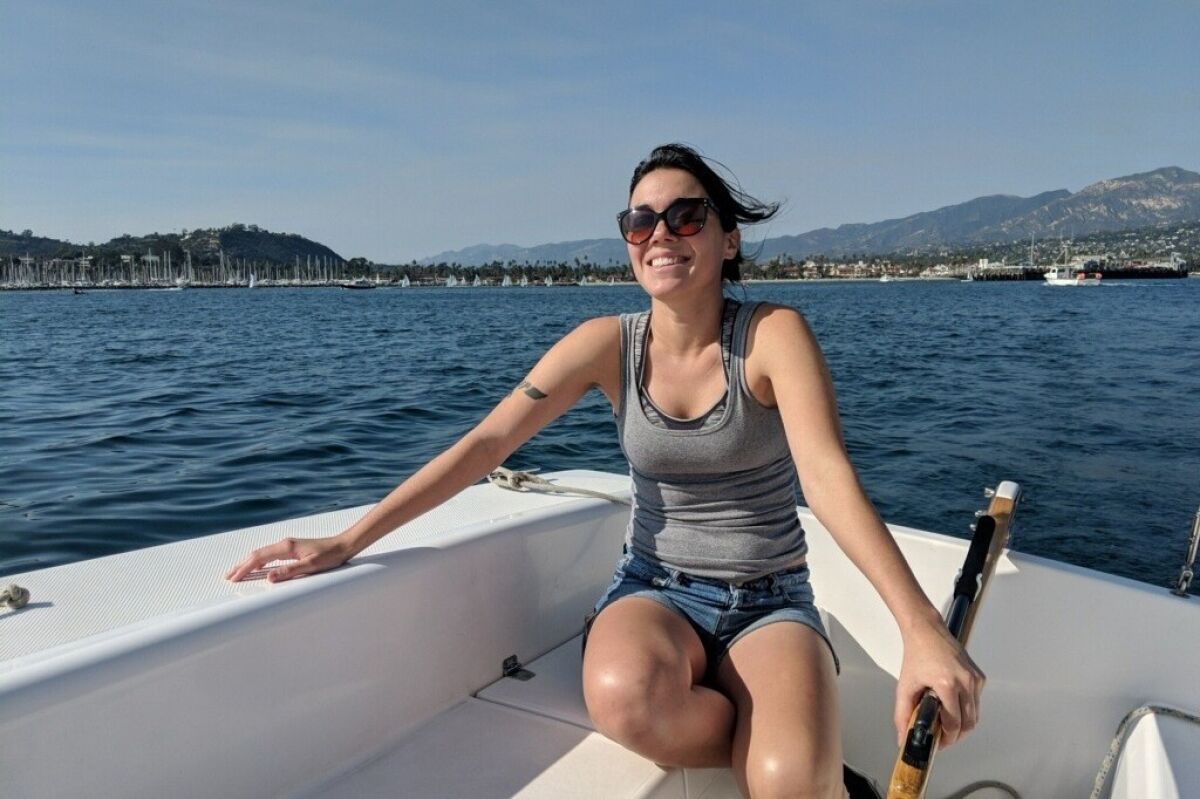 Kurtz, 26, graduated from a performing arts high school in Cincinnati, district officials said. Before pursuing her love of diving full time, Kurtz worked at Paramount Pictures in Los Angeles on the creative advertising team, working on films including "Mission: Impossible," a company representative said.
"Allie had a heart of gold, and lived her life on her terms," said her father, Rob Kurtz, in an online post. "The only sense of comfort right now is knowing she passed doing what she loved."
He added in tribute to his daughter: "I will always love you and will miss you forever. You became the pirate you wanted to be, now sail away."
— Laura J. Nelson
Xiang Lin
Xiang Lin loved hiking, wind surfing, scuba diving and any other activity that brought her closer to California's majestic mountains and beaches. She particularly loved Mission Peak, a popular hiking spot in Fremont.
Lin was a partner at Acorn Summit Ventures, a private equity and venture capital firm in the Bay Area, where she focused on artificial intelligence, her family said in a statement. She had previously worked as an engineer and program manager at Apple, Microsoft and other Bay Area companies.
Lin grew up in Beijing and attended Tsinghua University, where she was the captain of the women's soccer team. She moved to the United States to attend Brown University, where she earned a master's degree in computer science.
Lin, 45, was an active member of Chinese social groups in Silicon Valley, and a strong advocate for women in technology, her family said. She is survived by her older brother, mother and father in Beijing.
"Her generosity and charisma made her many friends who remember and dearly miss her," her family said. "She was warm, loving, athletic, courageous, intelligent, funny; her curiosity and passion have impacted and inspired many whom she came into contact with throughout her life."
— Laura J. Nelson
Charles McIlvain, Marybeth Guiney
Santa Monica resident Charles "Chuck" McIlvain was a visual effects designer who had worked at Netflix, Walt Disney Co. and Sony Pictures Imageworks. He was known for his work on such movies as "Watchmen," "Spider-Man" and "Green Lantern."
He was a "radiant bright light in many peoples' lives," said Culver City Councilman Alex Fisch, who had been his friend since they shared the same dorm at UC Berkeley. McIlvain, who recently had celebrated turning 44, was "someone who people cherished every moment with," he said.
Along with diving, McIlvain loved mountain biking and snowboarding. To his friends, Fisch said, he was the brightest light in the room.
McIlvain had gone diving on the Conception with Marybeth Guiney, who lived in his condo building in Santa Monica.
Guiney, 51, was a sales director who was passionate about marine life and ocean conservation. She previously worked for the New England Patriots, the organization said in a statement.
Friend Jay Wilson, who had gone diving with Guiney on the Conception and other boats, said in an interview with the Daily Breeze that she was a funny, unorthodox person who sometimes wore red high-top sneakers inside her fins.
"The best part about diving other than going down and being underwater is the people you meet," Wilson said. Guiney, he said, was "just living life to the very fullest."
— Brittny Mejia and Laura J. Nelson
Caroline McLaughlin, Kristian Takvam
Caroline "Carrie" McLaughlin and Kristian Takvam worked at Brilliant, a website that creates interactive science, technology, engineering and mathematics courses. Both "brought immense passion, talent, leadership, and warmth" to their work, the company's chief executive, Sue Khim, wrote in a statement.
Takvam, the company's vice president of engineering, grew up in Austin, Texas, and knew by age 6 that he wanted to be a physicist, his sister Katrina Takvam said. He studied physics at the University of Texas at Dallas and met his wife in that city three years later. The couple often shared "brainiac banter," she said, but stayed down-to-earth and thoughtful.
Takvam, 34, loved cave diving, his sister said, and "felt more at home in the water than on the land." He met up with his college friends from across the country once or twice a year to explore underwater worlds together.
McLaughlin, 35, a senior software engineer, graduated from UC San Diego in 2005. On her Instagram page, she described herself as a "painter of living beings," displaying work that included watercolor portraits, paintings of nature and ceramics. McLaughlin wrote on her blog that she had recently started taking a portraiture class at a community college.
— Colleen Shalby and Laura J. Nelson
Kaustubh Nirmal, Sanjeeri Deopujari
Kaustubh Nirmal and Sanjeeri Deopujari, who married 2½ years ago, were "the perfect couple," said Nirmal's cousin, Rajul Sharma.
"He found a soulmate in Sanjeeri," Sharma said in an email, recalling their endearing and infectious smiles. "Their love for each other was apparent even without them speaking about it."
Sharma said he had known Nirmal since the day he was born. An avid animal lover, Nirmal was sensitive and polite, he said, never wanting to hurt anyone's feelings.
The couple lived in greater New York City, where Nimral worked in finance and Deopujari was a dentist. Nirmal grew up in Jaipur, and Deopujari was from Nagpur in central India, the Times of India reported.
"God took them away from us untimely and unfairly, but even he didn't have the heart to separate them in death," he said.
— Laura J. Nelson
The boat fire rocked the small, tightknit diving community in Southern California. Many have formed friendships bound by a passion for ocean exploring.
Michael Quitasol, Fernisa Sison, Angela Rose Quitasol, Nicole Storm Quitasol, Evan Michel Quitasol
For the Quitasol family, the Labor Day weekend scuba diving trip to was supposed to be a celebration at sea.
Three sisters — Angela, Nicole and Evan Quitasol — set out Saturday with their father, Michael, and their stepmother, Fernisa Sison. The family was celebrating Michael's 62nd birthday with a three-day excursion that included dives in the kelp forests, nature lectures and gourmet meals.
"They were the most kind, most loving people I've ever met, and I'm not just saying that because they're family," said their stepfather, Chris Rosas. "The way they interacted with anyone they ever came across, they were wonderful."
Evan, 37, was a nurse who worked in the emergency department of a Stockton-area hospital. Sison was a nurse practitioner at Kaiser Permanente Central Valley, a spokesman said.
Nicole, 31, worked as a bartender in a lounge in Coronado, which allowed her to live near her beloved ocean, Rosas said.
Angela, 28, was a science teacher at Sierra Middle School in Stockton and was "wonderful with kids," Rosas said. She had played roller derby with the Port City Roller Girls in Stockton, where she skated under the name Hermione Danger, the team said.
Angela was the maid of honor at the wedding of another sister, Evita, who was married two weeks ago. Evan and Nicole were bridesmaids too.
— Matthew Ormseth
Sunil Singh Sandhu
After 24 years in the United States, Sunil Singh Sandhu still called his family in Singapore every week, and visited his father and two sisters at least once a year. When Sandhu visited his family, he loved to eat barbecued stingray at one of Singapore's ubiquitous open-air food centers.
"I never had to worry about my son," his father, Soji Singh, told the New Paper in Singapore. "He was a nice boy who had no bad habits. The only thing that I worried about was him not being married."
Sandhu, 46, earned his master's and doctoral degrees from Stanford University and worked as a scientist at a Palo Alto research company. He was a newcomer to scuba diving, picking up the sport two months before his death.
"I didn't know that he was going for another trip," Singh said. "I had been trying to persuade him to come back to Singapore."
— Laura J. Nelson
Ted Strom
Ted Strom, 62, of Germantown, Tenn., was dedicated to medicine and science.
Strom worked for a decade as a staff physician at the Memphis Veterans Affairs Medical Center and an associate professor at the University of Tennessee's health science center. His work and teaching encompassed pathology and lab medicine service. He also researched the kinetics of platelet turnover.
Strom's "exceptional service to veterans as a staff physician is a testament to the type of person that he was," medical center director David K. Dunning wrote in a statement. "He will certainly be missed."
Strom received his medical degree from the University of Chicago, in addition to a doctorate in biochemistry, a bachelor of science degree in human biology and a bachelor of arts degree in chemistry, according to his LinkedIn page.
In a Facebook photo from 2010, Strom is seen scuba diving, surrounded by a school of fish.
— Colleen Shalby
Wei Tan
Wei Tan boarded the Conception because she had moved to Santa Barbara just four months earlier and wanted to explore her new home.
When Tan was 10, she and her family visited Tioman, an island on the east coast of Malaysia known for its coral, sea sponges and shipwrecks. Wei insisted on going diving, so the whole family went with her.
Tan graduated from UC Berkeley in May with a master's in engineering, and attended the University of Michigan as an undergraduate, her sister said. She had recently taken a job as a data scientist at Evidation Health, a healthcare technology company.
"Our hearts are broken," said Christine Lemke, the company's co-founder and president, in a statement. "Her smile lit up the world and she'll be sorely missed."
Tan, 26, was excited to buy new furniture for her Goleta apartment, said her sister Cheerin Tan. Their parents had promised to visit and check out the apartment over Christmas.
Cheerin said she hopes her sister, who loved spending time outdoors, saw beautiful coral formations and chased some sea turtles before settling down to sleep the night of the fire. Her family is comforted, somewhat, knowing Wei "was doing something she loved in the last few moments of her life."
— Matthew Ormseth and Colleen Shalby
Vaidehi Williams
On Earth Day and at the Santa Cruz County Fair, Vaidehi Williams — who went by Vai — was a familiar sight, wearing a bright blue water droplet costume as she taught the public about water conservation and recycling. Colleagues at the Soquel Creek Water District in Santa Cruz recalled Williams, 41, as joyful and enthusiastic.
"May we always remember her infectious smile, kind heart, vast knowledge, and adventurous spirit," employee Melanie Mow Schumacher said in a statement. "Vai will forever be our 'Water Princess.'"
In a fundraiser for Williams' husband and two children, friends wrote that she had "touched so many people from so many walks of life. Anyone who has spent just a little time with her has been enchanted by her energy and felt the instant warmth of her friendship."
— Laura J. Nelson
---