At this point last year, wildfires had burned more than 1.2 million acres in California, hundreds of homes had been destroyed, and at least 12 people had been killed. And that was only the beginning of California's deadliest and most destructive wildfire season on record.
California has seen far fewer fires than at this time last year. But officials are cautioning residents and reminding them that historically September and October are the worst months for wildfires in the state.
It's the time of year when offshore weather patterns typically bring hotter, drier and windier conditions to the area, drying out fuels and increasing the probability of ignition, said Capt. Tony Imbrenda, a spokesman for the L.A. County Fire Department.
In other words, there's still plenty of time for this year's fires to rival last year's.
"The weather is such that it could support that type of fire season," Imbrenda said. "So whether or not it's going to happen, it remains to be seen, but we always prepare for the worst."
Here are the fires larger than 500 acres burning in California, based on data from InciWeb and the California Department of Forestry and Fire Protection. This list will be updated.

The Walker fire
Size: 54,518 acres
Percent of perimeter contained: 95%
Location: 11 miles east of Taylorsville in Plumas National Forest
Start date: Sept. 4
Cause: Under investigation
A cold front that swept across Northern California on Monday substantially decreased fire activity. About an inch of rain fell, and firefighters watched as the area received an estimated 150 lightning strikes.Thanks to positive impact from the cooler weather, several firefighters have been released from the incident and will return home.
Over the course of almost two weeks, the Walker fire consumed more than 85 square miles. It is the largest fire to burn in California so far this year — so massive that it can be seen from space.
The fire is burning in the Plumas National Forest, which spans 1.1 million acres through the northern Sierra Nevada. About 75 miles of the Pacific Crest Trail extends across the forest, but through-hikers need not fear, as the southern perimeter of the Walker fire is an estimated 28 miles from the trail, said Becky Shufelt, a public information officer.
Mountainous and remote, the terrain is challenging. Nearly 2,100 firefighters and support personnel worked through the weekend to improve containment lines and put out spot fires. They were able to stop the spread of a separate wildfire that broke out about three miles north on Sunday. That blaze, the Stony fire, was held to 1 acre.
Wind drove much of the Walker fire's growth. On Sept. 6, the fire burned 18,000 acres. Fed by hot, dry conditions, the fire found the path of least resistance, burning northeast through creek beds and canyons, Diondray Wiley, a fire behavior analyst on the Walker fire, said in a Facebook video update.
"All that energy created a perfect avenue for the fire to make that particular type of progression," Wiley said.
At this time, fire officials believe no structures have been damaged or destroyed.

The Taboose fire
Size: 9,438 acres
Percent of perimeter contained: 6 2%
Location: 10 miles southwest of Big Pine
Start date: Sept. 4
Cause: Under investigation, lightning suspected
The area where the Taboose fire is burning will remain under a red flag warning until 9 p.m. Monday. Day crews reported sustained winds of 25 to 30 mph in the mountains with gusts up to 55 mph.
So far, the containment lines have held. Though winds picked up about 1:30 a.m. Monday, blowing erratically at 30 to 35 mph, the fire remained in place, fire officials said in a morning briefing.
Fire officials have asked residents to pay close attention to changes in the weather, as fire activity could intensify quickly in the right conditions.
Wind has already wreaked havoc once on this fire. On Sept. 6, the Taboose fire was only 380 acres and had shown no growth overnight. That changed the night of Sept. 8, when 40- to 50-mph winds blew through the area, causing the fire to jump containment lines and grow 10 times larger. By Monday, the fire was the second-largest blaze burning in California.
No structures have been destroyed, but a trailer burned. The fire affected several visitors to Inyo National Forest, and fire officials helped reunite stranded hikers with their cars.
"Unfortunately, four vehicles were destroyed by the fire at the Red Lake trailhead," fire officials said. "This fire surprised both residents and visitors alike and is another reminder to all to stay aware of changing weather conditions."
The Lone fire
Size: 5,737 acres
Percent of perimeter contained: 95%
Location: Modoc National Forest
Start date: Sept. 5
Cause: Lightning
The fire was initially fast-moving and wind-driven as it burned through remote grassland and forests about two miles south of Pinnacle Lake.
This is one of multiple large fires that has burned through Modoc National Forest in the last year. In July, the Tucker fire was California's first large wildfire, burning 14,150 acres in the national forest in the far northeast corner of the state. It burned land northwest of the Lone fire and was believed to be unintentionally started by people. Last year, the Stone fire, a lightning-caused fire, scorched almost 40,000 acres south of where the Lone fire is burning.
The Modoc National Forest offers a diverse landscape, ranging from forested mountains to ancient lava flows, and has a population of wild horses in an area known as the Devil's Garden.
Fire officials do not expect the Lone fire to grow .

The Springs fire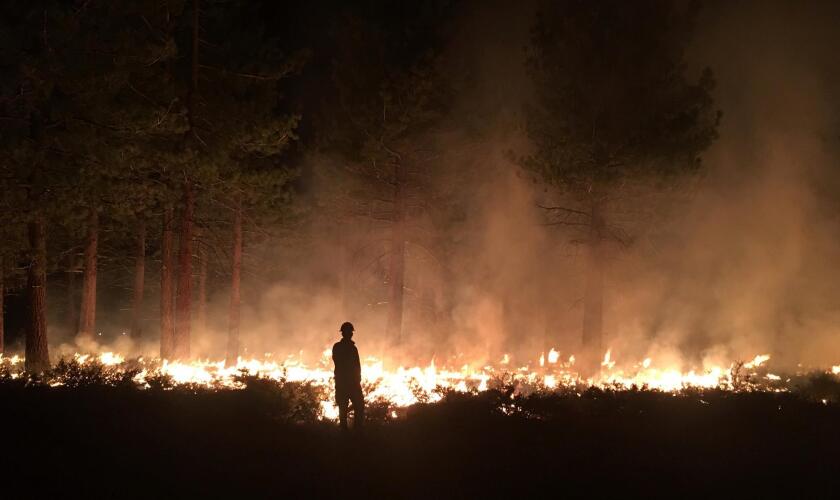 Size: 4,840 acres
Percent of perimeter contained: 98%
Location: 13 miles southeast of Lee Vining
Start date: July 26
Cause: Lightning
"When will the Springs fire be put out?" a recent fire update read. "This question has been posed to fire managers since late July."
Fire managers have used a range of tactics to extinguish the Springs fire, including starting low-intensity fires to reduce the risk of larger, longer-lasting and more severe wildfires in the future.
"I understand that the long-term presence of firefighters in the community and sense of anxiousness about heavy smoke production are on people's minds," said Gordon Martin, Mono Lake and Mammoth district ranger and Springs Fire Agency administrator, in a fire update in late August. "I believe that carrying out this action to fully meet the objectives has a high potential for minimizing these and other adverse effects to the community in the future."

The South fire
Size: 5,190 acres
Percent of perimeter contained: 48%
Location: Southeast of Tomhead Mountain, west of Red Bluff
Start date: Sept. 5
Cause: Lightning
Challenges abound on the South fire, including steep terrain, narrow roads, limited access and numerous dead trees that have caused multiple firefighter deaths in recent years.
The fire is burning in Shasta-Trinity National Forest, the largest national forest in California, and in about 700 acres that fall under Cal Fire's responsibility.
A total of 560 firefighters and support personnel have been assigned to work the South fire, according to Shasta-Trinity National Forest officials. Some firefighters have been assigned to protect the small number of seasonal cabins and ranches in the area while others are constructing protective boundaries around the fire and scouting natural barriers, such as ridges, to use to their advantage in containing the blaze. About 200 firefighters are in a remote camp on a landing strip north of the fire to reduce travel time to that area.
On Thursday, California National Guard helicopters flew 522 firefighters over three shifts to a remote landing zone near the fire perimeter to construct and secure containment lines, according to the Cal Fire Tehama-Glenn Unit. The same trip by ground would have taken more than 50 vehicles three hours on rugged dirt roads. The flight took six minutes from the helibase in Red Bluff to the drop point in the forest.
The Cow fire
Size: 1,975 acres
Percent of perimeter contained: 30%
Location: Inyo National Forest
Start date: July 25
Cause: Lightning
The fire is burning in the Golden Trout Wilderness, a remote, high-elevation area of the Inyo National Forest.
It's an example of a naturally caused fire that's actually expected to restore and maintain forest health, according to the U.S. Forest Service.
Because of its low intensity and remoteness, firefighters focused on confining and containing the blaze by reinforcing natural barriers, such as granite ridges and wet meadows. They're now monitoring the fire to ensure it remains within the control lines.





The Lime fire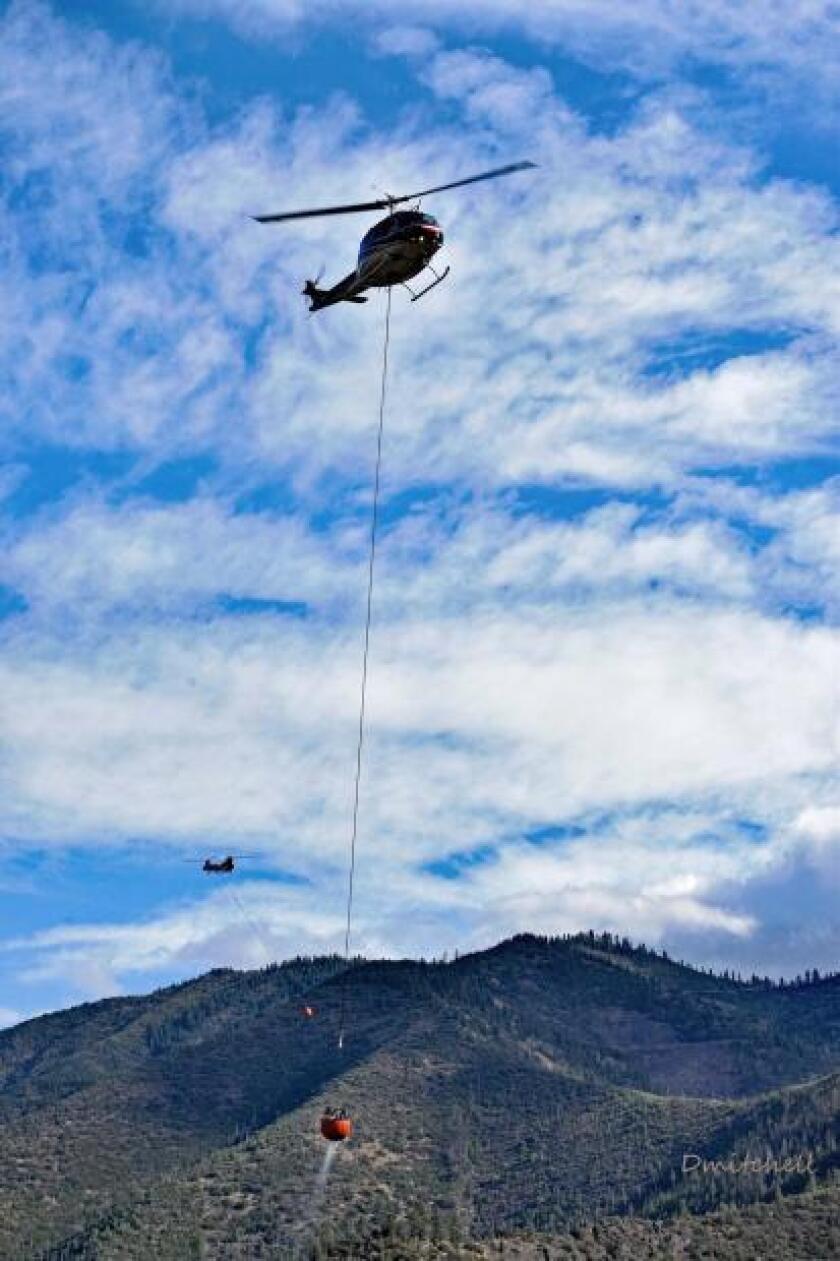 Size: 1,872 acres
Percent of perimeter contained: 96%
Location: South of Cottonwood Peak in the Happy Camp/Oak Knoll Ranger District in Klamath National Forest
Start date: Sept. 4
Cause: Lightning
The wildfire is one of dozens sparked by lightning during a thunderstorm Sept. 4 in the Klamath National Forest, which spans 1.7 million acres across Siskiyou County in California and Jackson County in Oregon. It's burning in the Lime Gulch area, about 10 miles north of Yreka. Firefighters have been challenged by steep terrain and limited access points.
The Horseshoe fire
Size: 520 acres
Percent of perimeter contained: 60%
Location: 2100 block of Horseshoe Trail in Riverside County
Start date: Sept. 14
Cause: Under investigation
The Horseshoe fire broke out Saturday night in Juniper Flats, an unincorporated area of Riverside County between Perris and Hemet.
The fire set foothills ablaze and prompted several residents to be evacuated when it burned down toward San Jacinto.
Evacuations were lifted Sunday. Firefighters will continue to strengthen containment lines as the fire continues to burn in rocky, rugged terrain.
Times staff writer Joseph Serna contributed to this report.
---