California has seen almost 160,000 acres burn in wildfires in 2019, a fraction of the amount that had burned by this time last year, according to Cal Fire data, which includes wildfires 10 acres or larger.
That's in part because of more moderate weather with fewer hot, windy days.
"But then again, September and October are the worst two months historically every year in California" for wildfires, Cal Fire spokesman Scott McLean said. "With this beautiful weather, people are getting complacent."
This week, Los Angeles and Ventura counties are expected to see Santa Ana winds blow through the region, bringing hot, dry conditions and increasing the risk for fast-moving wildfires.
McLean said it's important for residents to remain vigilant, keeping their "go bags" ready and their vehicles' gas tanks full.
Nine of California's 10 most destructive wildfires on record started in the last four months of the year, including most recently the Camp and Woolsey fires in November 2018, the Thomas fire in December 2017, and the Nuns and Tubbs fires in October 2017, according to Cal Fire.
Here are the fires larger than 500 acres burning in California, based on data from InciWeb and the California Department of Forestry and Fire Protection. This list will be updated.
The Taboose fire
Size: 10,296 acres
Percent of perimeter contained: 75%
Location: 10 miles southwest of Big Pine
Start date: Sept. 4
Cause: Lightning/natural
The Taboose Fire has shown some interior smoke in the past several days along the western flank, where warming and drying of unburned fuels has allowed fire activity to increase, fire officials said in an update Monday.
There are a few acres of active fire at a high elevation, but it is confined by rocks and burned areas. On the northern side of the active fire, there is an area of unburned fuels that the fire could grow into. Incident leaders anticipate that, with wind predicted Tuesday, the fire will remain active in this area.
"Visitors and residents will see smoke, especially along the Highway 395 corridor," incident leaders said in their Monday update. "Please do not report the smoke. Currently, the south, east, and north flanks are secure and there is no threat to life or property. Gusty wind and low relative humidity are in the forecast for this week and fire crews will continue to monitor and patrol in areas where the fire is active."
The South fire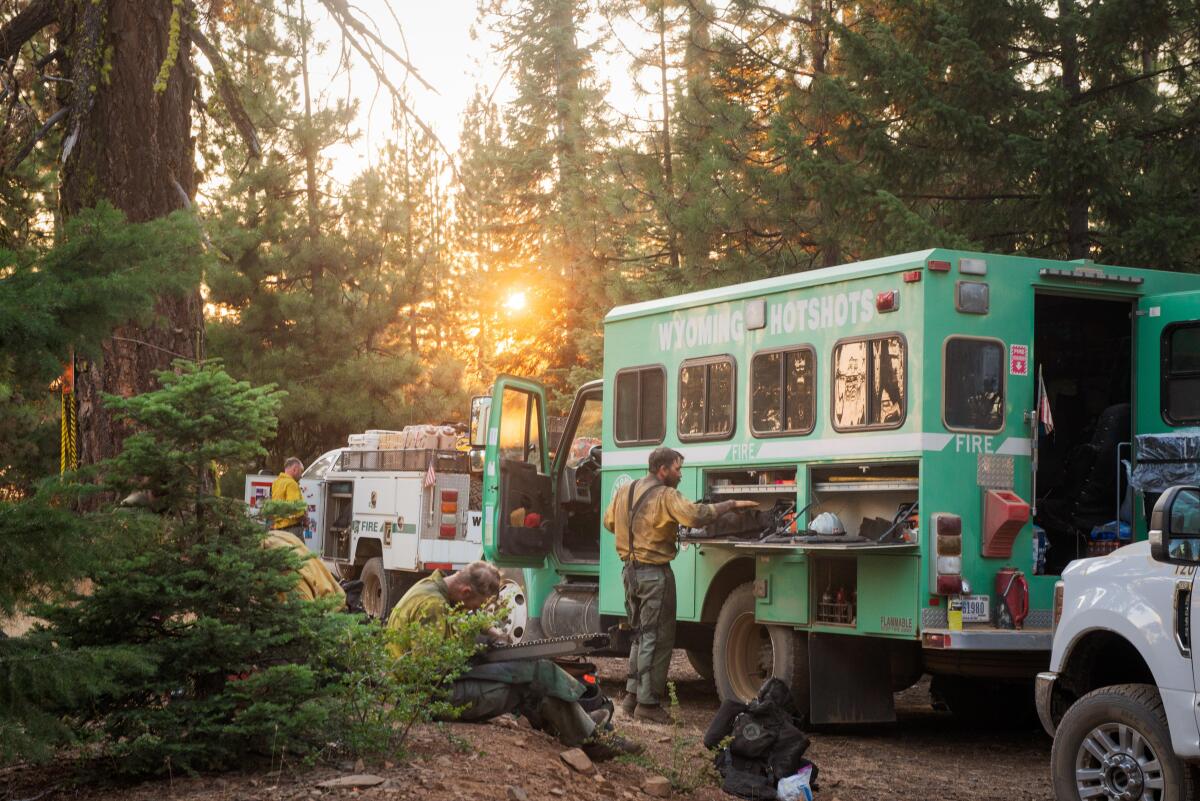 Size:5,332 acres
Percent of perimeter contained: 62%
Location: Southeast of Tomhead Mountain, west of Red Bluff
Start date: Sept. 5
Cause: Lightning
Challenges on the South fire included steep terrain, narrow roads, limited access and numerous dead trees that have caused multiple firefighter deaths in recent years.
The fire is burning in a remote and rugged area of Shasta-Trinity National Forest, the largest national forest in California, and in about 700 acres that fall under Cal Fire's responsibility. As of Wednesday, minimal fire activity was observed, and primarily consisted of low flames slowly or barely spreading.
Two miles west of the fire, a contingency line has been completed along Sanford Ridge to contain the fire, should it to move west, according to fire managers. The eastern portion of the fire, which is outside of Yolla Bolly-Middle Eel Wilderness, remains 100% contained.
The Briceburg fire
Size: 4,400 acres
Percent of perimeter contained: 15%
Location: Highway 140 and Briceburg Bridge Road north of Midpines
Start date: Oct. 6
Cause: Under investigation
Almost 1,400 firefighters and support personnel are in Mariposa County fighting the Briceburg fire. As of Wednesday evening, the equipment being used to combat the blaze included 113 engines, nine helicopters and 37 dozers.
It is burning 10 miles west of Yosemite National Park. The park and each of its entrances remain open. A portion of Highway 140 is closed, meaning drivers arriving to Yosemite through Mariposa need to take a different route.
Areas under mandatory evacuation include: addresses on Highway 140 between Octagon Road, the Yosemite Bug Rustic Mountain Resort. all of Buffalo Gulch Road and the Briceburg Campground.
The Cow fire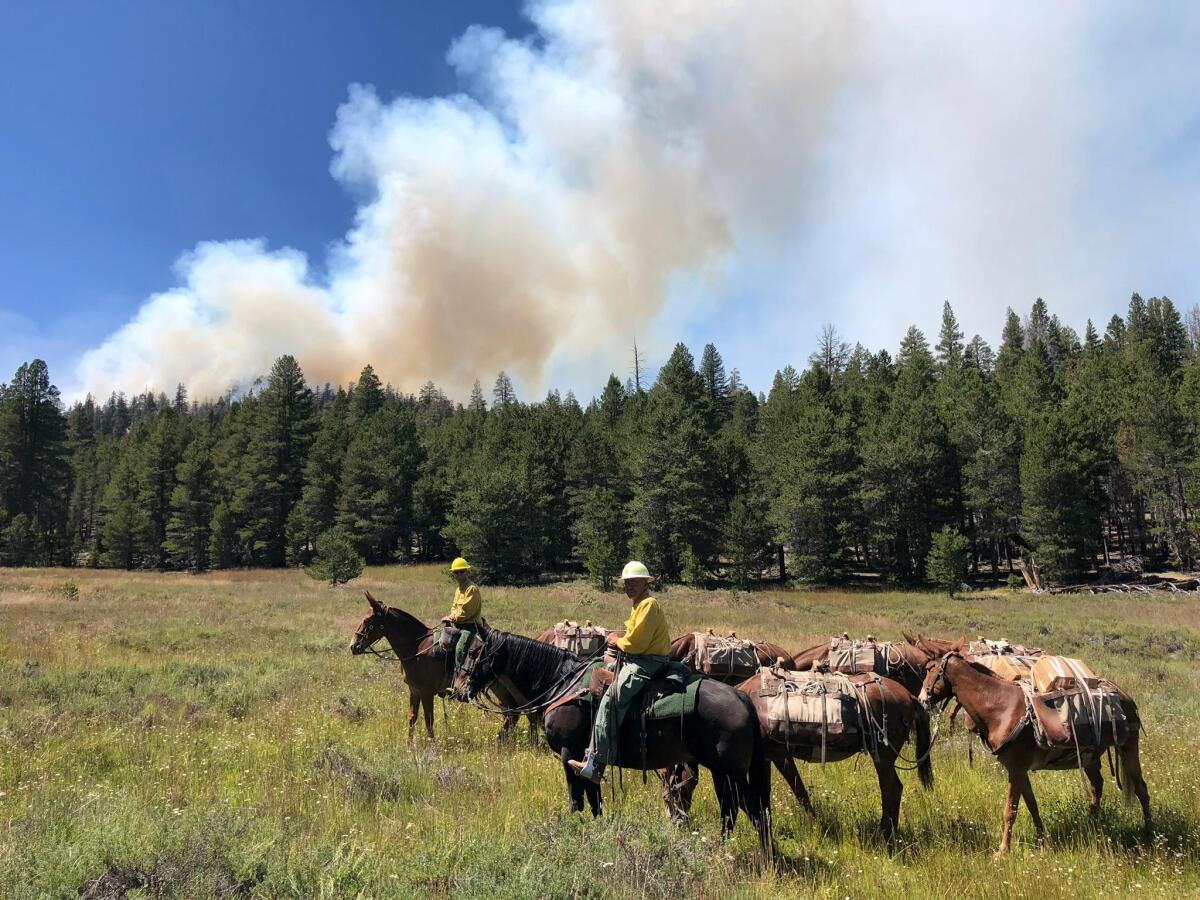 Size: 1,975 acres
Percent of perimeter contained: 30%
Location: Inyo National Forest
Start date: July 25
Cause: Lightning
The fire is burning in the Golden Trout Wilderness, a remote, high-elevation area of the Inyo National Forest.
It's an example of a naturally caused fire that's actually expected to restore and maintain forest health, according to the U.S. Forest Service.
Because of its low intensity and remoteness, firefighters focused on confining and containing the blaze by reinforcing natural barriers, such as granite ridges and wet meadows. They're now monitoring the fire to ensure it remains within the control lines.
Times staff writer Joseph Serna contributed to this report.
---