Firefighters boost containment of San Bernardino fire that sent residents fleeing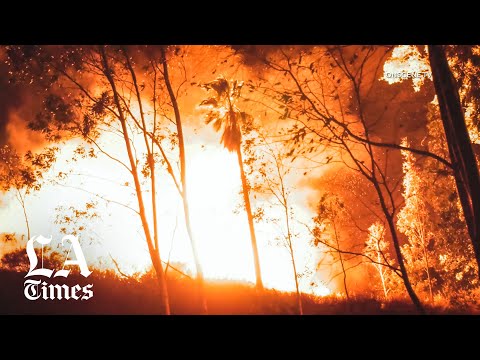 Firefighters were working to gain the upper hand on a windblown brush fire that erupted early Thursday near the San Bernardino National Forest that quickly charred 75 acres, forced road closures and sent residents fleeing from neighborhoods.
The Old Water fire ignited just after 2 a.m. near Old Waterman Canyon Road and Highway 18 and began rapidly chewing through dense brush along the hillside abutting neighborhoods. About an hour later, officials began evacuating neighborhoods amid concerns that gusty winds could send the fire moving toward homes at the base of the hillside, said Zach Behrens, a spokesperson for the San Bernardino National Forest.
By late morning, roughly 400 firefighters battling the blaze had largely quelled the intense flames that hours earlier had threatened to overwhelm nearby neighborhoods, boosting containment of the fire to 30%.
Voluntary evacuations in the city of San Bernardino for all homes north of Foothill Drive between Del Rosa Avenue and Manzanita Drive have been lifted. However, roughly 80 homes in north San Bernardino neighborhoods that include Mariposa Drive, David Way and Arrowhead Road remain under mandatory evacuations.
PHOTOS: Kincade fire in Sonoma County
"Things happen in a heartbeat with these fires, so we have to be very judicious in keeping people safe," Behrens said.
While firefighters have made progress on the blaze, officials fear strong Santa Ana winds in the forecast for the region may cause the fire, which is smoldering in thick underbrush, to flare up and move toward homes.
"Crews are building containment lines and knocking down hot spots," Behrens said. "We have to be ready for new attacks because this is only day one of a two-day wind event – with another due to arrive on Sunday."
"When it comes to wildfires, this is the week of the year when everything seems to happen in California," he added. "All the elements are lining up: wind, heat, very low humidity and very dry vegetation."
Forecasts of strong Santa Ana winds, temperatures in the 90-degree range and low humidity prompted the National Weather Service to issue red flag warnings through 5 p.m. Friday for much of Southern California, including San Bernardino.
Wind speeds between 25 and 30 mph are expected for much of the region, with gusts up to 55 mph and isolated gusts up to 75 mph below passes and canyons. Winds are expected to strengthen through the morning in the fire area, creating a challenging situation for firefighters, before tapering off into early Friday, according to the weather service.
"As the sun came up, the winds have really picked up," Behrens said. "It's more than breezy right now, but it's not super intense. But this is just the beginning of a two-day high wind event. It's only going to get worse today."
The blaze has forced the closure of Highway 18 between 40th Street in San Bernardino, Highway 138 in Crestline and Lake Gregory Drive at Highway 18. It was not immediately known how the fire started, and officials say the cause is under investigation.
Video from the evacuation zones showed residents — some with pets — fleeing the area in their cars as ash from the blaze rained down on their neighborhood.
Resident Bryan Hamel told KTLA-Channel 5 that he realized he would have to leave when the smell of smoke started filling his home in the early morning hours, even before authorities arrived in the neighborhood to announce evacuations.
"Smoke was all in the house, so we started packing our bags," he told the station. "We went outside and you could just see the flames."
Some residents who stayed behind assembled near smoky slopes Thursday morning, swapping anecdotes about somehow surviving yet another wildfire propelled by stiff Santa Ana winds.
Spooked by the orange glow on the far side of a hill at about 4 a.m., Chebab El Awar and his wife, Bricia, immediately started packing their valuables – and stealing glances out the window to gauge the fire's progress.
"The orange glow got brighter and brighter, and turned into huge flames pouring over the hill and heading our way," Awar said. "But we had spent a lot of effort preparing for an emergency like this."
The couple has pumps and generators and a buffer zone 500 feet long and 300 feet wide in front of their home. At daybreak, Awar said he saw "long lines of firefighters marching up the hill like centipedes armed with hand tools."
Al Cline, 69, who has survived six wildfires in the area over the last 25 years, including the catastrophic Old fire, which started Oct. 21, 2003, near old Waterman Canyon Road and State Route 18 and caused an estimated $1.2 billion in damage.
On Thursday morning, Cline stood on a ridgeline overlooking a patch of charred chaparral.
"Of the six fires that have come through here, I only evacuated once," he said. "That was during the Old fire."
Unlike Cline, Bonnie Petry wasn't taking any chances when she got a call early Thursday warning her to evacuate.
For more than a decade, a softball-sized piece of slag has decorated the 62-year-old's hearth. The obsidian-like matter she discovered in her destroyed home after the Old fire serves as a memento of the home she lost to the blaze and her survival. The jagged substance also serves as a reminder to remain vigilant and prepared.
Petry looked outside her window. She couldn't see a fire except for the wind blowing.
"Oh God this is not the day that I had ordered," Petry said to herself. "I needed to get myself out of there."
She grew increasingly anxious but remained calm. She quickly dressed, grabbed her "bug out bag" and drove away from her home on Foothill Drive — on the southern end of the evacuation area for the Old Water fire.
Petry, who lives alone, said she's still processing the fire danger and doesn't quite know what to do. She hopes her Spanish-style stucco house will have a better chance of surviving than the 1950s home with a "very flammable shingle roof" that burned to the ground.
"There's nothing I can do. I'm hoping for the best. We'll see what happens," she said.
Thursday's evacuations came amid power outages in San Bernardino County and elsewhere prompted by fire weather. Southern California Edison has already shut off power to more than 17,000 customers in five counties — Kern, Riverside, Los Angeles, San Bernardino and Ventura — and is monitoring 286,000 more customers for possible shut-offs as the day progresses.
More than 7,000 customers in San Bernardino County are without power as of Thursday. It is not clear if the outages affect anyone in the fire area.
At the same time in Northern California, the Kincade fire, which spread rapidly overnight in Sonoma County, has charred an estimated 10,000 acres and forced residents from their homes.
Sign up for Essential California for news, features and recommendations from the L.A. Times and beyond in your inbox six days a week.
You may occasionally receive promotional content from the Los Angeles Times.