Harvey Weinstein trial begins with graphic descriptions of alleged attacks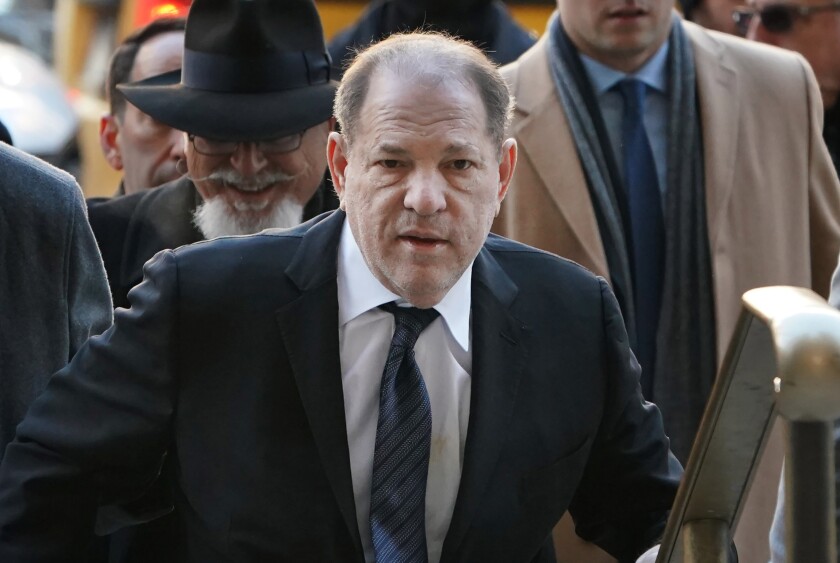 NEW YORK —
Harvey Weinstein sat quietly in a packed Manhattan courtroom Wednesday morning listening as prosecutors described the Hollywood titan as a sexual predator who for decades used his influence and imposing stature to overpower women, assault them and force their silence.
Weinstein, 67, is charged in New York with first-degree rape, two counts of predatory sexual assault, one count of first-degree sexual assault and one count of third-degree rape. The charges stem from the alleged 2006 rape of Mimi Haleyi, a former employee of Weinstein's production company, and an alleged 2013 assault against another woman.

For the record:
6:47 a.m. Jan. 23, 2020An earlier version of this article noted that the Los Angeles Times was not naming one of Harvey Weinstein's accusers, a woman who had moved to Los Angeles at 25, because she is a rape victim. The woman has made a sexual assault allegation against Weinstein but her claim has not been proved in court.
Over the course of more than an hour Wednesday, Manhattan Assistant Dist. Atty. Meghan Hast laid out for jurors nearly 30 years of Weinstein's alleged mistreatment of women in often graphic detail.
"The man seated right there was not just a titan in Hollywood, he was a rapist, sexually assaulting these women when they refused to comply with his desires and his orders and then using his power and prestige in the entertainment industry to ensure their silence," Hast said during her opening statements.
Weinstein — who co-founded the entertainment firm Miramax that went on to shepherd a number of blockbuster and critically acclaimed films from the 1990s on — has repeatedly denied any wrongdoing, despite allegations of sexual misconduct and outright assault from more than 80 women in several countries. His legal team, now in its third incarnation since his arrest 18 months ago, has repeatedly claimed the encounters that led to charges in New York were consensual.
Hast countered their assertion of consent in her scathing opening statements, asserting that Weinstein's series of abuses began in the early 1990s with the rape of Annabella Sciorra, a young actress from Brooklyn who would later go on to star in "The Sopranos".
Hast said Weinstein groomed the actress after meeting her at an industry event, strong arming her into playing a role she didn't want and sending her a care package with Valium, which she began using. Months later, he forced himself into her apartment after giving her a ride home from a New York restaurant and raped her, Hast said.
"She told him to get out. She told him no, but Harvey Weinstein was undeterred," Hast said. "He left her emotionally and physically destroyed, passed out on the floor of her bedroom."
After the assault, the prosecutor said, Weinstein forced Sciorra to "live in terror" for decades. Less than a year after the rape, he sought her out in London, where she was filming a movie. He "badgered" her with messages left at the hotel, sent cars for her and even showed up at her room, Hast said.
In 2006, Haleyi was introduced to Weinstein at the Cannes Film Festival and soon began working as a production assistant on one of his shows. Over the months that followed, Weinstein pressured her to take trips with him to Paris and Los Angeles. Eventually, Haleyi accepted an invitation to Weinstein's apartment where he forced oral sex on her, Hast said.
After the assault, Haleyi did not attend the premiere of Weinstein's movie "Clerks 2" in Los Angeles and the mogul called her, apparently enraged. This, Hast alleges, was part of the producer's tactic aimed to keep women silent.
"You will come to see that the defendant kept his rape victims close, as close as he could, to make sure that they wouldn't report," Hast told jurors. "Assault, and then immediately reach out, to make sure that his calculations were right, and that he had gotten away with it."
Weeks after the first assault, Haleyi met Weinstein at a hotel in TriBeCa where he attacked her again, Hast said.
A third woman, whom the Los Angeles Times is not naming because she has said she is a sexual assault victim, moved to Los Angeles at 25 years old hoping to make it in Hollywood. A few years later, in 2013, Hast said the woman was a "starving actress" when she met Weinstein at an industry party.
She accompanied him to a hotel bar to talk, and later a hotel room, where the woman agreed to give him a back massage despite thinking that he was "old enough to be her father, significantly overweight and sloppy looking," Hast said.
During another meeting, Hast alleges Weinstein grabbed the woman by the arms, pulled her into the bedroom and forced oral sex on her, Hast said.
Hast said the woman tried to have some sort of relationship with Weinstein out of fear that spurning him may harm her career. But, the prosecutor alleges, the attacks continued.
On March 18, 2013, the woman met Weinstein for breakfast at the Doubletree Hotel on Lexington Avenue in Manhattan, hoping to introduce a friend from the industry to him. It was her first trip to New York City.
Weinstein checked into a room at the hotel and once inside, undressed her, ordered her onto the bed and raped her, Hast said. Before the attack, the prosecutor added, Weinstein injected himself with some type of erection medication.
He allegedly raped her a second time at a hotel in Los Angeles. After the attack, Weinstein told the woman: "I just find you so attractive, I couldn't resist you," Hast told jurors.
With little in the way of forensic evidence or independent witnesses expected to be presented, legal experts believe the case against Weinstein could serve as a litmus test of the #MeToo movement, with the jury's decision largely coming down to whether or not they find the six women who have agreed to testify more credible than the defense offered by their accused rapist.
Prosecutors are hoping the women's testimony will show that Weinstein's attacks followed a pattern — the mogul would lure them in with a promise that he could give them roles or film industry jobs, often insisting that a business meeting take place in a hotel room.
Once alone, Weinstein would allegedly either expose himself to the women, request massages or, according to some accusers, physically force himself on them.
During his opening statements, defense attorney Damon Cheronis tried to portray Weinstein's relationships with his accusers as consensual, and even in some cases, loving.
Cheronis highlighted some of what he said would be "hundreds" of e-mails, text messages and other exchanges between Weinstein and several of the women who have made claims against him that show them staying in touch with their alleged rapist long after the attacks were said to have taken place.
"If you drown out the noise and you listen to the cross-examinations, you are going to know what Miss Hast told you does not hold water," he said.
The Chicago attorney displayed a number of seemingly friendly exchanges between Haleyi and Weinstein, including one in 2008, more than two years after she said he sexually assaulted her in his New York apartment.
Cheronis also pointed to a similar exchange involving the unnamed woman who accused Weinstein of assault in New York in 2013, noting that she wrote a number of "notes" on her cell phone, akin to a diary, where she described Weinstein as a "casual boyfriend" long after she was allegedly assaulted by him inside a Manhattan hotel.
Cheronis also pointed to a number of movie premieres the woman attended as Weinstein's guest after the alleged assault.
"You can lie to the state. You can lie to the police. You can lie to anybody. But you can't lie to yourself," he said of her notes.
Prosecutors, and criminal justice experts, have previously scoffed at the line of attack raised by Cheronis, noting that there is not a uniform way rape victims behave after an assault. In the case of Weinstein, the women may have also stayed close to him out of fear of the influence he wielded in their industry, experts have said.
One of the unidentified women expected to testify against Weinstein in New York is at the center of a criminal case against him in Los Angeles. The Los Angeles County district attorney's office charged Weinstein with forcible rape, forcible oral copulation, sexual penetration by use of force and sexual battery by restraint, though the case will not proceed until the New York trial is complete.
Eighteen months ago, Weinstein stood tall as he was led into a New York Police Department precinct in handcuffs. On Wednesday morning —flanked by attorneys — the Hollywood mogul, who recently underwent back surgery, limped into the Manhattan Criminal Courts Building for his first day in court. Someone carried a walker, which Weinstein has used during previous court appearances, for him.
Reporters and spectators lined up, shivering, outside the building hoping to gain access to the courtroom before sunrise as the mercury dipped toward 20 degrees. The 100-seat courtroom was packed full by 9 a.m., with dozens of reporters and members of the public stuck in a hallway waiting in line for a seat to open up.
Weinstein's legal team has repeatedly tried and failed to have the trial moved out of New York City, citing a "circus-like atmosphere" outside the Centre Street courthouse where the case will be heard. Flash mobs, press conferences from other accusers whose allegations did not result in criminal charges and an appearance by model Gigi Hadid marked the two-week jury selection process.
---
The stories shaping California
Get up to speed with our Essential California newsletter, sent six days a week.
You may occasionally receive promotional content from the Los Angeles Times.