Our Lady of Angels Cathedral tolls bells for 8 minutes, 46 seconds to mark George Floyd's funeral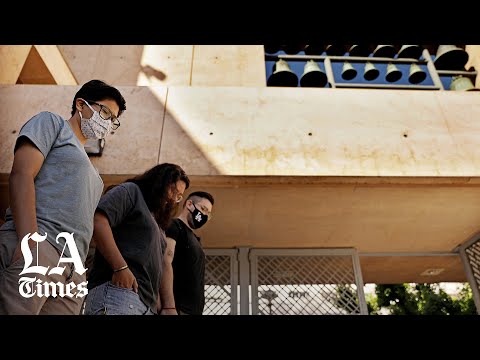 The solemn chime of bells filled the streets surrounding Our Lady of the Angels Cathedral in downtown Los Angeles on Tuesday, coinciding with the start of George Floyd's funeral in Houston and marking another day of protests over racism and police brutality.
The bells began ringing at 9 a.m. and continued for eight minutes and 46 seconds, the time Floyd was pinned to the ground by a Minneapolis police officer.
José Gomez, the archbishop of Los Angeles, told NBC-TV Channel 4 that all Southern California parishes were invited to hold Mass and say prayers in conjunction with the Houston service.
"The anger and unrest that has swept Los Angeles and the rest of the country since [Floyd's] death is a sad reminder that racism remains real. Millions of our brothers and sisters still today experience humiliation, indignity and unequal opportunity only because of their race or the color of their skin," Gomez wrote in a message.
"It should not be this way in America. Racism is a blasphemy against God, who creates all men and women with equal dignity. It has no place in a civilized society and no place in a Christian heart."
Gomez said racism and brutality are grave issues that should have no place in society. Instead, Gomez urged the archdiocese to stand for love, human dignity and racial equality.
Last week, a San Francisco Episcopal church projected art on its facade and tolled its bells to commemorate the lives of Floyd, Ahmaud Arbery and Breonna Taylor.
"When God looks at us, he sees beyond the color of our skin, or the countries where we come from, or the language that we speak. God sees only his children — beloved sons, beloved daughters," Gomez wrote.
The bells' tolling comes amid another day of protests across Los Angeles County. Demonstrations are planned in downtown Los Angeles, South Pasadena, Sherman Oaks, Norwalk, Culver City, Burbank, Venice and West Hollywood throughout the afternoon.
On Monday, four car processions were organized around Southern California to commemorate Floyd's public viewing service in Houston. The cars departed from Leimert Park, Long Beach, Reseda and Santa Ana, and converged on downtown L.A. for a noontime rally.
Once the caravans reached downtown and people exited their vehicles, mourners could be seen carrying floral arrangements. At the intersection of Broadway and 1st Street, four hearses were parked in the middle of the street, surrounded by hundreds of protesters.
Those gathered clapped as a woman gave a speech about defunding the police, and she led them in a repeated chant of Floyd's and Breonna Taylor's names. Taylor was fatally shot in her Louisville, Ky., home by a police officer in March. No charges have been filed in connection with her death. The four officers involved in Floyd's arrest are facing charges in his death.
"Do not let this system of white supremacy define who you are and take you away from your community," the speaker said. "You have to fight for all black people, and that means all black people."
Floyd's death has become a rallying point for many who say that police abuses against black people have persisted unchecked for too long, prompting sweeping protests across the U.S. and elsewhere around the world.
"This is a movement," said activist AJ Lovelace. "They thought we were going to get tired and give up. And we're still here."
Times staff writers Luke Money and Alex Wigglesworth contributed to this report.
Sign up for Essential California for news, features and recommendations from the L.A. Times and beyond in your inbox six days a week.
You may occasionally receive promotional content from the Los Angeles Times.